RNLI charity fun run is hailed a success on Merseyside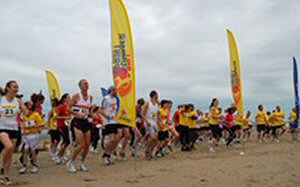 FUNDRAISERS from the Royal National Lifeboat Institution (RNLI) have sent out a heartfelt thanks to runners who took part in the charity's Summer Series fun runs on Crosby beach on Saturday, 6 August 2011. More than 100 runners of all ages and abilities braved the unseasonable summer weather to assemble at the start line and take part in an aerobic warm-up session led by RNLI lifeguards who patrol the Sefton coastline during the summer months. Tabea Heckrodt, RNLI Events Coordinator, said the money raised in sponsorship by all of the runners participating in the 10km and 5km runs will go directly towards training and equipping the charity's lifeguard service. Tabea said:- "This is the second time the RNLI's Summer Series has been held on Crosby beach and once again we were delighted with the amount of runners who took part. The lifeguards wages are funded by Sefton Council while the RNLI is committed to paying for all equipment and training costs for the lifeguard service, which nationally cost the charity £8M last year. It is reassuring to have the support of so many people locally while we work together to ensure the Sefton coastline is a safe and fun environment for families to visit."
WARNING - LETTER SCAM
RESIDENTS in the borough are being warned of a recent unsolicited mail scam that aims to get people to part with cash by saying they are entitled to a claim of millions of dollars.
The mail has a London postmark and comes from Hor K Wai from a bank in Hong Kong. It tells the recipient they are entitled to a share of $6.8m following the death of a man who shares the same surname as the recipient.

The letter is alleged to be from a banker wanting to transact the money to the UK and share it with the recipient. But this is just a scam to start the process of exchanging confidential details like bank account numbers.

Sefton Trading Standards was alerted to the scam after being contacted by a man from Crosby who recently received the letter which was intended for his deceased mother. They are now warning other residents in the borough to be on their guard and discard any such letters if they received them.

Sefton Trading Standards manager, Andrew Naisbitt, said:- "A scam is a scheme designed to con you out of your cash and this is exactly what this letter intends to do. After making contact through a letter, scammers will try and prise more information out of people like bank account details. These will then be used for illegal purposes so instead of receiving money, residents caught out in this scam will end up losing cash. We are warning all residents across the borough to be on their guard against such a scam and ignore and shred the letters if they drop through the letter box. Please don't be a scam victim."

For advice and help on all consumer enquiries contact Consumer Direct on:- 08454 04 05 06 or visit actionfraud.org.uk, a website which lets residents report scams and gives information on how not to be a scam victim.

Advice to take against unsolicited mail:-
► Call Consumer Direct on:- 08454 04 05 06 for advice if you are unsure whether a letter is genuine or not
► Talk to neighbours, friends and relatives and check out whether similar letters have been sent to others
► Never give out personal financial information or be pressed into sending money-take your time to check the company and consider the offer at length.

Blues & Reds unite to call for calm
LIVERPOOL and Everton football clubs have issued an appeal for calm in the city and an immediate end to the disorder which has taken place during the last two days

Reds manager Kenny Dalglish said:- "The city has made incredible progress over the past few years and no-one wants to see our restored reputation damaged by what we have witnessed over the last couple of days. For everyone's sake let's stop this now and pull together for the benefit of the whole community."

Everton Manager David Moyes said:- "There can be no justification for the shocking display of behaviour that has been witnessed throughout the city of Liverpool and the rest of the country over the past few days. The mindless actions by small groups of individuals cannot be condoned and along with the rest of the Merseyside community, everyone at Everton Football Club gives its full support to the police and local authorities in bringing an end to the troubles. As a result of recent events, football has already suffered and we need to ensure that this stops immediately so thousands of people up and down the country can enjoy one of the most anticipated weekends of the year – the start of the Premier League season."

They were joined by international stars from both clubs.

Everton captain Phil Neville said:- "I, like the vast majority people, have watched the events in London, Manchester, Liverpool and across the country with a combination of disbelief and disgust over the last five days. But it's been heart-warming to see the response from the vast majority of upstanding, law-abiding citizens to the riots. In Liverpool and Manchester we have seen organised groups gathering to clean up and protect their communities. I have so much respect for the police in the work they have done in such difficult circumstances, particularly in the 2 cities closest to my heart - Liverpool and Manchester. They are great cities with so much to be proud of. The last few nights have been shocking. The actions of a minority of mindless criminals is appalling but, as ever, our communities have responded in a great way and I'm proud of the way the north-west has dealt with what has happened."

Steven Gerrard, Liverpool's club captain commented:- "This is a city which has always stuck together in difficult times and supported each other. If there are people thinking of going out and causing problems, then please think again. The community doesn't want you behaving like this. We're proud of how Liverpool has been transformed and we shouldn't let the actions of a few have such an impact on the rest of the people who live here and care about the city."

Jamie Carragher added:- "It's up to all of us to do what we can to help stop this type of criminal behaviour and get these people off the streets. Everyone has worked so hard to turn the city around and we don't want this to overshadow what has been achieved. Please think of those being affected by these disturbances and put an end to this now."

And Everton's Leighton Baines said:- "As a proud Scouser it has been incredibly sad to see repeats of the London riots in areas of Liverpool. These acts of mindless violence and vandalism paint our great city in a very dark light and certainly don't reflect what an amazing place Liverpool is. I have a lot of respect for the work the police have been doing to keep communities safe and I sincerely hope we have seen the last of the trouble because the people of Liverpool deserve better."

Glen Johnson added:- "We watched the worrying scenes from London and hoped it would not spread anywhere else. As the situation appears to be calming in London, the minority of people who have let down our community in Liverpool must understand that this behaviour is unacceptable."

Phil Jagielka commented:- "Everyone at Everton and inside the England camp has been absolutely appalled by the riots and the subsequent events that have unfolded in Liverpool and various parts of the country over the last few days. Watching the footage on the news has been nothing short of unbelievable and those who have been misguided enough to get involved have shown a complete lack of respect for themselves and their own communities. The players at Everton do a lot of work in the local community through Everton in the Community and have seen first-hand how hard the people of Merseyside have been working to try and make a positive difference. The events of this week simply do not help."

Councillor Joe Anderson, City Council Leader, said:- "It is very encouraging that both football clubs are taking this approach and I hope that the minority of young people in the city which have been involved in disorder listen to what their heroes are saying and calm can be resorted as son as possible."