Southport ready for 'RHS Britain in Bloom 2011' judging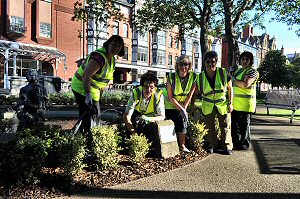 THE Royal Horticultural Society's 'Britain in Bloom' Judges are in Southport on Friday, 5 August 2011, to mark the town's horticultural displays. Southport is one of the 76 places chosen from 1,000 cities, towns, villages and urban communities throughout the UK, during August 2011. Now, as a finalist, Southport's green fingered team, from Southport's Soroptimist International, have been checking over the Lord Street plantings. That group of volunteers are keeping the town blooming and hope, yet again, for see Southport to win the 'Britain in Bloom' title. Sadly, with the cuts to services, not all has gone to plan, but even if they do not win this year, our neighbourhood and community have benefitted from both the volunteers and Sefton Council's staff's planting hundreds of trees, shrubs and plants throughout the year. Without their efforts Southport would not look as nice as it does. To read our report, which we ran last week about the campaign, please click on here. More information about the:- 'It's Your Neighbourhood Awards' and 'Britain in Bloom' can be seen by logging on to the RHS website.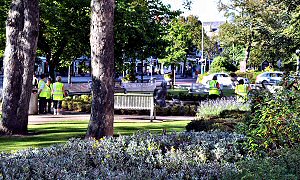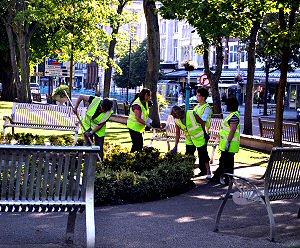 WIN A 3 COURSE FAMILY MEAL
THE Stanley Arms on Roby Road, Huyton, has teamed up with our selves at Southport & Mersey Reporter to offer 1 of our readers a family meal out. This tasty competition is part of the newly appointed manager Richard Fearnley Smith's plan to make the Stanley Arms the dining destination of choice for Huyton residents. With a new Summer menu now in full swing, Richard is confident that the Stanley Arms offers something for everyone with a range of classic and contemporary pub dishes at fantastic prices.

Part of the Sizzling Pubs' group, The Stanley Arms offers a variety of mouth-watering dishes, ranging from delicious battered fish and chips to Tandoori platters and chicken fajitas served on the piping hot signature skillet. Kids are also spoilt for choice with every dish on the menu at £2.99. And for those that aren't lucky enough to win this competition, Richard is offering local residents the chance to become a Stanley Arms ambassador, enjoying complimentary visits in return for feedback. For information, just send him an email for more information! To take a look at the menu, visit their website. All you have to do to be in with a chance of winning a family meal is answer the following question:-

Q. The Stanley Arms is part of which pub group?

1. Roasting Pubs
2. Sizzling Pubs
3. Frying Pubs

This question will be repeated in next weeks issue as well, so you have 2 weeks to enter in! To enter you must send us via email, your FULL name and FULL contact information (address and phone no.) to news24@southportreporter.com, with your answer. The closing date of this competition 11 August 2011 at 1pm GMT. The winner will be contacted by the Sizzling Pubs' Group with in 2 weeks from 11 August 2011.

Terms and conditions of the competition:-
► The family meal is available for a maximum of 4 people, is worth up to the value of £60 and excludes drinks only.
► Entrants must be over the age of 18
► The prize is valid until 31 September 2011
► No employee or family members of employees of PCBT Photography or PBT Media Relations, Sizzling Pubs' Group can apply.
► One entry per family only.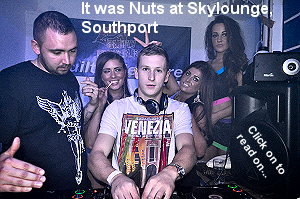 --- MORE NEWS REPORTS BELOW ---
Southport Air Show - Part 2
HPI REVEALS 1 IN 12 VEHICLES CLOCKED IN NORTH WEST ENGLAND
Girls US Soccer Team visits Southport's New Tattoo Museum
NEW ANIMAL ENCOUNTERS AT BLACKPOOL ZOO
It was Nuts at Skylounge, Southport
Taxman's complex online processes just one reason the UK's tax system is not fit for purpose, says business group
Fears pub companies are holding tenants over a barrel sparks call for stronger regulation of industry
ROARY THE RACING CAR LAUNCHES NEW HIGH OCTANE STAGE SHOW IN LIVERPOOL!
Suicide still a taboo 50 years after decriminalisation
England Women cricketers to inspire Lancashire girls at 'MCC Spirit of Cricket' Summer Camp
RNLI lifeguards come to aid of head injury casualty on Formby beach
As the World Tipped
More than 100,000 visitors in 8 days
Get a taste of the Olympics – only one year to go !
LIVERPOOL PRIDE 2011 TAKES PLACE THIS WEEKEND
3 day community fête for Liverpool Cathedral
Dementia centre plan unveiled for Sedgemoor
Southport County Court is now closed
Gok's Clothes Roadshow coming to Liverpool
SIXTH ANNIVERSARY APPEAL - LUCY HARGREAVES MURDER
PRIVATE SECTOR PENSIONS WARNING – UNISON RESPONSE
Bowling at the Black Horse, Croston
"A newspaper, some stamps and a divorce please"
A scenic summer cycle
Public Vigilance Needed As Squirrel Pox Returns
Band Together for Mathew Street
NORTHERN GIRLS TO COMPETE FOR PLACE IN NATIONAL CRICKET FINALS
Runners race for the RNLI on Merseyside
Woodvale Rally 2011
THE Woodvale Rally 2011 is back again over 6 August and 7 August 2011, and it's celebrating its 40th Anniversary in the same year that the base celebrates its 50th Anniversary. All ticket purchasing online has now stopped, due to postage times, but if you did not get an advance ticket, you can still get tickets on the gate. Adults £12, Children £6, OAP £10 and Family £30. Tickets are valid on both days! The site has free parking and a free vintage bus service on the base to get you from your car and back. The RAF base is located on the Formby By-pass (A565), Formby, Merseyside, L37 7AD. As we are one of the sponsors of the 2011 show, we will be there and taking lots of photos, as well as conducting interviews with Abi Bridgeman, Miss England - United Nations. Enjoy the show as this will be an amazing event for all the family, young and old!
Audio Copy - Experimental Option...
Click here to hear this weeks edition in audio format. Also please do let us know what you think about it.
...HAPPY BIRTHDAY...
If you have someone you want to say happy birthday to, for free, then use the email address below to send us the names you want us say happy birthday to, and/or a photograph. Email us today!

KEEP

up

-2-d

ate

...
with our free daily news email service.
Si

g

n u

p


today to our daily email news service via...
Formb

y

-

Re

p

orter

.com

.
If you subscribed you can keep in up-to-date with what's going on in and around Merseyside. It is free and we do not send out massive amounts of emails.
Also your email is kept under the UK's Data Protection Act, so you can be sure that you will not have problems.
Manx Direct

08447
402038

2 Years Parts & Labour Worranty