Woodvale Rally 2011 - Part 1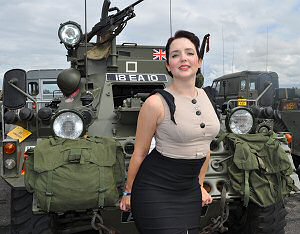 RAF Woodvale is 50 years old this year and what a way to celebrate, with the 40th Woodvale Rally over 6 August to 7 August 2011. Sadly, unlike most of the shows in recent years, the Anniversary Show was affected by heavy rain, but that did not deter thousands of people who descended on the RAF base for what was a fantastic event. The airfield was packed full of attractions, from classic cars and motorbikes and trucks to tanks and even a full size steam railway engine! But they were not the only attractions on offer; others comprised live action displays including the death deifying riders on the "Wall of Death", the World Famous Vander Brothers plus Neil Porter's crowd stopping "Stunt Rider" displays, doing BMX style stunts on full size motorbikes! Also taking to the motorbike stunt display area was Steve Colley, who had an interesting companion on two of his displays. Southport's very own Abi Bridgeman, who is also in fact Miss England, United Nations, bravely took part in the stunts performed by Steve, even though up to that point she had never been on a motorbike! Abi was joined on the Sunday by three of her fellow singers from "The Bon Bonz", performing live on the Dune FM stage, which hosted many fantastic acts and bands from all over the North West. It was also to be the focal point of the Battle of Britain Memorial Flight's Flypast, as a fantastic 1940's Tribute Singer, Heather Marie took to the stage. Even the weather changed and the sun came out to deliver what was a splendid end to that day. Other events included displays of Martial Arts by Southport's "Lil Dragons", the West Lancs. K9 Dog Display Team, marching bands, a national Morris Dancing competition, model car racing, Miniature Tank driving, model boat displays, model railway displays, lots of stalls and even a car boot sale, not forgetting the Model Aeroplane displays... Each day was rounded off by a pyrotechnic display with mock bombing run with model fighters and Lancaster's. Sadly, on the Saturday three of the planes crashed and one was completely destroyed, but that is all part of the fun we were told by the model makers! The pyrotechnic display was devised once again by MDL Fireworks, but the display was not what was billed in the press as 'The Dambusters' as Southport Model Aero Club thought it would be more fitting to commemorate the Blitz, which led to RAF Woodvale being built. Well done to all who took part in what was one of the best events yet. Woodvale Rally after the show said that:- "We would like to thank everybody who attended this year's rally, all the public, the traders, entertainment, acts, our 400 volunteers, the rally management and security and everybody else involved. From the management team we hope you all enjoyed yourself and look forward to doing it all again next year, but bigger and better." Sadly, due to the events over the last few days, we will be bringing you the full photographic coverage in next week's issue, but for now, we have lots of photographs to whet your appetite.
Click on

to see more images taken at this show...
Also if you went, please email us via our news room email address, news24@southportreporter.com with your views about it. Let us know what you liked and what did you not like about this years Rally...
...HAPPY BIRTHDAY...
If you have someone you want to say happy birthday to, for free, then use the email address below to send us the names you want us say happy birthday to, and/or a photograph. Email us today!
Audio Copy - Experimental Option...
Click here to hear this weeks edition in audio format. Also please do let us know what you think about it.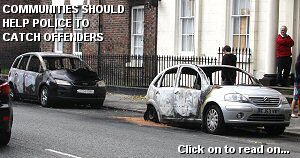 Manx Direct

08447
402038

2 Years Parts & Labour Worranty