Band Together for Mathew Street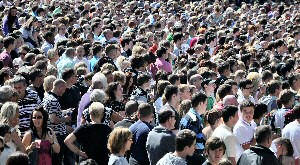 THERE'S one band you won't want to miss at this year's Mathew Street Music Festival in Liverpool. For the first time, residents and visitors will be able to buy a special black and gold wristband which gives them access to special offers and discounts from retailers, restaurants, bars and attractions across Liverpool on the 28 August to 29 August 2011.

Offers include 20% off meals at award winning restaurant Lunya in Liverpool ONE, 20% off the Yellow Boat Tour and 10% off clothes from Resurrection on Bold Street. The wristbands cost just £3 and can be bought online or at The 08 Place and Liverpool ONE Information Centre.

Leader of Liverpool City Council, Councillor Joe Anderson, said:- "Band Together is a fantastic scheme for everyone involved. Not only does it generate some financial support for the event, but thanks to the generosity of many of the city's retailers, festival-goers will benefit from all the special offers. As a result of the budget pressures the city council faces we've had to think of different ways in which we can encourage people to support the annual event. Mathew Street Music Festival is hugely popular, but is costly to put on so we're asking for support from those who take part in and enjoy the event. It isn't feasible for the council to continue to solely fund the event and the level of support we receive this year will shape the future of the event. The number of benefits people can receive when they pay just £3 wristband are fantastic, and I hope as many people as possible back the initiative and support this much-loved event."

One of the special offers has been put forward by Liverpool music store Dawsons. The Ranelagh Street store is offering customers discounts on brands the Beatles famously favoured. There will also be 10% off accessories such as drum sticks and guitar strings, and all Beatles related books and souvenirs.

Dawsons Music Manager Kingsley Rich said:- "We think the Band Together concept is a great idea. We thought we'd enter into the spirit of things by offering some great deals on brands that The Beatles used, such as Gretsch and Epiphone guitars, and Vox amps. We will also offering special discounts on accessories and our range of Beatles music books. And it makes sense to encourage more people in this great music city to pick up an instrument and show off their talent."

There are other firsts for the festival this year – a VIP bar and terrace which offers an oasis of calm in the heart of all the action. The stylish VIP area offers complimentary drinks and snacks, comfy sofas, free hair and make-up repairs, private loos and live entertainment. Tickets for this exclusive marquee cost £25 and include the official Band Together wristband. For more information visit:- mathewstreetvip.org.

There's also an online competition run by top Midlands brewer Marston's which is sponsoring the Superlambanana stage. They are encouraging local bands to upload their youtube videos for the chance to play at events and festivals in the city. Judging will take place after the Festival and the most popular bands will be invited to play at a range of local venues and festivals in 2011 and 2012. For entries got click here .

This year is the 19th annual festival taking place on the 28 August and 29 August 2011. It has the usual rich mix of international bands and local talent. This year musicians from more than 30 countries, including Argentina, Brazil, Norway, Germany and the USA will be performing. More than half of the acts are from the Merseyside region, and there will be a strong Beatles and Merseybeat presence across all the stages.

The event will see more than 80 hours of live outdoor music performed on five stages. Highlights include a Liverpool Number One stage, where all 53 number ones recorded by Liverpool artists will be played, and a special celebration of the music of George Harrison. The Made In Liverpool stage will feature original bands and artists from the 60s, 70s, 80s and 90s and the Radical Stage will celebrate Liverpool's Year of the Radicals. There's also a nod to the 2012 London Olympics with a London Calling stage, while the contemporary stage at The Tunnel has tributes to Lady Gaga, Beyoncé and Katy Perry.
All the offers festival goers can make the most of so far are:-
►
25% OFF at Cafe Rouge, The Met Quarter.
►
20% off meals at Lunya, Liverpool ONE.
►
10% off accessories such as drum sticks and guitar strings, and all Beatles related music books and souvenirs at Dawsons Music.
►
10% off clothes from Resurrection on Bold Street (excluding sale items).
►
25% off meals at La Tasca.
►
A free soft drink with any burrito bought from Barburrito, Liverpool ONE.
►
3 for 2 on all treatments at Scin Beauty Salon, Liverpool ONE.
►
10% OFF at Menkind, Liverpool ONE.
►
10% OFF at PizzaExpress, Liverpool ONE.
►
Free hair corsage with spend over £30 at Ollie & Nic, Liverpool ONE.
►
Free CD (Laurel Collective/The Boxer Rebellion) with every purchase at Ted Baker, Liverpool ONE.
►
10% OFF at Krispy Kreme, Liverpool ONE
►
Selected bottled beers and wines by the glass only £2.99 at Vinea Bar Shop & Deli, Britannia Pavilion, Albert Dock.
►
10% OFF at Greenwoods, 33 to 35 Ranelagh Street.
►
£10 eye test (normally £20.95) and 2-4-1 on glasses (inc free sunglasses) at Specsavers, 52 Lord Street.
►
1/3 OFF Radio City Tower tour at Radio City, St John's Beacon.
►
20% OFF the Yellow Boat Tour, 32 Anchor Courtyard, Albert Dock.
►
241 Cocktails (Sunday to Thursday 4pm to 8pm) and 2 Cocktails for £10 (exc Saturdays) at Revolution, Atlantic Pavilion, Albert Dock .
More offers will be added over the forthcoming weeks so go to mathewstreetvip.org for the latest details.
Terms & Conditions of the Band Together wristband:-

1.
Limited to 1 offer per person.
2.
The venue reserves the right to cancel this offer at any time.
3.
All offers are subject to availability and individual venue terms & conditions.
4.
Offers valid until 31 August 2011.
5.
Offers not to be used in conjunction with any other offers in individual venues.
All details correct at time of print.
Other sponsors include:-
Real Radio

Merseytravel
Derby Square Stage
Tunnel Stage

Diageo
Flanagan Group
Williamson Square Stage
Water Street Stage.

The Sound Of Summer a... "MINI MUSIC FESTIVAL"
THE Grange and Pyramids Shopping Centre and Fallen Industries will be hosting a mini music festival on Saturday, 20 August 2011, from 11am in St Werburghs Square. So whatever the weather you can enjoy top local bands, skilful DJs and compelling dance troupes, the only thing missing is the mud!

The complete line-up is yet to be announced but bands already scheduled to appear are rock and indie bands The Brotherhood, Pretty Silhouettes and Insert Name Here.

Shoppers will be bouncing to the beats of Liverpool's DJ Liam Sealeaf and the entertainment hots up with a performance by Monster Cirque. This is an amazing dance show, expect anything from fire arts to freakshow and burlesque to pole – you have been warned!

Derek Millar Commercial Director says:- "We are thrilled to be hosting our own music festival; we have top local bands, who are all on the verge of making it big, some great DJs and sensational dance groups. We urge people to come down and enjoy the live music and the best bit – well it's FREE!"

Don't miss even more summer fun with Expressions Dance Group who will be performing on Saturday 13 August 2011 and 27 August 2011 from 11am in St Werburghs Square.

As well as enjoying a free music festival fans can also win a pair of 'Dr Dre Beats Headphones' from CEX and £150 worth of Blue Inc vouchers. To enter shoppers need to 'like' the Grange and Pyramids facebook page and enter our 'Sound of Summer' event. Then just answer the following question 'Who was the first ever female headliner at Glastonbury this year? The entrant needs to write the answer on the wall. For more information go to:- Facebook.
Laughterhouse Announce New Cabaret Nights at Zeligs!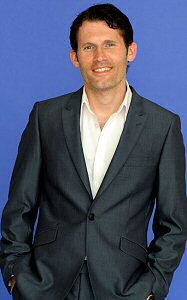 THE Laughterhouse Comedy continues to offer the most raucously and uproarious entertainment in Liverpool with brand new special nights of Cabaret & Comedy, coming to Zeligs Liverpool ONE (opposite the Hilton Hotel) from September 2011. Once a month a Laughterhouse MC will present the best, brightest and most bizarre from the cabaret circuit to delight and dazzle you, and make you laugh into the bargain. Comedians from the stand-up circuit as well as radio and TV jostle for their place in the line-up of this exciting new event. TV shows like Britain's Got Talent has catapulted variety shows in to the popular public arena creating a demand for mixed bill events. Each eclectic show will include singers, comedians, magicians and much more, with a host to keep the revelry riotous. Keeping the afterhours buzz will be a DJ, celebrating your Saturday in style with music to get you moving as much as your laughter muscles! For the premier Cabaret & Comedy night on Saturday, 3 September 2011, we welcome a well-known, and well-loved face as our Master of Ceremonies. Neil Fitzmaurice has appeared in The Office and equally famously as DJ Ray Von in Phoenix Nights and as Mark's arch nemesis Jeff Healey in Peep Show. He brings his sharp observational comedy to his hosting skills.

Neil will be introducing Steve Royle, a comedic powerhouse who counts acting, writing, juggling among his skills and is a frequent headliner at The Comedy Store and other alternative venues. Having performed alongside Steve Coogan and Peter Kay, his comedy credentials also include co-founding the 'Slaughterhouse – Live' character comedy nights. With comedy in his blood and hands full of juggling balls, you'll find his slapstick routines cruelly entertaining.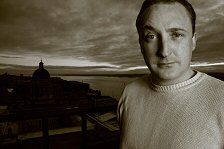 This month's singer is Asa Murphy, the UK's number one swing act. With his vibrant repertoire of self-penned material and his swinging interpretations of timeless material made famous by Frank Sinatra, Bobby Darin and Dean Martin, Asa simply has to be heard to be believed. Until now, his proudest moment has been a sold-out show in his hometown at the Liverpool Philharmonic Hall which ended in a 10 minute standing ovation, we're sure you'll find his voice enthralling.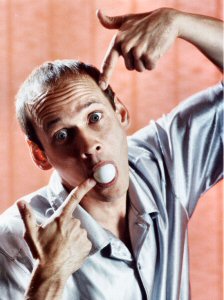 This exceptional evening of hilarity, humour and high times will also feature special guest magicians and DJs from the local and international cabaret scene. Bringing the surreal and astounding to Liverpool's vibrant cultural mix, Laughterhouse's Cabaret & Comedy nights are sure to be uniquely special. Keep an eye on the listings for special one-off events too. On 30 September 2011, Asa Murphy will be back headlining Laughterhouse's first Swing Night at Zeligs! With a Big Band for rambunctious support and more top comedians, come and dance the night away! In October Tom Stade and his touring comedy show 'What Year Was That?'. Crowds in his native Canada love him for the innocence that lurks behind his devilish smirk, this surfer-boy philosopher will be at Zeligs on 27 October 2011. Check listings for ticket prices and special meal deals! Hosted at Liverpool ONE, Zeligs is on Thomas Steers Way, off South John Street these brand new events include an unmissable string of highlights and MCs to provide jokes-a-plenty. Laughterhouse Comedy has also teamed up with Zeligs to provide the perfect night's entertainment with 3 course meal deals available before the show. All deals can be paid for in advance when booking cabaret show tickets. To book your tickets please contact the booking hotline on:- 0151 227 5946 or visit:- laughterhousecomedy.com for further information.