LOCAL LAD ALIU SIGNS NEW DEAL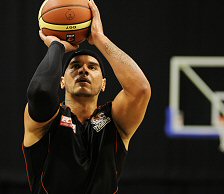 LIVERPOOL lad David Aliu has committed his future to his hometown club, signing a new 2 year deal with the Mersey Tigers.

Aliu, 30, played an important role in helping the Tigers to the treble last season and has been working in the community throughout the summer, delivering coaching and assembly talks across Merseyside.

He said:- "It's good be staying with the Tigers, and staying home. It's nice to play in front of friends and family every week. I just want to keep winning, keep competing and keep picking up trophies, and help the club to grow in the city. I want to be part of something special and help the club grow in the city. I want to be able to promote basketball in Liverpool, and get kids playing something other than or as well as football, and help them develop new skills and abilities. I'd love for that to be basketball."

Aliu featured in 35 games in 2010 to 2011, averaging 23 minutes and 12.5 points per match, and ended the year with Championship, Trophy and Play-off winners medals.

He added:- "We had a good group last season, and I'm looking forward to being part of it again."

Coach Tony Garbelotto is continuing preparations for the new season, which begins on 2 October 2011 away at Cheshire Jets.

Last week, the club revealed it will play its home games at the new Knowsley Leisure and Culture Park facility in Huyton.

Season tickets are now available priced at £150 adults, £60 juniors, £105 student/OAPs. There are also a number of family packages available, and they can be purchased via:- merseytigers.co.uk/shop or by calling:- 0151 203 3443.
Save Merseyside's Coastguard Station
THE Liverpool Football Star, Jamie Carragher, has given his backing to the campaign to keep Liverpool Coastguard station, at Crosby, open. Jamie, who is a Liverpool FC defender, has joined the growing list of supporters of the 'Don't sink the Coastguard' campaign. It was confirmed in July 2011, that the station at Crosby, which at this point still co-ordinates search and rescue operations along the Northwest coastline, including inland waters, running from Point of Ayr, North Wales to Mull of Galloway in the Southwest of Scotland! Not forgetting that the coastline all around the Isle of Man, plus a very large part of the Irish Sea is covered by the Station, due to be close by 2015, if we do not help to stop that closure. "It is not too late to save the station." says saveliverpoolcoastguard.org who have united the voices of many beach users, from tourists to local residents who use the North West Coastline and inland waterways. The same statement is also being backed by many leading shipping experts and maritime agencies who are all trying to get their voices heard. All of them are saying, that the closure is short sited and will be dangerous to the safety of all who use UK waters.
According to a press release by saveliverpoolcoastguard.org, Jamie, who is from Crosby, regular visits the beach with his children and has contacted the campaign to express his concerns about the proposed closure of the Coastguard Station, at Crosby. "To close such an important, and busy station, and then, as proposed, divide the area between Holyhead and Belfast, does not make sense to me and lots of people rely on the service that Crosby Coastguard Station provides, from general enquiries for weather and tide information, to the rescue of people in difficulties on the coast, and at sea. To remove this service could only mean that people's lives will be put at risk." he said in the press release.
We only have until the 6 October 2011 to change the Government's decision to close Liverpool Coastguard, so what you can do to help? Well, there is an online petition that is also available for you to sign at MRCC Liverpool, Hall Road West, Crosby, plus many other locations around the coastline. Plus you can also help by reading the consultation and supporting documentation and respond to it via the Consultation Documents response form.
If you think the closure is a good idea, please do send us your views as well as any views as to why it should be saved by emailing us to:- news24@southportreporter.com and do not forget to also put them to the Maritime and Coastguard Agency (MCA) via the consultation form.

100% Support Peelís International Trade Centre Proposals
PEEL have released the results of their public exhibition which was held on the 5 August 2011, at the Birkenhead market, recording a staggering 100% of people supporting the Peel International Trade Centre proposals to be located on the Birkenhead Docks.

Hundreds of interested visitors who came to the stand were encouraged to discuss the scheme with us and complete questionnaires so that Peel and Wirral Council could find out what local people really felt about the scheme.

Questionnaires were completed by people with an age range of 18 to over 70 with both job creation and the International Trade Centre acting as a catalyst to help deliver the main Wirral Waters project being identified as the most important elements. Indeed 91% of people ticked these as the most important factors.

The results also identified the importance of new investment in the area, remediation of vacant and contaminated land, and integration of the Peel International Trade Centre to help stimulate regeneration of the North Birkenhead area. All these were considered highly important elements of the project with 89% ticking these boxes.

Lindsey Ashworth, Development Director at Peel said:- "We have been holding public exhibitions for our Wirral projects since 2007 to ensure that local people are kept informed and involved as we move projects through the planning system which is a very long winded and complicated process for schemes of this magnitude. We all want to see buildings appear on site, but we have to be patient as the economy needs to be stronger and more positive before businesses will take space in new premises. Itís frustrating having to wait, but with planning permission we will be in a position to move quickly when the time is right. Business relations overseas particularly with China have been moving forward at a rapid pace and the Peel International Trade Centre has attracted huge interest and hoped will be the catalyst to help kick-start the regeneration of the main Wirral Waters and Liverpool Waters projects."

Just some of the supporting comments on the questionnaires completed by local people included:-

► "It will have a positive outlook by regenerating the area and providing new jobs, which are greatly needed in this region."

► "Bringing work and trade for Wirral, urgently needed!"

► "Totally appropriate use for docklands area. Will bring lots of jobs for local people. Opportunity to make this an important regional focus for economic growth. Within the LEP area."

► "This is a good start for the rejuvenation of the area. I hope this succeeds, if it does it will be of great importance for the future."

It is hoped that the planning application will be presented to the planning committee in September 2011.

More information on the Peel International Trade Centre and the full results can be seen on the website.
MORE CARRIAGES TO RELIEVE OVERCROWDING ON NORTHERN RAIL NETWORK
PASSENGERS with Northern Rail are set to benefit from the introduction of more carriages in December to help ease overcrowding. The Department for Transport (DfT) have announced a further 22 carriages will be joining Northernís fleet to provide extra seats on some of the busiest services in and around the major cities of the North from December 2011. Ian Bevan, Managing Director, Northern Rail said:- "We are delighted that we will be able to provide much needed additional capacity for our passengers from December 2011. These carriages will deliver an extra 800,000 seats on peak time services across the north of England every year. Overcrowding has been one of the biggest challenges we have faced and one of the biggest causes of complaint tor passengers. I would like to thank our stakeholders for their support in helping demonstrate the clear need for more carriages for the north of England." This is the latest announcement under the DfTís rolling stock programme, which has secured a total of 60 additional carriages for Northern, 10 of which are already in service and the remaining 50 will be introduced in December (subject to cascade from other operators). In total the 60 carriages will provide an additional 2,200,000 additional seats on peak time services, including 6 additional services on the electrified network around Leeds. Northern serves 5 main urban centres (Leeds, Liverpool, Manchester, Newcastle and Sheffield), all of which experience varying levels of crowding at peak times. The additional carriages have been planned to reduce crowding on the busiest trains. In total 20% of all major urban centre peak time trains will benefit from additional carriages. With a lack of surplus trains across the industry, it is recognised that these additional carriages will not eradicate overcrowding completely, but they will deliver significantly improved journeys for many passengers. To help cope with the maintenance requirements of an enhanced fleet Northern is working with Network Rail to re-open Allerton depot on Merseyside, creating additional jobs within its engineering division.