Formby's Free Family Fun Day
Photos and report by C Trollope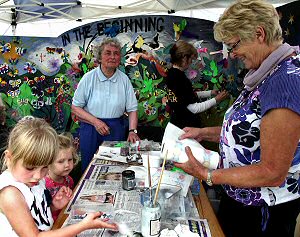 YES, it was really a "FREE" Family Fun Day for the 4th year running, with local people helped by local businesses giving free food and time under the guidance of the Formby Churches Together. There were no donations requests, no collecting tins nor charges on Saturday, 13 August 2011. The event was a gift from the Churches Together, to the Formby community.

The event started from mid-day, but the helpers had begun setting up at 7am, so it was a very long day for them. Many young children, especially those under 12 years old, with adults and teenagers in turned took part in the activities on Duke Street Park.

There was an abundance of things to do, from riding on go-karts to face-painting, train rides to making a dragon, through to exploring a Rwanda child headed family's house, not forgetting a chance to painting a car, plus lots and lots more games, crafts and activities. There were at least 30 stalls! Waitrose donated the food for the free Barbecue, and we are told that they had to replenished it at least twice, due to its popularalrity. Marks and Spencer ran a free Fruit and Cream stall, with Catterall Motors supplying the car for painting; the Travelling People Band gave some of the entertainment, as did the St Luke's Puppets. Even Zumba Dancing had a workshops for adults and younger people on the park. For the under 5's, Pine Pixies had games for them.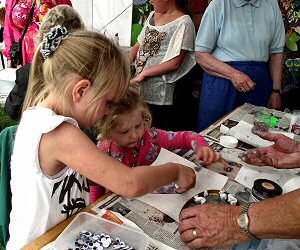 This event had the largest attendance of the four years it has run so far, thanks in part to a very warm and dry day. Everyone who took part told us that:- "We are now looking forward to next year's one! This and the Christmas performance and the Good Friday walk are highlights for the local community, which we look forward to." What a lovely contrast to the depressing scenes of the greed and violence of a minority in some of the cities of late and far more representative of our true values. Parents, Grandparents and Children were reluctant to leave when it all finished at 4pm, so very heart-felt thanks was expressed by everyone who attended for the efforts put in by all involved.

Not to be forgotten are Holy Trinity CofE, Our Lady of Compassion RC, Formby United Reform Church, St Peter CofE, St Ann RC, St Stephen CofE, St Luke CofE, St Jerome RC, St Michael CofE, Formby Christian Fellowship and Formby Methodist, who each provided funding, donations and volunteers. Also highlighted are the efforts of Franky the Clown, Range and Formby High Schools, Select Office Services, Spar, Harington Road, and Messy Church, as well as St John Ambulance's (Formby), without them the event could not have been held. Sorry if we missed any off!

Click on here to see our Formby's Free Family Fun Day Photographic Report..
...HAPPY BIRTHDAY...
If you have someone you want to say happy birthday to, for free, then use the email address below to send us the names you want us say happy birthday to, and/or a photograph. Email us today!
Audio Copy - Experimental Option...
Click here to hear this weeks edition in audio format. Also please do let us know what you think about it.

Manx Direct

08447
402038

2 Years Parts & Labour Worranty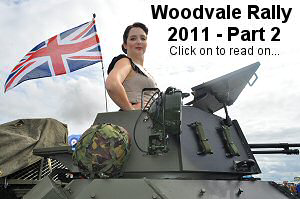 --- MORE NEWS REPORTS BELOW ---
Legal profession launches helpline to direct riot victims to pro bono (free) legal advice
Sporting challenge to Merseyside's health workers
Superheroes descend on Spaceport
INFLATION CONTINUES TO PILE ON THE PRESURE
Families and Football Stars Enjoy Liverpool
A big boost for biking beginners
ART BY THE FERRY PROMISES PICTURE PERFECT VIEWS
Unison and the city council back John Leech's campaign against rogue landlords
LIVERPOOL TOP OF NORTH WEST LEAGUE FOR UNEMPLOYMENT AS ECONOMY STALLS GMB STUDY SHOWS
Formby's Free Family Fun Day Photographic Report
Administrators close another 12 TJ Hughes stores
Woodvale Rally 2011, Part 2
ORGANISED CRIME UNIT (TITAN) ARREST MEN IN CONNECTION WITH DRUGS HAUL
HIT THE CINEMA FOR LESS WITH VUE'S AMAZING VALUE OFFERS
KEN DODD, BOB THE BUILDER AND OVER THE RAINBOW AN UNFORGETTABLE SEPTEMBER AT ST HELENS THEATRE ROYAL
Last chance to enter Liverpool Cathedral Photography Competition
Mersey Ferry service update
NEXT OF KIN APPEAL - NORMAN FOSTER
A review of Bittersweet-the story of Hartley's Jam
Homelessness fears for almost 3 million renters
Crying out loud (required)
Website opens doors for patient access to potential new treatments
A message for the residents of Merseyside from Merseyside Police and the Home Watch
CHLOE SIMS WITH SPECIAL GUEST DEVON ANDERSON THIS BANK HOLIDAY
DONATE TO VICTIM SUPPORT AND HELP RIOT VICTIMS IN LIVERPOOL
Merseyside allocated £5.46m for broadband roll-out
Is Southport home to the UK's most inspirational coastal spot?
A quarter of a million at Museum of Liverpool in just 4 weeks!
Temporary workers to gain full rights as legislation date approaches
CITY BANDS URGED TO ENTER GIG COMPETITION
NO TALENT BUT WE DESERVE TO BE FAMOUS FOR 15 MINUTES!

THE SOUTHPORT FLOWER SHOW 2011

THIS year's Southport Flower Show will be one of the best yet. The event will have many attractions including a 3m tall statue of the 'Queen Legend', Freddie Mercury, who will be in its very own "We Will Rock Your Garden". The statue, surrounded by £600 worth of blooms including Crocosmia, Lobelia, Ophiopogon, Phormium and Rudbeckia, is just one of the many surprising things you will find at this year's show. Also appearing at the event will be Liz McClarnon, Tony Kirkham, Matthew Wilson, Prof. Stefan Bucacki, as well as Shobna Gulati and Jimmie Harkishin, better known as Coronation Street's Sunita and Dev. That is not forgetting V actress and former Hollyoaks star Sarah Jayne Buckley, Miss England, United Nations Abi Bridgeman and other VIP's. To find out more visit:- southportflowershow.co.uk.

KEEP

up

-2-d

ate

... with our free daily news email service. Si

g

n u

p

today to our daily email news service via... Formb

y

-

Re

p

orter

.com

.
If you subscribed you can keep in up-to-date with what's going on in and around Merseyside. It is free and we do not send out massive amounts of emails.
Also your email is kept under the UK's Data Protection Act, so you can be sure that you will not have problems.