Reach new heights with a charity abseil in aid of the NSPCC
DO you fancy an abseil from the iconic Liverpool Anglican Cathedral? Then sign up today. The NSPCC is daring adrenaline junkies in Merseyside to take on a sponsored abseil on Saturday 17 September to help raise funds for the children's charity.

Feel the thrill and exhilaration of a 150ft freefall abseil over the main entrance of the Liverpool Cathedral .The beautiful Liverpool landmark is the largest Cathedral in the UK and the 5th largest in the world. Just imagine the views from the very top!

If you're up for the challenge and not afraid of heights then join us from 3pm – 4pm. Why not challenge yourself, your friends, family and work colleagues to have a go? Participants must be 18 or over and will abseil down the cathedral in pairs. Registration is £35 per person and participants are asked to raise minimum sponsorship of £155 for the NSPCC.

NSPCC fundraising manager, Helen Gazzola, said:- "We are encouraging as many people as possible to take part in this exciting abseil and do their bit to help. By raising sponsorship, your abseil will help the NSPCC in Merseyside carry on its vital work with children and young people. This includes supporting children and families through local services as well as providing vital funding to develop our national helplines – ChildLine for young people and the NSPCC Helpline for concerned adults, so that we can be there whenever and wherever children need us."

Places are still available for this truly unique opportunity to do something exciting and out of the ordinary whilst raising money for a good cause. To register or to find out more information, please contact Helen Gazzola, NSPCC fundraising manager for Liverpool on:- 07971 291 323 or you can send an email.

Money raised from sponsorship will support the NSPCC's Safe Place Appeal which funds the Hargreaves Centre in the heart of the city. The Hargreaves Centre houses different teams to help and support to the most vulnerable children in the community, including a domestic violence team, a families and substance support team and ChildLine, the UK's free, confidential 24 hour helpline and online services for children.

For more information about supporting the NSPCC locally please contact Helen Gazzola on:- 0151 637 3275.
Amateur Photography Competition Announced
THE Friends of Mere Sands Wood are organising their second annual photographic competition to take place in October. The Friends is an association dedicated to the support of the work and development of the Lancashire Wildlife Trust's Mere Sands Wood Nature Reserve in Rufford.

In recent years, the group has funded training courses for volunteer workers, equipment for use on the reserve, signage and display boards, cameras and TV equipment, a weather station and supported the work of species recording and data collecting groups.

The Friends also run an annual programme of events both indoors and outdoors on the reserve and in other locations. These events are open to the public and have provided entertainment, education and enjoyment for all.

Mere Sands Wood is a very popular location for photographers, providing the opportunity to take close-up pictures of wildlife in the woods and on the water. Visitors have captured stunning shots of kingfishers diving, great crested grebes' courting rituals, foxes patrolling the paths and dragonflies skimming the lakes.

Sponsorship has been raised from the following local firms and organisations.

► Jason Smalley
► Opticron
► Red Barn Products
► C.W. Berry
► Whitehead and Aldrich
► Rufford Veterinary Group
► Rufford Arms Hotel
► Don Fraser Coaches.
► J. Holland and Son
► Homestead Farm Shop

The competition will have three categories: Wildlife photos taken anywhere in the UK, Wildlife photos taken at Mere Sands Wood and Junior: 14 and under. Further details and entry forms can be obtained from:

Mere Sands Wood Reserve, Holmeswood Rd. Rufford. 01704 821809. Lancashire Wildlife Trust, The Barn, Berkeley Drive, Bamber Bridge. 01772 324129, or go to the LWT website.

Stroke patients benefit from virtual consultation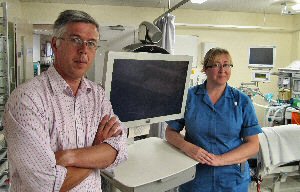 STROKE patients are benefitting from round-the-clock stroke treatment thanks to innovative use of teleconferencing technology by hospital doctors. 15 stroke consultants from 6 hospitals, including Southport and Ormskirk Hospital NHS Trust, are providing out-of-hours clinical advice online from their homes to 8 hospital sites across Lancashire and Cumbria.

The stroke consultant will be linked to a "telecart" positioned at the patient's bedside in the Accident and Emergency Department or, in some cases, the stroke unit. The consultant will conduct a virtual consultation, seeing and speaking to the patient and recommending an appropriate treatment.

The Telestroke service is set to transform and improve the diagnosis and treatment of all stroke patients by providing round-the-clock thrombolysis treatment (the use of drugs to break up or dissolve blood clots). In addition to huge patient benefits, the service is also expected to save the NHS more than £8 million a year.

Dr John Horsley and Dr Patrick McDonald have been closely involved in the development of the new Telestroke service at Southport and Formby District General Hospital.
Dr McDonald said:- "Stroke specialist nurse Lucy Bowers and the rest of the nursing, rehabilitation and radiology teams have done a fantastic job to make this new service happen. If a patient arrives in hospital with a stroke, outside the normal working day, a Telestroke consultation will then be commenced. The telecart contains a screen so the patient can see the consultant and a camera for the consultant to view the patient and will be placed in front of the patient's bed. The consultant will then be able to ask the patient questions and perform an examination with the help of the local team to decide whether the new symptoms have been due to a stroke and whether thrombolysis treatment is appropriate. Thrombolysis treatment can only be given to patients within four-and-a-half hours of the onset of their stroke so time is core to this treatment and Telestroke will help improve the speed of patient diagnosis.''

The Telestroke service utilises groundbreaking telecommunications which will maximise the number of patients given effective stroke treatment and drastically reduce the number of stroke-related disabilities and deaths in Cumbria and Lancashire. Kathy Blacker, Director of the Cumbria and Lancashire Cardiac and Stroke Network, said:- "The Telestroke system has been 2 years in the planning, as a team effort between all members of the network. By combining our resources and taking advantage of new technologies, we can now ensure that every suitable stroke patient gets this fantastic treatment, wherever they are in the region and whatever time of day their stroke hits."
Sara Creeney & Alex Danson
ACOUSTIC NIGHT
A fantastic evening with a local duo of young local singer songwriters who's work shows maturity beyond their years, This fantastic duo are poised to take the music industry by storm and represent one of the most promising rising acts in the music world. Singing many all time classics and some you may not have heard before this is your chance to enjoy the amazing acoustic sound and brilliant vocals of one of Britain's most exciting young talents. If you want a sneak preview then visiting Sara's website. Tickets:- £7.50 Including Supper or £5.00 with Longton VM Loyalty Card (Membership Card). To order tickets email:- tickets@longtonssc.co.uk or call:- 01772 616974.
Southport Access For Everyone
THE next meeting of the 'Southport Access For Everyone' forum will be held at Victoria Methodist Church, Sussex Road, Southport, Merseyside, PR8 6DG, on Monday, 26 September 2011, at 7.00 pm. The speaker will be John Driffill who runs the Southport Shopmobility Service in Scarisbrick Avenue and will tell us more about the newly opened Southport Community Service Station and what services they have to offer disabled people. This is a free public meeting. The premises are fully accessible for wheelchair users, with adequate car parking facilities, and light refreshments will be served. All enquiries should be sent to Val Carr, Vice-Chairman on:- 01704 567046 Please note our change of venue and that our meeting days will now be on Mondays. Date will be specified prior to each meeting.