The end of an era and the birth of a new
Photographs by Patrick Trollope and Interview by Beth Higginson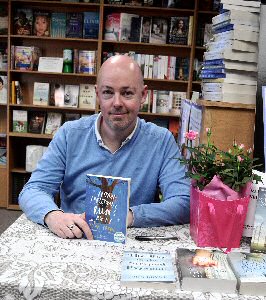 AS Formby's Pritchards, closed on Friday, 9 September 2011, a new book shop opened in Derbyshires, on Chapel Lane, Formby. The new shop is run by Tony Higginson, who has managed, Pritchards for 24 years. To mark the opening, he has got an exciting events calendar well under way. The first author doing a book signing for the new shop was John Boyne, who is best known for his book 'Striped Pyjamas' and not forgetting 'His Crippen.' He was in the new Formby Books on 14 September 2011, to promote his new book 'Noah Barleywater Runs Away.' After that he headed over with Tony to The Lounge, Quo Vadis, Formby, for a talk and to sign even more books. Keep an eye out as more is yet to come with Saturday, 17 September 2011, from 10.30am to 11.30am, you can meet Joseph Delaney, who will be signing copies of his latest Spook's Tale, 'I Am Grimalkin'. Then the shop will have Damian Dibben who has written 'The History Keepers', on Thursday, 22 September 2011 from 3:30pm to 4:30pm. The video below is a quick interview with John Boyne by Beth Higginson.
To see the new Formby Books website, click here now.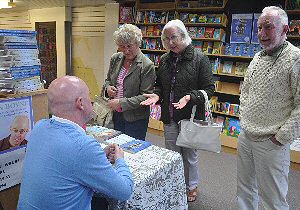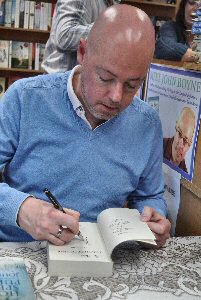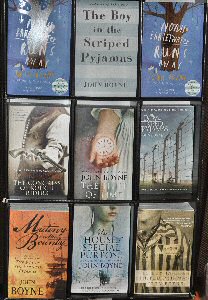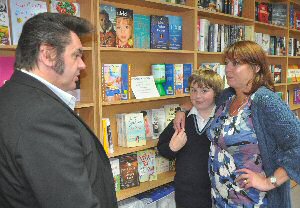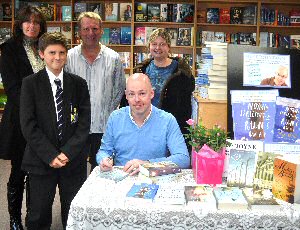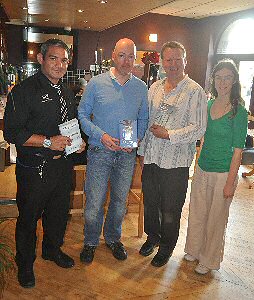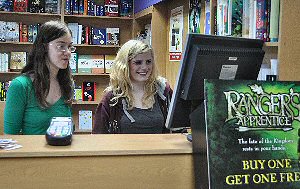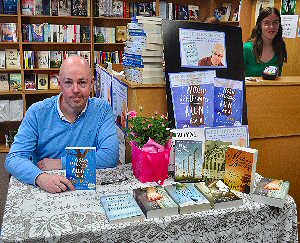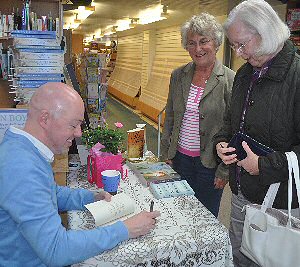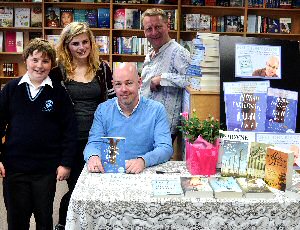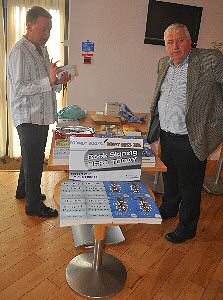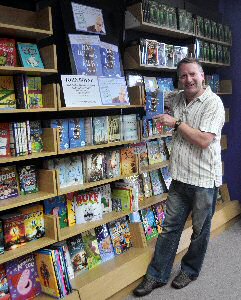 Radical investment plan for Liverpool Schools
LIVERPOOL has unveiled a radical alternative investment plan for its secondary schools following the cancellation of its Building Schools for the Future (BSF) programme.

In summer 2010 the Government axed Wave Six of the scheme, which would have seen £350 million spent rebuilding or refurbishing each school in the city.

Council Leader Joe Anderson subsequently commissioned a Task Force to look at a rescue package to see how the city could deliver more for less in the absence of previous levels of Government funding.

This piece of work has now been completed, and the city is now bringing forward an alternative set of proposals over two phases. The first is targeted at eight schools which are most in need, based around:-

Improving education
Boosting the local economy
Building stronger local communities

The proposals include an exciting new design concept never before seen in the UK or Europe for three of the schemes called EdVenture, which can be delivered for around half the cost of BSF schools.

Schools are built under a structure similar to a modern airport terminal building, which is far cheaper than the traditional method. It offers more flexibility as the internal layout and even the entire use of the site can be changed in the future.

Council Leader Joe Anderson said:- "When the Government axed our Building Schools for the Future programme, we were determined to find an alternative way forward to make sure our youngsters get the best possible start in life. I would like to thank Max Steinberg and the Task Force for their hard work over the last year, and I am pleased that the city council is now in a position to bring forward some firm, deliverable proposals for consideration. We have addressed some of the key concerns of Government around the cost of Building Schools for the Future by coming up with an innovative alternative for constructing schools which gives huge flexibility at a much lower cost. We believe that by working with all of the possible partners such as schools, the Dioceses and private developers, together with the sale of sites we can deliver Phase One of the programme. However, if we want to complete Phase Two as well we will need financial assistance from the Government so we will be doing our utmost to convince the Department for Education that it deserves a contribution from Whitehall."

Max Steinberg, Co-Chair of the BSF Task Force, said:- "Throughout our deliberations, the Task Force has tried to ensure that proposals would be built around delivering educational excellence and improving the city's economic prosperity, rather than just a simplistic response to the funding reductions. We are recommending a radical alternative school building programme to respond to the cancelled BSF Wave Six proposals. We have adopted a positive and practical approach to the issue, and I am pleased that the City Council is now in a position to be able to move forward."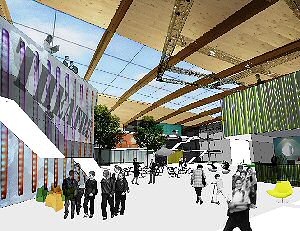 The EdVenture schemes are:-

Archbishop Beck Catholic High School relocated to Long Lane with an option of co-locating with a special school. Start date: Autumn 2012 with opening in Autumn 2013

St John Bosco Arts College on the Stonebridge Cross development with the possibility of it becoming co-educational and with an option of co-locating with a special school. Start date:- Dependent upon wider Stonebridge Cross scheme

Notre Dame Catholic College on a new site adjacent to Everton Park Sports Centre on Great Homer Street as part of the wider Project Jennifer regeneration scheme. Start date:- June 2012 with opening in autumn 2013

Frances Harrison, Headteacher at Notre Dame Catholic College, said:- "A new school building is exciting news for Notre Dame Catholic College, not only vastly improving the opportunities available to our young people but also in providing the space and quality of environment that enables us to serve our local community in a way we haven't been able to previously. A total of 82 percent of our students come from within two miles of our new building's location, signifying that this regeneration will create local facilities for local people. The building will enrich the community with a space that can grow and prosper along with the area and its inhabitants, securing a better future for our neighbourhood. Sustainable developments such as our proposed allotment gardens will transform the green space of our area into a hub of positive activity for both pupils and the community, where we can all work together to benefit the welfare of these young people and provide them with the best possible prospects."

The other proposals are:-

Holly Lodge Girls College to be partially rebuilt through construction of new buildings and disposing of the front half of the site. Start date:- 2013 with opening in 2015.

Relocating Archbishop Blanch Church of England High School and St Hilda's Church of England High School on the Edge Lane corridor as part of the wider regeneration of the area. The Governors of St Hilda's may also consult on becoming co-educational. Start date: Early 2013 with opening in 2015.

Rebuild and co-locate St Julie's Catholic High School with SFX (St Francis Xavier's) College on the Beaconsfield campus with a shared sixth form. Start date:- 2015 with completion in 2017.

A consultation is now getting underway for schools, parents and pupils and other interested parties to give their views.

The form can be downloaded from:- liverpool.gov.uk, or views can be emailed to:- bsf@liverpool.gov.uk, until 29 October 2011.

A separate consultation with Redbridge, Bank View, Sandfield Park, Palmerston and Abbots Lea Special Schools to establish how their requirements could be integrated into Phase One of the programme will be carried out over the next few months.

Further schemes, as part of a phase two, could take place after 2015 to:-

► Refurbish Clifford Holroyde Special School and Abbots Lea Special School.
► Rebuild St Margaret's Church of England High School.
► Refurbish Bellerive Catholic College.
► Refurbish The Bluecoat.
Boys – What's it Like Being You?
CAN you tell us about your life – your school, your hobbies and your family? Would you like to take part in a BBC programme? Dragonfly Film & Television Productions are looking for boys aged between 9 to 14 who can tell us what life is like. If you are interested or know someone who might be please get your Parents or guardians please get in touch to find out more by calling Dragonfly Film & Television Productions on:- 020 7033 2313, text them via:- 07857474242 or email them at:- mylife@dragonfly.tv The production will need your permission first before proceeding and are unable to take calls directly from children. Dragonfly Film & Television Productions background includes acclaimed documentaries such as the BAFTA award-winning One Born Every Minute and the double BAFTA-nominated The Family for Channel 4, as well as My First Year, a series following the school life of 15 kids starting secondary school. A full list of our past programmes is on:- dragonfly.tv. "The idea is that the boy will film his life from his perspective in the process becoming a voice of his generation and giving a unique insight into the life and times of a young person in Britain today. There could be a boy from Mersey out there who is ready to take us into his world and tell us about his school, family, friends, could he be the real life Adrian Mole? We're looking for someone who's aged between 9 and 14, who is talkative and engaging and who has the confidence to thrive on this opportunity." said Assistant Producer, Lucy Wilcox.
Press Statment by Brian Simpson MEP Lancashire Euro MP
IN reaction to the unveiling of the Boundary Commission's report, Labour's Brian Simpson MEP has told the media that:- "These boundary changes are at best a botch up and at worst blatant political gerrymandering. What is being proposed takes no regards of political or natural boundaries, no regard for community attachments, no regard as to effective representation and is all about the fixing of boundaries to help the Conservatives cling onto power. In all my time in politics, never has a Government attempted to rig things to blatantly as this one." Do you agree? Email us to:- news24@southportreporter.com with your views on this.