Cockle pickers rescued from Ribble Estuary
ON Friday, 14 October 2011, volunteer crew members from Southport Lifeboat and the RNLI Lytham ILB were tasked to assist and recover a fisherman with a suspected dislocated shoulder, who was working on the South Gut cockle beds. Once the casualty had been taken to Lytham onboard ILB, Southport Lifeboat Quads stood down. Then on 17 October, the RNLI were called to 4 people, stranded in their dingy, in the rough water. Again on, Monday, 24 October 2011, 3 boats reported to contain cockle pickers were rescued, after they became marooned in the Ribble Estuary, near Lytham. This incident happened at around 6.40pm when Lancashire Police received reports of red flares being seen from the water and notified Crosby Coastguard. The same station that is are under threat of closure! The Coastguard subsequently tasked both volunteer crews from Southport Lifeboat and RNLI Lytham, to assist. The RNLI crew are reported to have found that 2 boats had broken down and another that had been cast adrift. Southport Rescue's RIB assisted another which had become stranded on a sandbank near Lytham. None of the rescued cockle pickers were injured. Their nationalities and genders are not yet known. Police said that a major search operation, with support from Lancashire Police's helicopter, was then launched to check no one else was in the water. This rescue operation was quickly launched, after lessons were learnt from the Morecambe Bay tragedy in 2004, when 23 Chinese cockle pickers drowned. Cockle pickers are being strongly advised to check weather forecasts and take advice before working. These occurrences are on top of several other incidents. On 4 September a small hovercraft, with 2 crew members, had to be assisted by the Lytham RNLI's Lifeboat who towed the stricken hovercraft back to the beach at Southport. Also on 28 September the RNLI was called out again:- "We responded to reports of 4 people being stranded on their dingy in the rough water, but on arrival, volunteer crew members in fact found people who were stranded due to having no power because of a broken engine. The casualties were wearing lifejackets, but they had no means of communication in case of difficulties like they were facing." the RNLI said. Unlike the incident which was connected to Merseyside's coastline, many of the Lancashire's coastline incidents have raised questions about safety. A spokesman for Defra said:- "Gangmasters Licensing Authority officers are now investigating whether gangmasters were involved in the recent incident and they will report back early next week." The North Western Inshore Fisheries Conservation Authority (NWIFCA) limited the number of cocklers in the estuary and all permit holders had to be fully trained in health and safety, but it looks like "greater controls need to be introduced" according to Fylde Conservative MP Mark Menzies who also has said that he "feared a repeat of the Morecambe Bay tragedy." The spokesman for NWIFCA responded by saying:- "NWIFCA is also doing a great deal of work with other agencies to address safety issues with small boats taking part in the fishery, and is planning to put out more guidance in relation to safe use of small vessels." At the time of writing a further rescue had been reported to have taken place.

Did you know that the cockle beds on the sand banks at Foulnaze, near Lytham, have attracted about 300 cocklers a day? Also hauls can fetch up to £1,200 a tonne at fish markets?

Why not see our related report 'Cockle Pickers Flock To Southport' by clicking here.

Royal Society of Chemistry presents Chemical Landmark Award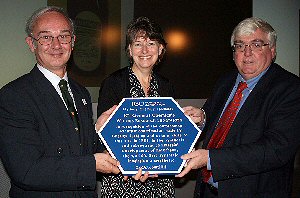 THE Royal Society of Chemistry, the UK Professional Body for chemical scientists, honoured the work of research scientist Charles Suckling and his team by awarding a Chemical Landmark Plaque to Catalyst Science Discovery Centre at a presentation ceremony on Saturday, 22 October 2011.

Whilst working at the ICI General Chemicals Research Laboratories in Widnes, Charles Suckling and his team developed an inhalation anaesthetic called halothane which, between the early 1960s and the 1980s, became the world's most successful and most used anaesthetic.

Members of the RSC, trustees, sponsors, friends and local dignitaries were welcomed to Catalyst by Trustee, Dr Jenny Clucas who said:- "It is a great honour to accept this award on behalf of Catalyst in this, the International Year of Chemistry and I am delighted that Professor Colin Suckling, son of Charles Suckling and his family were able to join us on this special occasion. The breakthrough that the team made here in Widnes, helped to revolutionise surgical procedures across the world and Catalyst will be thrilled to display the blue plaque on the front of the building."

Professor Colin Suckling delivered a short presentation about the history of halothane, its development in the research laboratories and the subsequent impact that it had on him personally and throughout the medical profession. He said that his father was extremely proud that he and his team were being honoured in this way.

Presenting the award, RSC Executive, Professor Paul O'Brien said:- "Chemical Landmarks are the Royal Society of Chemistry's official recognition of historical sites where important chemical breakthroughs have been made and are an RSC initiative to commemorate, emphasise and awaken public interest in historic developments in the chemical sciences. Although the actual laboratory where halothane was developed has sadly been demolished the RSC are proud to award the plaque to Catalyst as this building was close to the site and was also used by ICI as the Tower Laboratory."

The plaque was formally presented to Dr Jenny Clucas before being installed and unveiled by Professor Colin Suckling and distinguished guest, Professor Martyn Poliakoff from Nottingham University and the Royal Society's Foreign Secretary.

As a tribute to the work undertaken by Charles Suckling and his team, Catalyst has installed a permanent exhibition about anaesthetics, the development of halothane and the impact that it had across the world. You can find out more about Catalyst by visiting their website.