£130m housing investment for city
AN extra 2000 new homes will be built in Liverpool in the next 3 years under ambitious plans unveiled by the city council which will see £130m invested in housing. And there will also be a major drive to bring empty property back into use, the potential introduction of a mortgage scheme to help first-time buyers and the creation of a £20m housing fund. It means that over the next 3 years the council will be able to lever in an estimated £130m for new housing developments. The plan aims to improve the quality and range of the housing stock in the city by working with Registered Providers (RP); previously known as Registered Social Landlords; and private developers. It will involve making council-owned brownfield sites, throughout the city, available for housing at no cost, although RPs would have to enter into some form of clawback agreement in the case of sites which are not ultimately developed. Councillor Joe Anderson, City Council Leder, said:- "This is the biggest investment of this type we have seen for decades. When I took over as leader I made it clear that housing was one of my top priorities and this plan will help deliver significant improvements at a time when we are facing real economic challenges. Not only will our housing stock be improved through this and other building schemes which are taking place in the city, but it will create much-needed jobs and help build sustainable communities. We are investing in this area to save. We will be providing housing which will encourage people to stay in the city which boosts its economy. But this is not just about social housing, it is a unique opportunity for regeneration and growth which will produce thousands of construction jobs and hundreds of apprenticeships. Along with our investment in eight new schools and through the council's Asset Backed Vehicle, which allows us to use our land and buildings to attract long-term investment from the private sector and so stimulate regeneration, we are looking at around half a billion pounds of investment in the city creating growth and jobs."

Councillor Ann O'Byrne, cabinet member for housing said:- "It makes eminent sense to invest in housing in this way. Over time we can recoup a good part of our investment by the increased income from council tax and through the Government's new homes bonus. It is vital for the city that we provide the type of affordable homes that people want. With the ending of the Housing Market Renewal Initiative programme and the general lack of investment in the housing market we have to find imaginative ways of providing the type of good quality homes people in this city want. By releasing sites at no cost, providing a subsidy and working with private developers and registered providers, we will see 2000 new homes built in this city in the next three years on top of the hundreds which are currently being built. We have a waiting list of 18,000 and we will drastically reduce this by providing the types of homes people desperately need. We are also going to tackle the problem of empty homes. There has been some success in reducing the number in recent years but a lot more can be done and we are going to have a dedicated team to deal with this. We are also looking to provide help for first-time buyers to get them on the housing ladder."

As well as the new build proposals, the plan also includes creating a special team to make a concerted effort to deal with empty homes in the city. The number of empty properties has fallen from 11% of the city's housing stock in 1998 to 6% last year but it is felt this can be improved by a mixture of persuasion and enforcement action on private owner. For the mortgage scheme, £3m could be made available to initially help 200 first time buyers, and repayments will be used to help fund further mortgages. Nick Kavanagh, council's director for regeneration and employment, said:- "This is a prime example of the council working in partnership with the private sector and social housing landlords to improve the quality of housing in the city while developing sustainable regeneration in our communities."

It is proposed that the plan will be financed through borrowing and by using capital receipts. The council has also bid for £10m of funds through the Housing Market Renewal Transition Fund and could potentially receive revenue from the New Homes Bonus.
Local children invited to a right royal audition of King And I - Auditions now Announced!
LIVERPOOL Empire Theatre and Music and Lyrics Ltd are seeking enthusiastic and talented young people to take part in next April's spectacular production of The King and I, starring Ramon Tikaram and Josefina Gabrielle.
The King's children are an integral part of this all time classic story and always a favourite with audiences.
Boys and girls aged 5 to 14 years and of all ethnicities are invited to apply. Candidates must have dark hair and the ability to sing and dance. No previous experience is necessary, just a great deal of energy and enthusiasm!

Candidates must be available to attend the following audition times (applicable to their age):-

Saturday, 19 November 2011 - 8.30am to 11am Girls and Boys aged 5 to 8 years. 11am to 1.30pm Girls and Boys aged 9 to 14

Audition Location:- The Liverpool Empire Theatre, Lime Street, Liverpool, L1 1JE.

Those wishing to audition MUST pre-register by completing and returning an application form and 2 passport sized photographs no later than 6pm, Thursday, 17 November 2011.
Application forms can be downloaded.
This is a great opportunity for young performers to appear on the famous Empire stage in a fabulous production of one of the best loved musicals of all time.

BSL Messy Church at Liverpool Cathedral
Photographs:- BSL Messy Church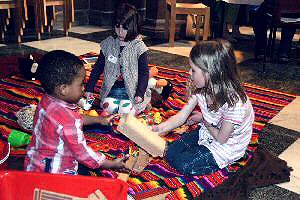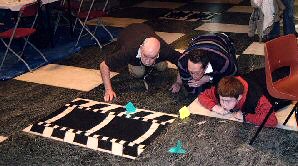 LIVERPOOL Cathedral is to host its next British Sign Language (BSL) Messy Church event on 19 November 2011. Messy Church is a common expression of church in the Church of England. It encourages whole families to come together for craft activities, food, story-telling and celebration around a Biblical theme. The idea is to make Church accessible and fun for the whole family, offering something different to usual Sunday morning services.

The next Messy Church in the Concert Room of Liverpool Cathedral (4pm-5.30pm) will be conducted in BSL as well as spoken English and it will be aimed at families who use BSL because either parents, grandparents or children are deaf. The theme for this month's Messy Church is the Good Samaritan and activities will include making edible lollipop ladies, painting with marbles and bandaging people up. All are welcome.
Rev Dr Hannah Lewis, Team Leader in the Liverpool Diocese for Work Among Deaf People, is leading the session. Hannah said:- "Our first BSL Messy Church in March was so successful that we couldn't wait to plan our next one. The idea isn't about providing access to a hearing project for deaf people, but rather about establishing an entirely new group where all can participate together regardless of whether they are deaf or hearing. Messy Church is a fantastic way for all families to keep in touch with Church if going to the normal Sunday services is not possible. All are welcome to come along."

No pre-booking is required. Simply turn up to join in the fun! More information from Rev Hannah Lewis, email or text:- 07919 411817.
Finance Fitness a step in the right direction, says business support group
A business support group has welcomed the Government's new Finance Fitness campaign. But while the Forum of Private Business supports the new initiative, which will seek to improve small businesses cash flow issues, the lobby group says it remains down to banks to deliver on their pledge to increase lending, without which any assistance is pointless. The Finance Fitness scheme, launched by Business Minister Mark Prisk, aims to help small firms assess and improve all areas of business finance. It will see Government offering SME's advice on cash flow management, and the importance of maintaining a good credit rating for lending purposes. While the Forum says any additional support for SMEs, particularly from Government, is a step in the right direction, it believes banks must also play their part by increasing lending, reducing borrowing costs, end early repayment penalties, and return to localised decision making on lending. The Forum's Senior Policy Adviser, Alex Jackman, said:- "In an economic environment characterised by continuing credit restrictions, clear and thorough financial information is demanded by the finance and credit industry to assess risk. Any help for businesses to maximise their chance of getting a 'yes' from their bank manager is clearly welcome news for SMEs, and sends out a positive message that government understands enterprise is the key to getting the economy back on track. But while it remains unsustainable for lenders' decisions on credit worthiness to be made centrally and using over-centralised risk aversion criteria, business owners should be proactive in controlling their own destinies. Reacting to the demands of lenders by providing thorough financial projections, with up-to-date, accurate financial information is a sound basis for that. The Forum is still calling for greater collaboration between banks and businesses and a return to proper relationship banking. This is would help ease the punitive risk criteria lending we have seen in recent years, and subsequently bring down lending costs." The Government's new scheme will also see firms made aware of alternate sources of credit, as opposed to the usual high street lenders. Advice will also be offered to business on issues around late payment, the amount of time small firms are waiting to get paid by their customers, the impact this has on businesses, as well as advice on how to get paid on time. Mr Jackman added:- "It's high time that the Government put the spotlight on the importance of businesses' finances. Many small businesses only approach banks for funding when cash flow is at its lowest, which of course is the worst time to negotiate a good deal. Solid advice from those who represent business, coupled with a Government drive to raise awareness, will help small businesses to better manage their finances in tough economic times and reap the benefits of better credit scores and improved invoicing processes. Of course, concrete Government action in the area of late payment would be even more helpful, and the Forum will use the opportunity of a spotlight on financial readiness to lobby for more to be done to tackle this issue."
Naked ladies are top of the bill
ACADEMIC lecture discusses role of burlesque dancers in 19th century America. An insight into life as a performing 'naked lady' is the topic of an upcoming academic talk in Preston. Dr Theresa Saxon, from the University of Central Lancashire (UCLan), is giving a lecture entitled 'Naked Ladies: Burlesques, Ballets and Leg-Shows in 19th Century American Theatre'. The talk, taking place in the Harris Library on 5 December 2011, at 5.00pm, is an examination of women in popular American theatre performances from the 1860s to the 1880s. It is based on the Literature and Cultures Subject Leader's current research and taken from her book, American Theatre: History, Context, Form, which is being publishing this year by Edinburgh University Press. Dr Saxon said:- "Popular theatre is much maligned and female actors are criticised as either stupid or 'wayward' or both for performing in 'leg shows,' which were dance shows with scanty costuming. My research has led me to challenge that assertion, finding examples of women on stage who benefitted financially and were active participants in the display of their flesh." Tickets are free, to reserve your place contact Dr Saxon by email or call:- 01772 893031.