Last chance to get your Maggie Stiefvater Tickets online...!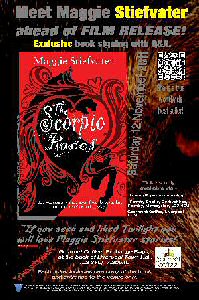 WHAT an amazing night we have awaiting you all in Liverpool's Gourmet Coffee... We are over the moon to have attending on Saturday 12 November 2011 the international best-selling author Maggie Stiefvater. Maggie will soon be on her way back from New York, in the USA, bet not before she conducts our exclusive book signing and question and answer session.

This will be the very last time to quiz her in the UK until her film 'Shiver' (which is billed as the next Twilight) is released in 2012. She is also promoting her new book The Scorpio Races. "A breath-taking read that will make your heart race..."

Tony Higginson from Formby Books the main co-ordinator for the event added:- "We expect a lot of interest for the 7:30pm event. She has a massive following and we are so lucky to have a chance to do this in Liverpool. We would like to thank Scholastic and Maggie for giving this magical opportunity for us in Liverpool. We picked Gourmet Coffee for its proximity to local transport, it also has an ambient and intimate atmosphere."

A spokesman for Vamphire.com who are running also running the event added:- "She is an amazing lady who has written so many amazing books. We just can't wait to hear what she has to say about her new book and the soon to be released film."

There is also the opportunity for a public queue to get books signed at 8.30pm, after the event so if you do not want to chance it, get one of the 70 tickets now before it's too late. You might be lucky on the night and get a ticket on the door, but they are selling fast!

Dean from Gourmet Coffee commented:- "The Gourmet Kingdom will be open throughout the day, so if any tickets remain, you can buy them from us. Also for anyone travelling long distances and a full food and drinks menu is available for those who may be hungry. We are looking forward to this event as are many of our customers, so don't delay in getting tickets!"

Tickets are only £10, including her new book 'The Scorpio Rises' (If you let us know in advance you can 'swap' for one of her others.)... To get your tickets call Formby Books on:- 01704 830 130 or Gourmet Coffee on:- 0151 236 5266. Or book online at:- MerseyReporter.com/Shop

The venue is located at 6 Walker House, Exchange Flags, Liverpool, L2 3YL. Doors open until the event finishes. Map.

Did you know:- Maggie Stiefvater is an award winning American author, writing books mainly aimed at young adult and adult audiences. They are mostly urban fantasy novels. To find out more about her visit:- MaggieStiefvater.com.
Manx
Direct

08447
402 038

2 Years Parts & Labour Worranty