It was a spooky night on the farm!
Photos and report by Patrick Trollope.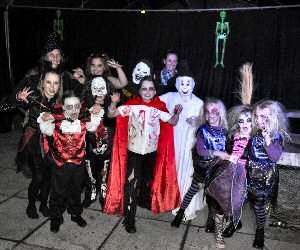 A strange thing was going on this Halloween at Sefton's newest attraction located at Moss Side, Formby. The 'Bridge Inn Community Farm' was hosting a Halloween event aimed at children, aged 6 to 11 with a very Spooky Tour around the farm for all guests attending the event. Providing stories and some of the frights was Gambolling Arena Theatre Company, who are locally based. Also children got to do traditional Halloween games like ducking for apples as well as getting prizes for the scariest costumes... This was a fantastic start to what the attraction hopes, will become an annual event. Unlike most attractions of this type, the farm is very well designed to accommodate children with all types of disabilities, so they hope to build on that side as well. Plus, watch out adults... as plans are at foot for next years Halloween to include you as well! Despite the size of the farm not being as big as some in the local area, what it lacks in space, it makes up in lots of other ways.

Well we sent our editor along to see what was going on over Halloween night, at the hunted attraction! Click on here to see more photographs taken by us at this event. Also if you attended the event, please do let us know what you thought of it by emailing our newsroom!
Audio Copy - (Experimental)

Click here to hear this weeks edition in audio format. Please let us know what you think about it. via emailing us. Also if you have a child who can draw a face, send one in and we will look at using it for our news reader for an edition. Adults can try as well! You will get a copy of the animation sent to you and credit on the animation as well!.

...HAPPY BIRTHDAY...


Anthony Goodwin Happy Birthday


I

f you have someone you want to say happy birthday to, for free,

then

use the email address below to send us the names

you want us say

happy birthday to, and/or a photograph.

Email us today!
Manx
Direct

08447
402 038

2 Years Parts & Labour Worranty