Olympic Flame path revealed!
THE Olympic Flame is set to travel past some of Liverpool's most famous landmarks. The broad outline of the communities it will go through on Friday, 1 June 2012, has been revealed by the London 2012 Organising Committee of the Olympic and Paralympics Games (LOCOG); although the exact street-by-street route will not be unveiled until next year. It will include many of the city's most historic and best known communities and landmarks, including:-

► Knotty Ash – made famous by Ken Dodd

► Old Swan - location of St Oswald's Church, designed by world famous architect, Pugin

► Kensington – where Sidney Silverman - co-founder of CND was born

► Edge Hill – home to Joseph Williamson, the mole of Edge Hill

► Chinatown – home to Europe's oldest Chinese population

► St George's Hall and the Cultural Quarter – the jewel in the city's architectural crown

► The Anglican and Metropolitan Cathedrals – linked by Hope Street

► Scotland Road – one of the city's most famous communities and the birthplace of Cilla Black and Tom Baker

Plans are also underway for a special evening celebration event at the world famous Pier Head – offering thousands of people the opportunity to come together and get involved in celebrations and to share in the Olympic spirit. As part of the events, LOCOG and the Presenting Partners, Coca-Cola, Lloyds TSB and Samsung, will stage an exciting entertainment show, where a cauldron will be lit from the Olympic Flame, marking the end of the day's proceedings.

Councillor Wendy Simon, Cabinet Member for Culture, said:- "I know the people of Liverpool will come out on to the streets in their thousands to watch the Torch Relay taking place. It is great that we have so many fantastic landmarks for it to pass, and we have also worked hard to make sure it also travels through many of our communities as well. The city is no stranger to hosting high profile sporting events in many fields including tennis, badminton, netball, golf and sailing, and we're proud that the city is part of the warm-up to the world's greatest sporting competition. We're looking at ways to celebrate the arrival of the torch in the city and more details will be released over the next few months, so our communities can become part of the buzz around the Olympic Games."

People can view an interactive map to find out the nearest community through which the Olympic Flame will be carried. It will arrive in the UK from Greece on Friday, 18 May 2012 and the 70 day Torch Relay will start at Land's End, Cornwall on the morning of the 19 May 2012. On leaving Land's End, it will travel an estimated 8,000 miles across the UK, before arriving at the Olympic Stadium on 27 July 2012 for the lighting of the cauldron at the Opening Ceremony, signifying the start of the London 2012 Olympic Games. Liverpool is one of over 1,000 villages, towns and cities announced, through which the Olympic Flame will be carried by Torchbearers during the London 2012 Olympic Torch Relay, which is presented by Coca-Cola, Lloyds TSB and Samsung.

Sebastian Coe, Chair of LOCOG said:- "We are thrilled to confirm that Liverpool will act as a host location for the Olympic Flame, extending an invitation to people to welcome the Olympic Torch Relay during its journey around the UK. This is the UK's moment to shine and I want to encourage people across Liverpool to start planning how they can be part of this once in a lifetime opportunity and show their support for the inspirational Torchbearers chosen to carry the Olympic Flame, as we count down to the start of the Olympic Games."

In announcing the villages, towns and cities LOCOG has realised the aspiration of taking the Olympic Flame to within an hour's journey time of 95% of the population. Over 95% of the population will be within just 10 miles of the Olympic Flame next summer. The Olympic Flame will be carried across the UK by 8,000 inspirational Torchbearers each of whom will have a story of personal achievement and/or contribution to the local community. In December this year, successful nominees will be contacted with a conditional offer and final Torchbearer places will start to be confirmed from February 2012 onwards.

LOCOG also launched 2 new public participation programmes. The 'Local Leaders' initiative is an invitation to people to take the 2012 Games into their community and create their own celebrations next year, for the Olympic Torch Relay and other key moments during the Olympic and Paralympic Games. People are encouraged to sign up to the Local Leader programme online to receive further information on a range of themed celebration ideas focusing on the Opening Ceremony evening, gardening, quizzes and barbecues and be in the front row to receive free London 2012 event materials to support events. Also launched was the 'Get Set for the Olympic Torch Relay' education resource, available to all schools registered with Get Set, London 2012's official education programme. The aim of the resource is to provide schools with cross-curricular resources aimed at teachers working with 3 to 16 year olds to aid learning around history of Olympic Torch Relays, the design of the London 2012 Olympic Torch Relay and the Torch itself. A further education resource will launch next year to encourage schools to plan a welcome for the Olympic Flame and show support for the Torchbearers. Lloyds TSB, official Education Partner of the London 2012 Olympic Torch Relay, have launched their Flame Followers schools programme which complements the Get Set resources, and gives schools once-in-a-lifetime opportunities be right at the heart of the excitement and celebrations of the Relay.

The full routes going via Merseyside are as follows:-

The Flame on 14 day from Bolton to Liverpool (1 June 2012) will go via Bolton, Horwich, Chorley, Burscough, Ormskirk, Southport, Ainsdale, Formby, Crosby, St Helens, Huyton, Knotty Ash, Old Swan, Liverpool, Birkenhead...

On day 15, (2 June 2012) the Flame will go via Liverpool to Douglas, Laxey, Onchan, Ballasalla and Castletown, all in the Isle of Man...

Pedal Power for Merseyside!
MERSEYSIDERS are getting out and about on their bikes more than ever before, with a 25% increase in cycling since 2006. More and more people are opting to cycle some or all of their way to work, there's also a rise in cycling for pleasure, with the increasing popularity of organised cycle rides and people choosing cycling as a healthy hobby for all the family.

One thing that's helping people feel more confident about their journey is a massive cycle training and skills programme. Merseyside offers the largest Bikeability programme in the UK, training children to cycle to national standards. Adults are becoming skilled too, from learning to ride and finding quiet routes to cycling safely in traffic; as well as being offered bike maintenance sessions. A range of cycle maps and infrastructure improvements are also helping to make it easier for people to get around by bike.

Keen cyclist Amanda Dufresne said:- "Since taking up cycling I've developed more stamina and I'm feeling fitter than ever. I cycle to work, which saves me money and I also use my bike when I'm visiting friends or nipping to the shops, because it's a quick and reliable way to get around."

Neil Scales, Merseytravel Chief Executive added:- "Through our TravelWise campaign cycling is a key part of our drive to encourage sustainable transport and to meet our targets for reducing carbon emissions and traffic congestion across Merseyide, so this increase is really positive news."

For more information on cycling in Merseyside visit:- LetsTravelWise.org/cycling, or Telephone:- 0151 330 1253.
Saints and Vikings announce date for annual Karalius Cup game
BE a part of history! The first match at Saints' brand new state-of-the-art stadium will be the traditional Karalius Cup clash with Widnes Vikings. Kicking off at 8pm on Friday January 20, Royce Simmons' charges will pit their wits against Denis Betts' Super League new boys in a bid to retain the trophy.

Betts said:- "To play the 2011 Super League Grand Finalists in what will be the first game at their brand new stadium is a massive honour for this club and further proves the strong link we have with St. Helens. Given the game is just a couple of weeks away from our 2012 Super League opener, going head to head with such quality opposition will also give us a greater understanding of how our pre-season has gone and where we're at. As a player and a coach, I don't think I've ever equated the words Rugby League and friendly in the same sentence. Whenever you play this game you can't go into it half-hearted and you have to give it full bore which is certainly how we'll be treating it and I've no doubt whatsoever that it'll be a real contest between the two teams."

Both sides will be at full strength for the game and that means Saints fans are likely to see the debuts of Anthony Laffranchi, Lance Hohaia and Mark Flanagan. Simmons' squad will also feature the exciting talents of Jonny Lomax, Jamie Foster and co. Royce added:- "We're delighted to welcome Widnes to our new home and I have no doubt it will be a good game. We will be well on with our season preparations and a game against a Super League club will be a real test. As a result, we will be putting out our strongest side. It's also nice to welcome the Vikings to the stadium for this historic match as a thank you for their help and hospitality last season."

Tickets for the annual Karalius Cup game will be available from both clubs and will go on sale soon. So don't forget.... St. Helens v Widnes Vikings on Friday, 20 January 2012, with Kick Off at 8.00pm.
Public invited to 'take time out' with a mini retreat at Liverpool Cathedral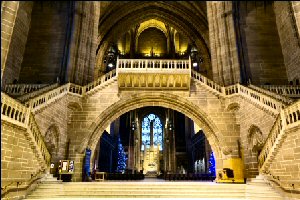 MEMBERS of the public are being invited to take time out ahead of the busy festive period with a free mini retreat around Liverpool Cathedral. Awesome and Intimate is a new spiritual journey around Liverpool Cathedral. People can pick up a free, specially designed retreat booklet at the welcome desk and follow a trail around the building, stopping at ten different points, and reading a short reflection to accompany each space.

The mini retreat will be officially launched at 6.30pm on Thursday, 29 November 2011 with an inaugural group retreat led by broadcaster Roger Philips (please meet at the welcome desk). Roger will read the words of reflection at each station, followed by a few moments of quiet. People are also free to follow the trail at their own pace. Those attending are also invited to attend Evensong beforehand from 5.30pm if they would like to.
10,000 of the Awesome and Intimate booklets have been funded by the Friends of Liverpool Cathedral and are available all year round. Richard White, Canon for Mission and Evangelism at Liverpool Cathedral said:- "Awesome and Intimate encourages people to take time out, and just be - away from the hustle and bustle of everyday life. The focus is very much on the participant giving themselves their own time and space within the physical space of the Cathedral. It is for everyone - those who come to the Cathedral every week and those who have never been. We hope that everybody can take something from it and that they will find it especially useful ahead of the busy festive period."

Roger Phillips added:- "When I first arrived in Liverpool some 40 years ago, I remember thinking that the Cathedral signified a pretty terrifying God. Within a few weeks I came to know it better and to appreciate both how awesome it is, and yet how beautifully intimate it can be – a Cathedral which genuinely reflects the deity. I'm really looking forward to sharing that dichotomy at the end of this month."

To try out the spiritual journey for yourself, simply take a free copy of the Awesome and Intimate booklet from the near the baptistery.