GPW Legal Services St Helens 10k Run in Association with Hattons Solicitors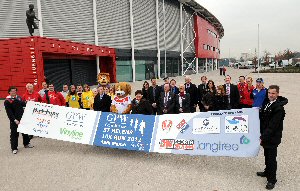 THE Steve Prescott Foundation in association with Engage Mutual Assurance are pleased to announce that the GPW Legal Services St Helens 10k Run in association with Hattons Solicitors will take place on Sunday, 18 March 2012, starting and finishing at the New Saints Stadium.

The challenging route will pass through the town centre and will take in the challenge of North Road and Victoria Park.

Steve Prescott MBE said:- "The Foundation are really excited about next year's run. The prospect of finishing at the new stadium was always our intention after the inaugural event. It is great to see local St Helens businesses & Saints RLFC supporting our philosophy of providing a stage to promote health and well- being to the St Helens Public."

This year all the sponsorship has been driven by local St Helens businesses whose staff members are already putting together teams to take part either by running or by volunteering on the day.
The runs title sponsor GPW Legal Services was born out of a business venture with Hattons Solicitors. After sponsoring the first 10k run in 2011, Hattons Solicitors still wanted to support the local fundraising event but chose to do this through their new business venture with GPW.

GPW Recruitment is one of the premier recruitment firms in the region, dedicated to serving its clients to the highest standard. Therefore GPW Legal Services was formed to provide bespoke, cost effective legal advice and solutions for GPW's corporate and private clients, giving them added value.

Managing Director of GPW, Mark Parish, said:- "We are very excited to be sponsors of the St Helens 10K Run 2012. A number of staff from GPW took part in last year's run and really enjoyed it. There was a great sense of accomplishment and team spirit, and it's a great opportunity to get motivated do something different outside of the working environment that can also contribute to a healthier lifestyle. Steve Prescott is truly inspirational. His on going battle against cancer and his amazing positive mental attitude sets him apart from most - I do not know where he gets his energy from! It is an honour to be working with the Steve Prescott foundation and we will pull out all the stops to ensure next year's run is a massive success."

With the new St Helens RFC Stadium opening in 2012 it's a fitting venue for the St Helens 10k Run to start and finish, as people get to run into and out of the stadium adding to the overall experience.

Eamonn McManus, Saints Chairman, said:- "St Helens RFC are delighted that the Steve Prescott Foundation have chosen the new Saints Stadium to stage the GPW Legal Services St Helens 10k Run. The run will integrate the community of St Helens and our new stadium will be a perfect amphitheatre for all the athletes and spectators. It will provide them with a thrilling climax to the challenging 10k course. All Saints staff and players are excited about the event and many have already agreed to take part and raise funds for the Saints Foundation."

Leader of St.Helens Council, Marie Rimmer was delighted to support the launch of the event, saying:- "Steve is an inspiration to us all and his Foundation raises thousands for very worthy causes. His dedication to helping others is a real motivation to others and I hope that as many people as possible will support the run."

The New Tesco Extra Store, which has recently opened next to the new Saints Stadium, will also be providing valuable assistance to the run.

Glyn Heppenstall, Tesco Store Manager, said:- "Tesco St Helens Extra is really excited to be one of the key sponsors of the St Helens 10k run which raises thousands of pounds for good causes. This will be the first time the race will finish the new stadium next to our new store. We are proud to pledge the £2,000 as well as giving every participant a bottle of water and a t-shirt on the day. During the build-up to the big race we will be hosting signing-up days here in our new store."

Every Runner will receive a free t-shirt and medal plus DW Sports Fitness & Domino's Pizza are providing excellent incentives for all runners.

As well as being able to raise money for the Steve Prescott Foundation, five other local charities will benefit from the run. Willowbrook Hospice, Tunza's Pride, Honeyrose Foundation, Andy Reids Soldiers Charity plus the Saints Foundation, who have provided an incredible conveyor belt of talent over the past decade, will all benefit from 2012's 10k run. To enter and keep up to date with the 10k run please visit:- sthelens10krun.org.uk or contact Martin Blondel on:- 07971 792859.

Outgoing Liverpool Biennial Director Lewis Biggs OBE, joins FACT Board
FACT is delighted to announce the appointment of Lewis Biggs, OBE to the FACT Board of Trustees. Biggs, who resigned from his post as Director/CEO of Liverpool Biennial in May, brings with him a wealth of experience in curation, arts management and policy. In June 2011 he was awarded an OBE for services to the arts, and became a Citizen of Honour of the City of Liverpool. Under Biggs' leadership, Liverpool Biennial ('the UK's Biennial') gained an international reputation for pioneering a programme of newly commissioned works, in particular world-renowned pieces for the public realm including Antony Gormley's Another Place, Jaume Plensa's Dream and Richard Wilson's Turning the Place Over. As Director of Tate Liverpool from 1990 to 2000, Biggs initiated a programme that introduced contemporary British and international art to new audiences nationally and especially in the North of England. It included groundbreaking exhibitions of art from Japan, Korea, North Africa and Sub-Saharan Africa and its structure was influential on the programme adopted by Tate Modern when it opened in London in 2000.
Chair of the FACT Board Sarah Fisher said:- "Over the last decade I have witnessed Lewis's vision and achievements inspire profound interest and enjoyment from arts leaders and Liverpool communities alike. Over this period FACT has been a keen partner in delivering the Liverpool Biennial. Going forward with Lewis Biggs on FACT Board and Mike Stubbs as CEO I can only envisage our international profile and community collaborations going from strength to strength."

Commenting on his FACT appointment Biggs said:- "I've seen FACT grow since my first collaboration with Video Positive in 1989, and I know it as a very special and creative organisation. So now I'm really delighted to have been invited to join the Board. My freelance activities require me to travel outside the UK a good deal, and I aim to continue to play a role in promoting Liverpool, its Universities and arts organisations internationally. I look forward to contributing to FACT's success in whatever way I can."

Biggs is currently working as a freelance curator, writer and consultant on various projects and contracts including editing the Tate Modern Artists series and as International Advisor to Rockbound Art Gallery, Shanghai. He is a Visiting Professor of Contemporary Art at Liverpool Art School, plus he was awarded an Honorary Fellowship at Liverpool John Moores University in 1998) and Honorary Professor at Glasgow University (Art School.) Biggs takes up his role from November 2011, and joins a dedicated team of Trustees that include FACT's recently appointed Chair Sarah Fisher who joined the organisation in 2010.
Family take up challenge in fight against muscle disease
AN uncle and niece team have pushed themselves to the limit for charity, him running 26 miles and her jumping out of an aeroplane respectively to raise cash for their favourite cause. Brian Wilson, proprietor of Crosby based Delicatessen Gillions, and his niece Natalie Spencer who is a teacher at Calderstones Secondary School in Liverpool, hatched the brave plan to raise much-needed money for a charity close to their hearts, the Muscular Dystrophy Campaign. Brian took to the streets of Liverpool on 9 October 2011, to run the Liverpool Marathon and raised £930 in the process. While Natalie had already taken to the skies to do a parachute jump on 1 September 2011, which raised £650 in sponsorship. Brian said:- "It was a great pleasure to run the Liverpool marathon to help raise funds for the Muscular Dystrophy Campaign which does vital work to help people living with muscle disease. I would like to pay tribute to all of the friends and customers of Gillions of Crosby who have sponsored me. The last few miles of the marathon were definitely hard work but knowing how much support I had was what kept me going to the finish line."

Natalie, who has a sister with muscular dystrophy, was also grateful for the support she received. She said:- "I originally intended to do the parachute jump earlier in the year but due to bad weather it was postponed on four separate occasions. It was such a thrill to eventually do the jump and I would like to thank everyone that supported me. I know the Muscular Dystrophy Campaign is looking to get 100 people doing a parachute jump on 29 February 2011, next year so I would encourage everyone to consider signing up. It's the best thing I have ever done."

The Muscular Dystrophy Campaign is the leading UK charity focusing on muscle-wasting disease. It has pioneered the search for treatments and cures for more than 50 years, and is dedicated to improving the lives of all children and adults affected by muscle disease. We fund world class research to find effective treatments and cures; provide practical information, advice and emotional support for individuals, their families and carers; campaign to raise awareness and bring about change; award grants towards the cost of specialist equipment; and provide specialist education and development for health professionals.
If you would like to take part in the '100 in 1 Day' parachute jump next February, or do any other type of fundraising please contact the Muscular Dystrophy Campaign Regional Office on:- 01244 536551 or via email.