Ludus Bar's Opening Night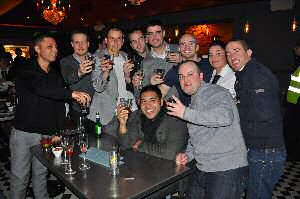 LIVERPOOL has another bar opening, but even without celebrities, this bar opening was not to be missed. The bar has a fantastic atmosphere about it. The staff are friendly and the surroundings are very pleasant. Attention to detail on the opening night was high, right down to the food like chips being served wrapped with mock period newspaper! The location has some work still to do on the outside, but you know what they say, never judge a book by its cover, or in this case the venue! Inside is an odd blend of styles, but it works extremely well. The strange part is the downstairs room, at first I thought it was just the toilets down the bottom of a staircase, but on the left is a small cutaway that hides a door. Going in you find a very relaxing room. We got told that it is designed to make you feel that you have stepped back in time, but I think that is pushing it a bit... But it is fantastically styled like something you would see in a gangster film, with a distinct US Prohibition Theme to it. With 1920's styling, with exposed walls and old oxblood leather seating, as well as a few things like a 1920's/30's wall phone, a old radio and a few other items. Even the bulbs are interesting to look at. It is a bit small compared with some clubs in that area of Liverpool, but what it lacks in space, it makes up in spades with it's style. It has a very strange US Jazz bar feel about it, that should accommodate many small music sessions and small functions easily. The main bar on the ground floor has a type of tapas bar style to it, offering food and drinks. The kitchen is well laid out and you can see in as food is made. James Cooney, the General Manager from Ludus Lounge Bar commented that the next step, as the weather improves, will be to add an outdoor restaurant awning and seating, in the alleyway that links Bold Street to the Fact Picture House. Also we asked how the bar got its name. Ludus is more sporting than Jazz and we found out that originally it was going to be a sports bar, but as the project took shape, the concept changed more and more to what they have now. No bad thing as this bar's approach is far more stylish than it would have been as a sports bar and the venue now looks fabulous! We look forward to seeing this venue develop. Please though if any of our readers do go and have been to the US, please do tell us if the downstairs has more of a Chicago feel, a New Orleans feel or a New York feel to it, as we cant work it out...? For now please do take a look at out photograpic coverage of the opening night by clicking on here.... If you want more information about the bar, why not visit their website for more information?
Juicy vote in the European Parliament...
WOULD you buy a strawberry juice or smoothie if you knew it consisted mainly of apples? Do you want to know which 'juice' contains additional sugar or sweeteners? How healthy is your fruity drink? Euro MPs have now decided to put in place stricter rules on the composition of fruit juices and better labelling guidelines which will substantially improve the quality of fruit juices available across the EU. North West Euro MP Chris Davies commented after the vote in the European Parliament that:- "For many consumers with health issues such as diabetes and allergies it is vitally important to clearly state what has been put in their drinks. I am delighted that in the future it will be prohibited to put extra sugar in drinks labelled as fruit juice. And it will no longer be possible to market a product on the basis of only a minor ingredient if the juice is actually made up of a completely different fruit. No more apples disguised as strawberries!" The new rules will come into force after a transition period of 18 months and will apply to all juice products regardless of whether they are produced in the EU or imported from elsewhere. So what do you are readers think about this? Email us via:- news24@southportreporter.com.
...HAPPY BIRTHDAY...
Happy Birthday Patrick Trollope from all of us at Southport Reporter.

Happy Birthday Carol Q. from all your family.
It is Donna Joynson's birthday this week. Happy Birthday to you from us all at Elite Secretarial Support
I

f you have someone you want to say happy birthday to, for free,

then

use the email address below to send us the names

you want us say

happy birthday to, and/or a photograph.

Email us today!

KEEP up-2-date

with our free daily news emails. Are you subscribed?

Si

g

n

u

p

today

to

our daily email news service via... Formb

y

-

Re

p

orter

.com

.

If you subscribed you can keep in up-to-date with what's going on in and around Merseyside. It is free and we do not send out massive amounts of emails. Also your email is kept under the UK's Data Protection Act, so you can be sure that you will not have problems.