George Keates and wife Beryl celebrate £3,507,769 Lottery win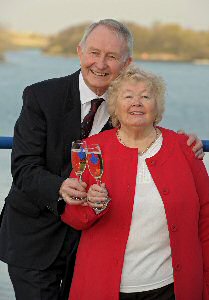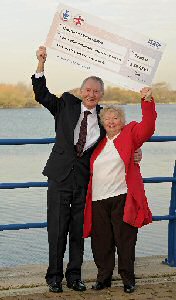 GREAT Granddad George Keates is celebrating after scooping a massive £3,507,769 with 1 of his first ever lottery tickets he has purchased. George, 77, hit the jackpot in the 29 February 2012 draw and says the reason he bought a ticket was because it was a £7m rollover. This is only the 10th occasion since the lottery started that George has bought a ticket. He now has plans to travel to Australia to visit a close friend; someone he thought he would never see again.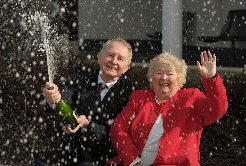 George, from Southport, said:- "I only bought the ticket because it was a big rollover and I just did a Lucky Dip. It was lucky number 10 for me as this is only the 10th occasion since the lottery started that I have bought a ticket. My wife plays the lottery all of the time and I didnít even tell her I had bought a ticket."

It was the day after the draw when George looked on Television to check his numbers that he discovered he had won. George told us that:- "I could not believe it when I saw all of my numbers on the television screen. I moved a little closer to the television to check again and yes they were still all there, so I moved closer again and then just cheered at the top of my voice. I shouted to my wife who was upstairs at the time... ''Iíve won the lottery, Iíve won the lottery.'' She just did not believe me, responding with... ''No you havenít, donít be pulling my leg.'' She then came down the stairs and was just in a state of collapse. I literally had to sit her on the stairs and tell her to take deep breaths to calm her down."
George, who worked as a porter at Greaves Hall Hospital in Southport prior to his retirement, has been married to Beryl, 74, a former hospital domestic, for 57 years. The couple are now planning to buy a new car and bungalow, in addition to visiting a friend in Australia. George added:- "I never thought I would get to see my friend again. I certainly would not have ever been able to afford to travel to Australia."

George, who has 4 sons, 9 grandchildren and one great grandchild says he will also ensure his family is well looked after. He does not, however, have any plans to leave Southport. He said:- "I have lived here all of my life so we certainly will not be moving away from the area."

Beryl added that:- "I just could not believe it when George told me he had won. I play every week, but I do think that fate has come into play a little. Just the day before George won I was in a taxi and we drove past the Lottery office in Liverpool. The driver said to me... ''Thatís where you will be going when you win the lottery.'' A day later George hit the jackpot!"

George says he will now definitely be continuing to play the lottery and has already bought his tickets for this week. George bought his winning ticket from Costcutter on Sussex Road, Southport and his winning numbers were:- 13, 14, 29, 41, 46 and 49.

Hospital chief hosts 'have your say' meeting in Formby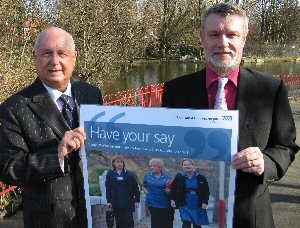 PATIENTS and the public in Formby have the chance next week to find out more about plans for Southport and Ormskirk Hospital NHS Trust to become a foundation trust.

Foundation trusts were created to put decision-making about healthcare into the hands of local people. Southport and Ormskirk trust wants to become a foundation trust by April next year.

The first of a series of public meetings will be held on Monday and hosted by Jonathan Parry, the trustís chief executive. He said:- "Foundation trusts have been around since 2004 and now the Government says all NHS trusts must become one. It is important we have local peopleís support for our plans and this is one of a number of public meetings I am hosting where people can learn more and have their say."

The meeting will be held on Monday, 12 March 2012, at Formby Christian Fellowship, 93 Church Road, Formby L37 3NB at 6.30pm. Please call:- 01704 704714 should you have any special requirements the Trust can help with in advance of the meeting.

People can also make their views known by visiting the Trust website. Alternatively you can request a copy of the consultation document from The Foundation Trust Team at Southport and Ormskirk Hospital NHS Trust, Southport and Formby District General Hospital, Town Lane, Southport, Merseyside, PR8 6PN. You can also call the team on:- 01704 704714 or you can email them.

Consultation responses can be completed online, but the Trust will pay the postage for people returning the responses by post.

Foundation trusts are run as membership organisations and foundation trust members perform several important functions including:-

► Influencing how health services the Trust is responsible for are run through greater involvement and ownership.

► Contributing to developing new services or improving existing ones.

► Becoming a Trust governor and working closely with the Board of Directors to deliver the very best in health care for local people.
Status Dog Operation in Sefton
MERSEYSIDE Police Officers from Merseyside Police's dog section and Bootle Neighbourhood Team took to the streets and parks of Sefton over have been tackling the issue of irresponsible dog ownership and status-type dogs.

The officers, along with partners from the RSPCA, The Dogs Trust and Local Authority Dog Wardens patrolled the parks and surrounding streets in the Bootle area. The operation was in response to concerns expressed by local residents last summer about the intimidation caused by irresponsible dog ownership.

A number of dog owners were given advice about the upkeep and care for their animals and specially trained dog legislation officers were on hand to spot any potentially banned breeds.

During the operation:-

► 20 dogs were micro-chipped
► 18 neutering vouchers were given out
► 1 dog was seized on suspicion of being a breed banned under the Dangerous Dogs Act
► 1 exempted Pit Bull type dog was seized for breaching its exemption conditions.
► 1 person arrested for public order offences
► 1 person given a warning by RSPCA patrol in relation to care of their dog.

A/Sgt Ian Jones said:- "The operation was a real success and I hope it has reassured local residents that we will continue to act on their concerns. We are not out to demonise dogs or their owners, but the operation gave us a real opportunity to talk to owners, offering them advice about the care of their dogs and ensuring that they understand how their actions can impact negatively on the wider community."