Glamour of Oscars comes to Sefton for young movie makers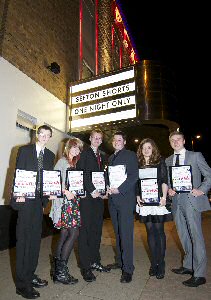 THE red carpet was rolled out when Sefton's best young filmmakers attended the Sefton Shorts film awards ceremony. Sefton Shorts is a film competition to engage young people in sexual health and relationship issues in an innovative and creative way. Local college students created a series of short films about safe sex, contraception and sexually transmitted infections (STIs).
The Hollywood-style awards ceremony at the Plaza Community Cinema in Crosby marked the end of the competition with winners being chosen by a public vote and by a panel of judges.
The big winner on the night was The Monster, a film produced by Dan Cannon, 16, and Leo Hendrikse, 18, from Southport College. The film is a funny, cautionary tale about condom use and STI testing. It won Best Actor as well as scooping Best Film with 78% of the public vote. Prizes for Best Audio, Best Editing and Best Script were also awarded. All films are available to watch online.

Elizabeth Kay, Sexual Health Promotion Service Lead at Southport and Ormskirk Hospital NHS Trust, said:- "The film competition entries were fantastically creative and had some strong messages that will raise awareness and encourage young people to make positive, informed decisions around their relationships. The Monster deserved the top accolade. It very cleverly used humorous narrative to deliver a serious message."

Full list of winners:-

Best Film:- The Monster *
Best Audio:- HIV and Aids Awareness Film **
Best Editing:- Sexual Health Advert **
Best Script:- HIV and Aids Awareness Film **
Best Actor:- The Monster **

* Voted for by the public

** Chosen by the judging panel; Dr Mark Fremaux, Programme Leader for Television and Production at Edge Hill University, Liza Williams, Health Reporter for Liverpool Echo and Morag Reynolds, Public Health Lead at NHS Sefton
Meet the French 2012
ON 27 February 2012 a delegation of French Tourist Board officials and French regional representatives visited Liverpool. Building on their last visit to the city, it was a chance for them to find out about Liverpool and also let the regional media learn more about what France has to offer. Over the next few weeks we hope to put on a few holiday destination ideas, which can be accessed via flights from Manchester Airport or Liverpool Airport. To see the photographs and to play a few audio interviews that we conducted with some of the many representatives at the event, by clicking on here now. The event proved once again to be very successful and was held at the Panoramic Restaurant, in Liverpool. We also have to give a plug to the French biscuits company from Kerlesse, Saint Philibert called Biscuiterie La Trinitaine, whose biscuits where given to us via one of the stands. Also given to us where some nice chocolates by another firm and a biscuit called Gavottes , who made a fantastic wafer, both given to us to try by other stands. If you have a favourite French destination, please email us to:- news24@southportreporter.com and let us know.
| | | |
| --- | --- | --- |
| | Click on to read on! | Click on to read on! |