Liverpool Waters plan has been approved by City Council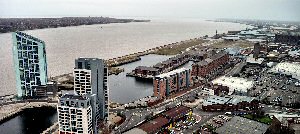 A £5.5 billion scheme to regenerate 60 hectares of dock land in Liverpool has been approved by the city council's planning committee. A £5.5 billion scheme to regenerate 60 hectares of dock land in Liverpool has been approved by the city council's planning committee. Now Liverpool City Council's planning committee has granted outline planning permission for Peel Holdings Liverpool Waters scheme, the final permission will now be subject to the signing of a legal agreement and has to be referred to the Government, who will then decide if a public inquiry will be held or not. If approved the redevelopment will create more than 9,000 homes, 3 million square feet of commercial development, a cruise liner terminal, hotels, shops, restaurants and leisure facilities, not forgetting thousands of new jobs!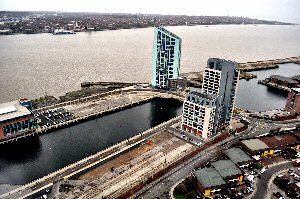 Council Leader Joe Anderson said:- "This decision to grant planning permission for Liverpool Waters is one of the most significant and far-reaching made in Liverpool's recent history. It is a vote of confidence in a new beginning of a great city. The scale of what is being proposed is breath-taking as it represents a five and half billon pound investment to create thousands of jobs, provide new housing and attract new businesses and more visitors to the city. It is a scheme which is unprecedented in its ambition, scope and potential to regenerate a city. Liverpool has to grow and redevelop if we are to thrive and succeed in the future. We do not live in the past, we are not a museum. I care passionately about the future of Liverpool and the opportunities and life chances we give our children. This decision is for future generations. The new investment, businesses and employment opportunities Liverpool waters will bring is the future for our city. In arriving at their decision the city council's planning committee considered a very comprehensive report which thoroughly examined all the issues concerned and listened to a number of different presentations from both supporters and objectors and visited the site themselves. Everybody; including the committee; is well aware of the concerns about heritage, but we can have the strikingly modern, while retaining our world heritage status. I have never regarded this as being 'either, or'. With the safeguards the planning committee has insisted on, we can have Liverpool Waters living comfortably alongside the World Heritage Site. If this application had been rejected then we would have been left with huge stretches of derelict dockland cheek-by-jowel with our World Heritage site. Instead we now have the prospect of one of the most ambitious schemes ever seen in this country taking shape; it is one that will transform Liverpool's fortunes for future generations."
For more information about Liverpool Waters is available at:- liverpoolwaters.co.uk.

Should this major project get the green light from all parties, it thought that it will give the whole of Merseyside a major boost to it's economy, that has been severely struggling in places for some years now.
So what do you our readers think about Liverpool's plans?Email our newsroom via:- news24@southportreporter.com with your views and thoughts about the re-development and let us know what you really think!
Wanted - Can you help Police?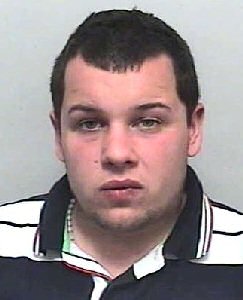 POLICE in Devon and Cornwall are seeking a 24 year old man who is wanted in connection with a serious assault that took place in Plymouth on 1 April 2011. Devon and Cornwall police are proactively following a number of lines of enquiry to ascertain his current location. Police intend to arrest this man once he has been located. The man sought by police is known as Mark Thomas Masher who comes from Liverpool. He is white, 1.63 metres tall, heavy build, with brown short hair, blue eyes and speaks with a Liverpool accent. He sometimes uses the name Thomas Keogh. He has links to Liverpool L8 and L19 post codes, Torquay, Plymouth and Newquay areas. Police advise not to approach this man, but immediately call the Police. The Police are also appealing for anyone who has Information to come forward and assist by calling police on:- 101 and quoting Devon and Cornwall Police crime reference EL/11/1472, alternatively call Crimestoppers, anonymously, on:- 0800 555111 or report online at:- crimestoppers-uk.org.
| | | |
| --- | --- | --- |
| | Click on to read on! | Click on to read on! |