Liverpool's Turnaround cruises boost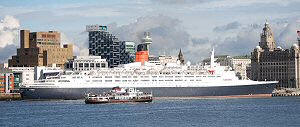 PLANS for a turnaround cruise facility in Liverpool have taken a major step forward. The city council's Cabinet has given the green light to a proposal to award contracts to create a temporary building and parking and drop off facilities, subject to approval of a planning application. It means that by the end of May 2012, the first cruise liners will be able start and stop in Liverpool; rather than it just being a port of call. Each vessel is worth up to an estimated £1 million to the local economy. The first turnaround cruise vessel will be the Ocean Countess who is
scheduled to use the facility on 29 May 2012. The interim facility will be created on a vacant plot of land that is currently owned by Peel Ports, opposite the current facility on Princes Parade, by the end of May 2012.

Council Leader Joe Anderson, said:- "This is a huge moment for Liverpool and means for the first time in decades we have the prospect of big liners starting and ending their voyages in the city. I pledged when I became Leader that this was a top priority, and we are now on the verge of delivering on it. Cruising is big business because it means tourists who come here and spend money in the local economy. The cruise liner terminal has already been a huge success; but this will allow us to take it to the next level because we anticipate huge demand for people to start and end their holidays in Liverpool. For far too long, holiday makers in the north west have had to travel to and from other ports to start their journeys. This move will return Liverpool to its rightful place as a major cruise port."

The city council has already agreed to abide by an independent ruling on how much of the UK public subsidy should be paid back for the building of the existing cruise liner terminal. This is because the original terminal was funded on the basis that it would be a 'call in' facility. A decision is awaited on how much of the £9.2 million will have to be repaid.
The temporary building will be leased during the cruise season from 2012 to 2015 to provide check in, baggage drop and reclaim, as well as customs and border facilities, and a new internal road will also be created. Councillor Malcolm Kennedy, Cabinet member for regeneration, said:- "We are grateful to the Government for giving us a fair hearing on this matter and are getting everything in place so we can take advantage of turnaround as soon as this issue is resolved. We have a proud maritime heritage and there is no better feeling than being able to sail in and out of your home city."

The city council forecasts that when up and running it will at most reach a 5% share of an expanding UK cruise market; comparable with the percentage of the market enjoyed by the Peel owned Langton Dock facility at its peak. Southampton currently has a market share of over 65%. In addition, a total of 20 'day call' vessels are already confirmed for Liverpool's 2012 cruise season with around 30,000 passengers expected, generating an additional £6 million for the local economy.

Colleagues at Sainsbury's Southport go the extra mile in their fundraising for Sport Relief
SAINSBURY'S Southport are going the extra mile in their fundraising for Sport Relief this year!
On Friday, 23 March 2012 and Saturday, 24 March 2012, colleagues at the store, situated on Lord Street Southport, will be raising funds for this year's campaign by holding a "Zumba for Sport Relief" dance outside the store on Saturday, 24 March. Sessions will start at 10am, 11am and 12pm. Customers can participate in this exhilarating, Latin-inspired and easy-to-follow dance for just £1 with a fully qualified Zumba instructor. A cake sale will also be run outside the store between 10am and 3pm and the local YMCA cheerleaders will be giving a display at 3pm.

It is one of a number of fundraising activities which colleagues at Sainsbury's Southport will be taking part in to raise funds for Sport Relief, before the main weekend of 23 March to 25 March.
Other sporty activities which colleagues are gearing up for include; an indoor boat rowing marathon whereby the popular high street chain store JD Sports will be bringing in an indoor rowing machine for the staff at Sainsbury's Southport to keep going all day long and a tombola where every ticket will be a winning ticket, taking place on Friday, 23 March 2012.

Finally on the 25 March 2012, staff at Sainsbury's Southport will be trekking up Pendle Hill in hopes to raise more funds for Sport Relief 2012.

Nicky Plaistow, a PR ambassador at the Southport store will literally be going the extra mile for Sport Relief by running with Sainsbury's Chief Executive Justin King. Nicky Plaistow was nominated by colleagues to take part in Justin's Sport Relief Mile Challenge, which will see the supermarket boss run 32 miles across the country from 14 March to 17 March. One colleague from every Sainsbury's store will get to run with Justin, meaning over 1,000 colleagues will have run with Justin by the end of the 4 day challenge.

Customers can also make a donation to Sport Relief through the available merchandise on sale at Sainsbury's Southport. One of the trendy items available are the Sport Relief Socks. Fans Gary and Danielle Lineker said:- "We love our Sport Relief Socks! At just £2.50 they're a real treat for your feet and with at least £1.25 going to Sport Relief you'll be helping those in desperate need across the UK and the world's poorest countries. Get a pair from Sainsbury's Southport or sportrelief.com."

Katherine How, Sport Relief Sponsorship Manager at Sainsbury's added:- "Fantastic projects like the ''Standard Royal British Legion'' in Southport have benefitted from previous Sport Relief funding. In such a landmark year for sport, we hope customers in Southport can support our fundraising efforts and have fun in the process. The campaign gives us the opportunity not just to transform lives in some of the world's poorest countries but also a means of helping our local community."