The Habit Hits The Road!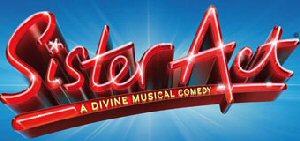 THE hit musical comedy Sister Act, produced by Whoopi Goldberg and Stage Entertainment, hits the Liverpool Empire on 22 May 2012 for a strictly limited 2 week run in a tour which has premiered to rave reviews.

The show, which played to over a million people at the London Palladium during its West End run and is currently a huge hit on Broadway, stars Coronation Street's Denise Black as Mother Superior and Brookside and The Royal favourite Michael Starke as Monsignor O'Hara, with rising new star Cynthia Erivo as nun on the run Deloris Van Cartier.

Whoopi Goldberg said:- "We were thrilled to open Sister Act in London but I'm even more excited to have the show tour the UK so even more folks experience those singing nuns. It's a great show for everyone…your kids, your granny, even the neighbour next door who you might not like so much! I promise, you'll have a great night in the theatre. Look out Great Britain and Ireland - the Sisters are coming!"

Denise Black is probably best known as siren hairdresser Denise Osbourne in Coronation Street. Other television credits include Denny's mad, bad mum in Bad Girls, Hazel, the mum all gay men wanted in Queer as Folk, as well as Robin Hood, Doc Martin, Small Island, Sensitive Skin, Dalziel and Pascoe, New Tricks, No Angels, Midsomer Murders, A Touch of Frost, The Scarlet Pimpernel and The Vice. On stage she has worked at every major producing theatre in the UK in work as diverse as Chekhov, Wesker and Albee to Akcybourn, Shaw and Lorca. She recently toured the country in Grumpy Old Women Live! and
won the Manchester Evening News Award for Best Supporting Actress for her role in Roots at the Royal Exchange. Denise is also the lead singer of the folk-rock band The Loose Screw who gig extensively around the UK and recently sold out a week-long engagement at Pizza on the Park.

Liverpool born actor Michael Starke is best known for his role as Thomas "Sinbad" Sweeney in popular soap Brookside, which he played for 16 years. He was also a series regular playing Kenneth Hopkirk in Sunday night ITV1 drama The Royal. In 2007 he joined the cast of ITV1's Coronation Street as kebab shop owner Jerry Morton. Previous stage credits include The Play What I Wrote, Anything Goes, The Rocky Horror Show, Hamlet, numerous pantomime appearances, and most recently the UK tour of Hairspray as Edna Turnblad.

The cast also includes Julie Atherton as Sister Mary Robert, Edward Baruwa as Eddie Souther, Cavin Cornwall as Curtis Jackson, Gavin Alex as Pablo, Jacqueline Clarke as Sister Mary Lazarus, Tyrone Huntley as TJ and Laurie Scarth as Sister Mary Patrick.

When disco diva Deloris Van Cartier witnesses a murder, she is put in protective custody in the one place the cops are sure she won't be found - a convent! Disguised as a nunshe quickly finds fans amongst her fellow 'sisters', but makes the wrong impression on the convent's strict Mother Superior. When she turns her attention to the convent's off-key choir, helping the nuns to find their true voices and breathing new life into the rundown neighbourhood, her cover could be blown for good. With the gang giving chase, is time running out for Deloris? Or have they underestimated the power of her new found Sisterhood?

Sister Act features a score by Alan Menken, eight-time Oscar winner and the genius behind many of the world famous songs from Disney's movies, including The Little Mermaid, Beauty & The Beast, Aladdin and Enchanted, with lyrics from his long time collaborator, Glenn Slater. The book is by the award-winning team, Cheri and Bill Steinkellner, whose writing credits include the classic television comedy Cheers, with additional book material from Douglas Carter Beane.

Sister Act opened at the London Palladium in May 2009 to huge critical and audience acclaim. It went on to receive four Laurence Olivier Award nominations and its cast album shot to Number One on the iTunes soundtrack chart. During the London Palladium run the show broke Box Office records for the highest grossing single performance and highest grossing week for any musical ever at that venue. The New York production opened at the Broadway Theatre in April 2011 and was nominated for five Tony Awards at this year's ceremony, as well as receiving multiple nominations from every other major US theatre awards body. Record breaking productions are also running in Hamburg, Vienna and Milan, with future productions planned for Spain, France, Holland, South Korea, Japan and Brazil soon.

Whoopi Goldberg is among the most well-known performers around the world. She shot to international fame with her Oscar-nominated performance in Steven Spielberg's The Colour Purple, before embarking on a prolific Hollywood career with films such as Jumpin' Jack Flash, Soapdish, The Lion King, How Stella Got Her Groove Back and, of course, Sister Act and its sequel. She has had success in virtually every area of entertainment, from film and television, to stage and recording, to radio host and best-selling author. She won the Academy Award for Best Supporting Actress for her role in Ghost in 1991 and is one of a very elite group of artists who have also won the Grammy, the Golden Globe, the Emmy and, as Producer of the original Broadway production of Thoroughly Modern Millie in 2002, a Tony Award. She is currently moderator of the award-winning daytime talk show The View in the United States.

Founded by Joop Van Den Ende, Stage Entertainment is one of Europe's largest theatrical producers and venue operators, with bases in many cities across the continent. UK credits include Hairspray, Sister Act, The Ladykillers, Singin' In The Rain, Oliver! UK tour, Disney's High School Musical 1 & 2, Strictly Come Dancing Live!, Saturday Night Fever and Fame.

Performance Details for Liverpool Empire Theatre:- Shows take place over 22 May 2012 to 2 June 2012, at 7.30pm Monday to Saturday, with Wednesday and Saturday having matinee showing at 2.30pm. Tickets are from £15 to £42. To book visit the Empire box office, or call them on:- 0844 871 3017. You can also book online.

Can you take giant strides?
GIANTS WLTM male/female, 18 years upwards, fit, crowd-pleasing, able to pull at heartstrings (leg strings, arm strings etc)GSOH a must. Last month Liverpool's Sea Odyssey team announced they were on the look-out for volunteers to be part of the biggest event the city has ever held. This triggered more than 300 enquiries and the team received a whopping 170 applications from people wanting to fill the roles. But there is still time for people to come forward to volunteer for the once in a lifetime opportunity to take centre stage and be part of the team who operate one of the 2 giants who will be roaming the city streets from 20 April to 22 April 2012.

Known as 'Liliputiens', marionette operators need to be physically fit, with a good level of stamina and be a key team player. Anyone who applies for the volunteer position must be willing to take part in ten rehearsal sessions throughout April, and of course must be available and on-hand throughout the three day spectacular.

Liverpool city council's cabinet member for culture and tourism, Councillor Wendy Simon, said:- "We've created this volunteer programme as a result of residents asking us if they could get involved in some of the fantastic events we stage. The visit of the famous Spider in 2008 was an amazing success, and we had a huge amount of people approaching us saying it would have been an even more special experience if they could have been involved in some way ; so it's great that we can create these unique opportunities around Sea Odyssey. It will be incredible to see the show, but to play a role at the heart of the action is something that will stay with people forever."

Details of all the roles can be found at:- giantspectacular.com and click on 'Get involved'. Application forms should be filled in as soon as possible. Successful applicants will be invited to take part in informal interview/auditions later this month.

Sea Odyssey is being brought to the city by world-renowned street theatre experts Royal de Luxe and will see the 30ft Little Girl Giant and her 50ft Uncle exploring North Liverpool and the city centre. The story behind the visit of the 2 giants and the route will be released in the next few weeks.

Find out the latest by visiting the Sea Odyssey website and why not 'Like' the Giant Spectacular page on Facebook or follow Giant Spectacle on Twitter.
New rules for North West landlord
LANDLORDS across the North West must abide by new tenancy deposit rules or face fines of up to 3 times the amount of their tenants' deposit.

All landlords must protect their tenants deposit with a government approved scheme. Tenancy deposit protection (TDP)
schemes ensure money paid by tenants, as deposits, is kept safe.

However, North West letting agent Jordan's is warning that the government has changed the penalties which apply to landlords who fail to follow the rules when taking a deposit from a tenant. The new rules come into force on 6 April 2012.

The rules affect deposits already being held, if they aren't compliant, as well as new deposits. Among the changes, the rules mean landlords must protect deposits, under assured short hold tenancies, within 30 days of receipt of the deposit, up from 14 days. Tenants must then be given information including a copy of the schemes leaflet within 30 days.

Failure to comply with the 30 day limit means the landlord could have to pay a penalty of between 1 and 3 times the amount of the deposit.

Even once a tenancy has ended, from 6 April 2012, former tenants can claim for up to 6 years and a claim can be made even if the deposit has been refunded. If landlords fail to abide by the rules they will not be able to use Section 21 to evict a tenant if necessary.

William Jordan, managing director of residential lettings agency Jordan's, which has outlets across the North West, said:- "Landlords must be familiar with the changes coming up in less than a month. If they haven't already registered their tenant's deposit, they should do so immediately or face a fine. If you're a tenant or landlord working with a letting agent, ask where the deposit is being held and make sure you have the correct documents. This will ensure any disputes are handled swiftly and efficiently when the tenant comes to move out of the property."

Tenancy deposit protection (TDP) schemes guarantee tenants will get their deposits back at the end of the tenancy if they meet the terms of the tenancy agreement and do not damage the property. Landlords must protect their tenants' deposits using a TDP scheme if they have let the property on an assured shorthold tenancy (AST) which started after 6 April 2007.

Landlords and/or agents must use one if the following approved TDP schemes to protect tenants' deposits where these conditions apply. They are reminded that if they use any other scheme, deposits are not protected in law. The 3 approved schemes are as follows:-

► Deposit Protection Service (DPS)

► MyDeposits

► Tenancy Deposit Scheme (TDS)

More information about this can be found on:- direct.gov.uk.

Please let our newsroom know your views on this by emailing us via:- news24@southportreporter.com today!