Police crack down on cannabis cultivation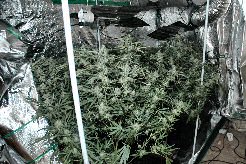 MERSEYSIDE Police have started operation 'Nasty Side Effects', a campaign that is running alongside the regional operation targeting cannabis farming. Most people think cannabis is a harmless drug; the reality is very different. Growing cannabis is illegal, dangerous and can be a very profitable business for criminals. Cannabis farmers are often involved in violence, gun crime and money laundering, which can have devastating effects on innocent people. Police over the last 3 years have been discovered more than 5,120 cannabis factories containing an excess of 345,000 plants with an estimated potential street value of around £140 million across the North West.

There has been an increase in the number of cannabis factories across the region with a steady rise in the number of smaller cannabis farms, often in rental properties, which are linked to organised crime groups.

Officers from the North West Regional Organised Crime Unit (Titan), alongside the 6 regional Police forces in Merseyside, GMP, Cheshire, Lancashire, North Wales and Cumbria; are now running the month long operation, to crack down on cannabis cultivation across the region.

During the month there will an increase in police activity, including a number of strike days, to raise awareness of the problem as well as to highlight the dangers of cannabis cultivation and urge members of the community who suspect cannabis is being grown in their neighbourhoods to call police.

Officers are also working with utility companies, garden centres, DIY stores, local authorities, fire services and the Royal Mail to help them to spot the signs that cannabis is being grown and the typical equipment being bought by criminals for cannabis cultivation.

Detective Superintendent John Lyons, from Titan, said:- "Cannabis is not the harmless drug it is often perceived to be and is the most used illegal drug in the UK. An increasing number of people who grow cannabis are directly funding dangerous, organised criminal gangs. These gangs are often responsible for gun crime, violence and intimidation across the North West. Titan and the region's forces take the cultivation and supply of cannabis extremely seriously. Drugs and their associated activity cause misery to our communities and we act on all information we receive to disrupt and ultimately prevent those involved in the drugs trade from operating on our streets. The public of the North West are our eyes and ears and we appeal to anyone with any information about cannabis cultivation in their area to make contact during this month of action and beyond. We will act on all information provided to us to ensure that those involved in the cultivation of cannabis are brought to justice."

Some of the signs that cannabis is being grown are:-

► Strange smells and sounds.

► Frequent and varied visitors to a property, often at unusual times.

► Gardening equipment being taken into a property, such as plant pots, fertiliser, fans and industrial lighting.

► Windows are sealed and covered or the curtains are permanently closed.

► Heat from an adjoining property.

► Individually these activities may seem commonplace, however, together may indicate something more sinister.
In Merseyside, there have been 1,214 people arrested on suspicion of cultivation of cannabis in hundreds of raids in the last 3 years and police are continuing to work hard to identify those responsible, destroy their crops and put them before the courts.

Superintendent Mark Harrison, who is leading Operation Broadley for Merseyside Police, said:- "We are seeing an increasing trend among organised crime groups in Merseyside to grow cannabis with firearms incidents and other serious criminality arising when factions steal each other's crops and associated money. "There is a strong and distinctive smell to cannabis and I would urge any members of the public to contact us if they suspect it may be growing somewhere so we can help rid our communitues of this danger. People who grow cannabis often have a total disregard for the safety of others, frequently endangering the lives of those in neighbouring properties by tampering with electricity supplies and leaving live electrical cables exposed, increasing the risk of fire. Hazardous waste is often left inside properties or in nearby public spaces and premises can be left structurally unsafe, which is a real concern in our streets. We urge anyone with any information about suspected cannabis farms in their area to call us so we can take action against the offenders."

Anyone with any information about cannabis cultivation is asked to call Crimestoppers, anonymously, on:- 0800 555 111.
In response to this action by the Police the North West, Liberal Democrat MEP Chris Davies issued a media statement that said that he welcomed the crackdown on cannabis factories, be went on to say that although targeted campaign against serious criminals has his full support, he believes "the law on drugs is an ass."

He also added that according to government figures, more than one third of the British population have used illegal drugs at some point in their lives. The number of cannabis 'farms' detected across the UK has increased from 3,032 to 6,866 over the past 4 years. Often located in private houses, many are said to be run by criminal gangs.

Chris Davies says that the Police crackdown on criminals makes more sense than arresting drug users who may be causing no harm to anyone other than themselves.

But the Liberal Democrat MEP says the production and sale of drugs should be legalised, licensed, taxed and accompanied by health warnings. He said that:- "We celebrate the owners of breweries and distilleries as captains of industry, yet their products are every bit as harmful as cannabis. Drugs prohibition has failed across the world because it puts their production and supply into the hands of some evil people. The criminality associated with the drugs trade causes vastly more harm to society than their use. Drugs use should be matter for health professionals not law enforcement officers."

The press release also added that a new law in Switzerland allows any citizen to grow up to 4 cannabis plants for their personal use, an approach to destroying the criminal supply chain that Davies describes as making good sense.
Guidance from the Association of Chief Police Officers says that cannabis 'farms' are usually located in private dwellings. While some are of little commercial value the largest ever discovered, in Cambridgeshire in 2010, led to the seizure of 7,600 plants with a value of £2.5 million. The number of plants is not relevant. A property will be treated as a 'farm' if it possesses either high intensity lighting, ventilation, a hydroponics system or is bypassing an electrical meter. Commercial cannabis production has been associated with trafficking of adults and their children from China and Vietnam.
ACPO says:- "It is believed that there are a small number of teams who specialise in specific aspects of the cultivation chain. Higher level criminals are coordinating these teams and are highly organised."
So what are your views on this topic? Email our newsroom and let us know what you think.

Brea gets a second shot at National Beauty Crown
Photograph by Mark at MDC Events Ltd. & video by Patrick Trollope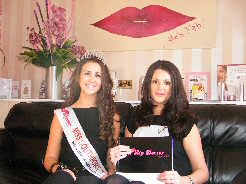 A Southport student is getting ready for her second shot at the Miss England crown. This is a first for the Southport title and the lovely Brea Carney-Jones, who was the winner of the Miss Southport title 2011, is gearing up to take her place in the Final of the national beauty competition at the end of June 2012, in Leicester. Brea, who is 18 years old and currently a student is at KGV College, Southport, has been allowed to re-enter the contest due to a reorganisation of the Miss England final. Don't worry though, as Miss Southport 2012 is still scheduled to take place in September, with the winner representing Southport at Miss England 2013.

To see the video interview we made with this local Miss England contestant, please use the links below...
| | |
| --- | --- |
| | Above is a Flash player, for Silverlight users, please use this link. |
Brea is well known locally for speaking her mind about Merseyside and has often spoken about her pride at representing
Southport. Brea, who lives in Southport, is being backed by a Merseyside based business called Lip Doctor Aesthetics, in Maghull. Brea narrowly missed out on a place in the National Final by just one place last year, so she is now relishing another stab at the Miss England title and we hope she will do well.

"It is really exciting. I really enjoyed taking part last time. I didnít get past the semi-finals last time so it is something new and I am going to go there and enjoy it. I am just really lucky to do it again and it puts me in a better position as far as representing Southport goes. It is brilliant to be representing Southport again. There are so many fantastic things about Southport and it gives the area great exposure. Iím so grateful to Fab and Lisa at LipDoctor.co.uk for supporting me in this way. I hope I can bring the Crown home for them and the people of Southport who have supported me so well this year. Brea is a wonderfully beautiful girl with a stunning personality. She carries herself so well and Iím sure sheíll wow the judges at the final. Weíre delighted to be supporting such a great girl. With Brea setting her sights on a good showing in the national contest, the search is on to find a worthy successor to her Miss Southport title. The final of this yearís Miss Southport will be held in September and the competition will be supporting the Miss World Charity; Beauty with a Purpose." said Brea in a press statement.
To mark the Olympic year, the contest will be getting into the sporting spirit and promises to bring all of the passion and atmosphere of the 2012 Games, with guarantees of stunning entertainment, spectacular fashion, special guests and the crowning of the next Miss Southport. Paying tribute to Brea, event organiser Mark Jones added:- "Brea has represented the area with style and finesse, itís been a year to remember for our Miss Southport and her role isnít over yet. If the new winner has anything like the qualities Brea has had, she is in for an exciting year ahead. It really is an incredible opportunity."
Miss Southport is open to candidates aged 17 to 24 years of age and is a chance for ambitious young people to represent their area and raise funds for local charities. Heats are due to be held across the county. Visit:- misssouthport.co.uk to enter.
Project Helps Merseyside Student To Gain Vital Work Experience
COLLAGE students studying for trade courses in North Merseyside have been thrown a lifeline thanks to a project, which provides students with the crucial work experience they need in order to be able to gain their qualifications.

The Student Rescue Project was developed by housing repairs and maintenance provider Morrison, after it came to light that many students in North Merseyside were unable to find companies willing to offer work experience placements.

Every student who joins the project is fully inducted into Morrison and is given the opportunity to experience working life on every level, from undertaking actual jobs with qualified trade persons to attending training and briefing sessions with other employees.

The rolling nature of the project means students are offered placements for as long as they need in order to meet the requirements of their course and are then replaced when they leave. Morrison takes on a maximum of 6 students at anyone time and in the last year has provided long term work experience for 14 students, equating to over 4,000 hours of training.

The project came about, after local student Claire Fitzmaurice made a radio appeal explaining that she was on a plumbing course, but needed to complete the required work experience to be able to qualify, but despite having written to more than 80 companies was unable to find a placement.

On hearing this plight, Morrisonís Community Development Manager Brian Gates immediately made contact and offered her an interview, which resulted in Claire being given the placement she needed for as long as she required. Claire was part of the Student Rescue Project for a year and her commitment resulted in her not only passing her course, but being offered an apprenticeship with Morrison.

Morrison has now employed 3 students who have been part of the project, which not only helps provide local employment opportunities, but also ensures it has a wealth of young talent entering its business.

Brian Gates, Community Development Manager, Morrison North West said:- "This project is so simple yet so effective and really is making a difference to local students studying for trade based qualifications. We know from speaking to colleges that without this sort of help many students, particularly those studying plumbing, electrical or gas qualifications, would be unable to qualify and start their careers. A steady supply of well qualified young people are vital for the future of the building and repairs sector, and I canít state strongly enough how important it is for more companies to open their doors and help these types of students to get started. In our experience it isnít just the students who benefit but the company as well."