Euro MP Calls for More Women on Top!
ON International Women's Day Local Labour Euro MP, Arlene McCarthy, Vice Chair of the European Parliament's powerful Economic and Monetary Affairs Committee has joined growing calls for EU wide quotas for women on company boards. Arlene, whose amendments to the European law on corporate governance last year called for a 40% quota, but were voted down to 30% by Conservative MEPs, said:- "We have tried to go the self regulation route but companies are simply not making the necessary changes fast enough. To date the European Commission's 'Women on the Board Pledge for Europe' has been signed only by 24 companies. At the current rate of change it will be more than 50 years before women are anywhere near equal in terms of representation on boards and that's simply not good enough. If you look where real progress has been made then those member states who have quotas have made the most progress. France, which introduced quotas last year, has made the most progress, while Norway is the example of best practice. In the UK, Lord Davies' Report on women on boards last year set a target of a minimum of 25% female board representatives in FTSE 100 by 2015; but didn't propose compulsory measures. In the last 12 months the overall percentage of women on boards in FTSE 100 companies in the UK has risen from 12.5% to 15%. However, the number of female executive directive fell slightly between November 2010/2011. Only 6.1% of FTSE 100 executive directors were women and 4.4% in the FTSE 250."
UNISON warning on International Women's Day
ON International Women's Day, Unison, the UK's largest union; with more than 1 million women members; is warning that plans to cut tax credits from part time workers will hit women especially hard. Nearly 3 times as many women as men work part time* in the UK. From next month, couples with children earning less than £17,700 a year will have to increase their working hours from a minimum of 16 to 24 hours per week or they will lose their working tax credits. This is worth £3,870 per year, or more than £70 a week, to families. The government's own figures show that 212,000 households could be hit, that is including 470,000 children! UNISON is warning that unemployment and job cuts will make it impossible for most part time working women to get extra hours; meaning that thousands will lose this benefit. Some women may also be forced to leave work if the cuts mean they can no longer afford childcare; the cost of which is spiralling out of control. UNISON General Secretary, Dave Prentis, said:- "On International Women's Day things are looking worse for UK women than they have for a generation. The Tory-led coalition is busy undoing years of hard won progress. Not only are women bearing the brunt of the recession, they are unemployed in record numbers, and are hardest hit by Tory cuts to public services and jobs. With women almost three times as likely to work part time than men, cuts to working tax credits will have a disproportionate impact. The government is right to be very worried about losing the support of women voters. These drastic cuts to working tax credits are set to hit women hard, but they will raise less for The Treasury than the value of bonuses paid to RBS bankers this year. Clearly, we are not all in this together. Women did not cause this financial crisis, but they are paying a heavy price for it. The government has to take urgent action to protect women." In its 2011 budget The Treasury estimated this change to working tax credits will raise £515 million in 2012/13. This is almost £200 million less than the total value of bonuses paid to RBS bankers this year, that is £785 million.

*The latest ONS labour market statistics show that 2,021,000 men work part time, compared to 5,801,000 women

Kim Jones Awarded BTEC at Army Cadets
Photograph by S.I. Nick Wilkinson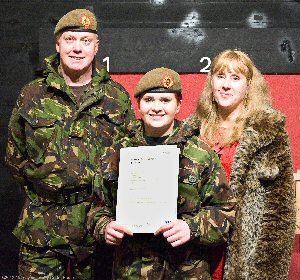 IT was a proud day for Kim Jones, 17 years as she attended a special ceremony at Newton-le-Willows, Army Cadet Hut in Crow
Lane East. A the ceremony Lieutenant Colonel (ACF), Paul Irvine, presents Kim with her BTEC Diploma and also revealed that Kim gained distinctions in all the subjects ranging from land navigation and expedition skills to career planning. She studies with the Merseyside Army Cadet Force at the time and Kim is now a student at Carmel College, Saint Helens, where she studies psychology, maths and economics. She aims for a university degree in economics. Kim told us that:- "The cadets made me confident. I spend nights under canvas and have twice shot in competitions at Bisley. I have friends all over the country." Kim's mother, Mrs Kerry Jones, added that:- "Kim is 1 of 12 children. 6 have been Army Cadets. It teaches them people handling skills and, even better, how to iron clothes and polish boots." to find out more about Merseyside Army Cadet Force, visit:- merseysidearmycadets.com.
'Books Change Lives' says Crossens Nursery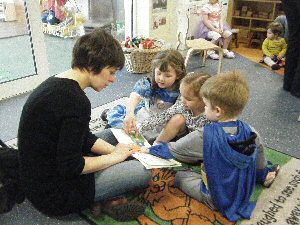 THE children of Crossens Nursery School dressed up as their favourite storybook characters to celebrate World Book Day on 1 March 2012. Colourful characters included Woody, Red Riding Hood, Alice in Wonderland and Goldilocks. Parents and carers joined the children to read their chosen stories. Contributions were made to World Book Aid International (WBAI), a charity which provides books for communities, refugee camps and schools in sub-Saharan Africa. Headteacher, Mrs Sue Gilbertson said:- "I am delighted with the response from Mums, Dads, Grandparents and Carers, who joined us for World Book Day. Thanks to all who contributed to the WBAI; without this charity, some children would not see or read a book in their childhood."