Peel Shows Support for Local Motor Training Centre in Liverpool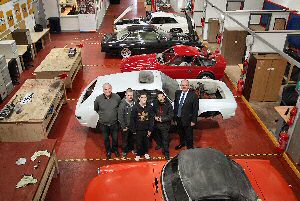 PEEL has shown its support for a new training centre for those entering in to the motor industry by providing the training company with land rent free at Great Howard Street in Liverpool to allow it's students to learn how to drive. Basetech Training CIC currently occupy workshop premises in Studholme Street in Liverpool. Basetech Training CIC is a training centre set out as a Classic Car Workshop with world famous cars such as Alfa Romeo, Jaguar and Ferrari. By allowing trainees to work on this type of vehicle it provides students with the basis for learning core principles and transferable skills that employers are looking for in the motor industry. The company's aim is to become the leading training centre in the field of motor vehicle training.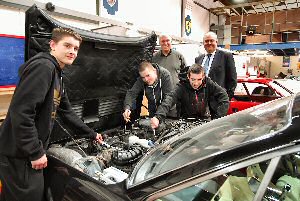 Andrew Partington a Director of Basetech Training CIC a community interest company said:- "With the support of Peel by allowing us to use their land we have been able to not only train our students to work on vehicles but to also provide a much needed programme of Pre-Driving enabling our students to be taught essential driving skills, safe driving, and motivating them to become employed in the Auto Industry."

Peel has been active within the community for a number of years with its representative Ian Pollitt sitting on the board of The Eldonian Group Limited and strong links to the VNC (Vauxhall Neighbourhood Community).

Ian Polliitt, Development Investment Surveyor at Peel said:- "Peel continues to be keen to engage and support the North Liverpool community. Motor manufacturing is a key part of Liverpool economic history and Peel has been delighted to be able to help Basetech Training CIC with their training plans. The centre will help train local people and we wish them every success."
Vikings taught a valuable lesson
Photograph below by KT8 Photography.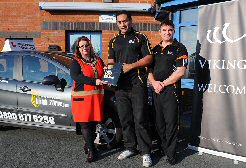 THE Vikings have unveil Insight 2 Drive as its Official Driving Tuition Partner for the 2012 Stobart Super League season.

The company has a strong presence in the Widnes, Runcorn and wider areas, and began trading under the aforementioned name in 2007. It has since gone from strength to strength, with 10 fully qualified male and female instructors on its books, who are all licensed and have had full criminal records bureaux checks.

Kathy Higgins who founded Insight 2 Drive is not only a grade 6 ORDIT trainer, but also the current Secretary of the Institute of Master Tutors of Driving and one of the most respected and qualified driver trainers in the North West.

Soon after attending a Widnes Vikings Business Club seminar in February 2011, Kathy put pen to paper on an agreement to work alongside the club throughout last season. The relationship turned out to be a win-win scenario for both parties with increased exposure offered to Insight 2 Drive while Vikings Academy and England internationals; Lewis Whitty, Tom Gilmore and Jack Owens were all given expert tutelage by their instructor Gill Taylor which led to them passing their Driving Tests with flying colours at their first attempt.

Delighted with the positive feedback gained thus far, Kathy Higgins explains further how the opportunity to initially join forces with the Vikings and then continue its support was simply too good to refuse:- "We've had a connection with the club for a number of years through our Widnes instructors and we have always been rugby fans so it seemed like a natural progression. As fans, we are always keen to do our bit and after backing the clubs' bid for a return into the Super League competition we are delighted to continue our relationship with them now they have achieved their goal. Our partnership gives us a great opportunity to help the players, the academy and the fans either pass their Driving Test or to become more advanced, skilled and considerate drivers. As the saying goes, if you enjoy something you will do it better, and I offer you my personal guarantee that you will enjoy your training with us. I simply want people to not only enjoy driving but enjoy driving safely for life. Whether you need to pass quickly, or if you are a nervous learner driver, we can help you achieve your goals. We are also offering a 5% discount to all Vikings fans."

GMB condemns Government on Remploy Closures
GMB who are the union for Remploy workers, responded to the Ministerial statement in the House of Commons which has announced the decision to close 36 of the 54 remaining Remploy sites, with compulsory redundancy for 1,752 people of which 1,518 of these are disabled. The statement envisages the complete closure of all 54 factories in due course.

Remploy Enterprise Business factory sites proposed for closure (stage 1).
Location
Business
Disabled
Non disabled
Total
Aberdare
Local Public Sales
37
3
40
Aberdeen
Social Enterprise
14
1
15
Abertillery
Local Public Sales
21
0
21
Acton
Workscope
31
3
34
Ashington
Workscope
27
1
28
Barking
Electronics
44
14
58
Barrow
Workscope
20
1
21
Birkenhead
Workscope
29
0
29
Bolton
Electronics
38
4
42
Bridgend
Social Enterprise
46
1
47
Bristol
Local Public Sales
29
0
29
Chesterfield
Healthcare
54
10
64
Cleator Moor
Textiles
14
1
15
Croespenmaen
Packaging
43
1
44
Edinburgh
Local Public Sales
27
1
28
Gateshead
Workscope
11
0
11
Leeds
Workscope
60
0
60
Leicester
Local Public Sales
20
3
23
Manchester
Local Public Sales
19
1
20
MerthyrTydfil
Building
35
0
35
Motherwell
Local Public Sales
20
2
22
Newcastle
Workscope
55
3
58
North London
Social Enterprise
22
2
24
North Staffs
Local Public Sales
104
10
114
Oldham
Building
107
8
115
Penzance
Local Public Sales
32
0
32
Pontefract
Local Public Sales
26
1
27
Poole
Social Enterprise
15
2
17
Preston
E-cycle
16
2
18
Southampton
Electronics
18
1
19
Spennymoor
Local Public Sales
41
0
41
Springburn
Healthcare
43
3
46
Swansea
Workscope
49
3
52
Wigan
Local Public Sales
34
0
34
Worksop
Social Enterprise
5
2
7
Wrexham
Workscope
41
1
42

Total = _

1247
85
1332

Totals do not include staff based at business offices.
Phil Davies, GMB National Secretary for GMB Members working at Remploy said:- "This decision to sack 1,752 people in 36 Remploy factories across the country is one of the worst decision that this discredited coalition government has taken since coming to office. The decision to close these 36 factories followed by the other 18 factories in due course is an attack on the most vulnerable members of our society. Thousands of disabled workers will now pay with their jobs for the incompetence of this government and other public sector bodies that did not take advantage of EU procurement rules that allow supported manufacturing jobs for disabled workers. These factories have lacked support for years and have never been properly loaded with enough work to make them economically viable. I never thought that I would live to see the day that an organisation set up to provide sustainable employment for disabled people being shut down. It is a disgrace that a number of large charities, set up to help disabled people and run by very well paid, able bodied people have misled the British public and provided the government with the cover to undertake this act of sacking disabled workers. Shame on them."
Kevin Hepworth, Unite National Officer added:- "GMB and the other trade unions in Remploy will not stand by and allow this attack to go unanswered. The next step is for a substantial period of consultation. Shop Stewards from all the factories will be meeting on the 26/27th March to set out a plan of action."

Remploy Enterprise Business factory sites for further consideration (stage 2)
Location
Business
Disabled
Non disabled
Total
Birmingham
Automotive
68
8
76
Blackburn
Furniture
20
1
21
Burnley
Packaging
24
1
25
Clydebank
Textiles
22
11
33
Coventry
Automotive
81
12
93
Cowdenbeath
Textiles
35
0
35
Derby
Automotive
36
4
40
Dundee
Textiles
37
6
43
Heywood
E-cycle
34
3
37
Huddersfield
Automotive
29
2
31
Leven
Textiles
29
1
30
Neath
Furniture
65
14
79
Norwich
Packaging
26
13
39
Porth
E-cycle
71
3
74
Portsmouth
Packaging
13
2
15
Sheffield
Furniture
92
6
98
Stirling
Textiles
28
2
30
Sunderland
Packaging
35
0
35

Total = _

745
89
834

Totals do not include staff based at business offices
Euro-MP gets top EU posts
NORTH West Euro-MP Chris Davies has secured 2 key posts in the European Parliament. Every 2 1/2 years all of the top positions in the Parliament are up for grabs in elections for senior legislators. This year, Liberal Democrat Chris Davies was re-elected as the coordinator (team leader) for the European Liberal MEPs on the Environment Committee, one of the Parliament's main law-making bodies. In addition, Davies now gets a place on the Fisheries committee which within the next few months must decide whether to make bitterly contested changes to the Common Fisheries Policy. The Liberal Democrat has made clear that he intends to press his campaign to introduce a sustainable approach to fishing, with long term goals for improvement and an end to discards. Davies told us that:- "In times of economic downturn it's easy for politicians to think only of the short term. But this attitude has given rise to many of the problems we now face. With rapidly growing population our planet faces huge environmental and resource problems. Top of the list for me is the need to save our seas and ensure that we have supplies of fish to feed future generations. The EU is only as good as the countries that belong to it, but partnership is still the best way of finding solutions to the problems we face in common."