Backing for Lancashire's Seatbelts Save Lives campaign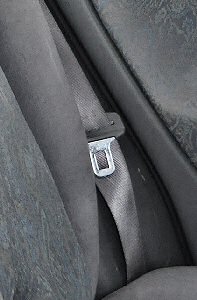 THE Highways Agency and the North West Motorway Police Group are backing a campaign in Lancashire to encourage drivers and passengers to belt up when taking to the county's roads.

Safer Lancashire's 'Seatbelts Save Lives' advertising campaign was launched last month with a hard-hitting message that wearing a seat belt can be the difference between life and death in a road accident.

The campaign, which is running until the middle of this month, has won the backing of the Highways Agency's engineering teams in Manchester and the North West Traffic Officer Service, which is based at the Regional Control Centre just off the M6 at Newton-le-Willows.

Combining adverts and posters on buses, billboards and football match programmes with social media; including a YouTube video; the campaign is targeted at all drivers and passengers but especially men between the ages of 25 to 34 as well as dads in danger of passing their bad habits onto their children.

Safer Lancashire, a coalition of local councils, the police and NHS partners, says almost a quarter of all the people who died on Lancashire's roads in the last two years were not wearing their seatbelts.

Backing the campaign, the Highways Agency says the risks of failing to belt up on the motorway network are especially high and the consequences often devastating given the high speed environment drivers and their passengers find themselves in.

Indeed, Seatbelts Save Lives features the saved-by-the-belt story of local driver Rick Pilkington of Samlesbury near the Highways Agency Traffic Officer Service's own Lancashire outstation just off Junction 31 of the M6.

Rick was fined for not wearing his seatbelt just 4 weeks before a horrible accident on the M6 when, following a collision with a lorry, his van flipped, jumped the hard shoulder and rolled onto its side. Rick believes only wearing his seatbelt prevented him from being thrown from the vehicle and killed.

John McTaggart, Highways Agency Head of On Road Operations for the North and in charge of the region's on road traffic officers, said that:- "Our patrols have been at the scene of some awful tragedies over the last 6 years. The conclusion our Traffic Officers come to when they find out someone has been thrown from a vehicle is that wearing a seatbelt can really make a difference between life and death."

The launch of Safer Lancashire's Seatbelts Save Lives campaign brought a stern message from Cheshire Police's Inspector Andrew Chandler who is in charge of the North West Motorway Police Group, also based at the Highways Agency's Regional Control Centre.

Inspector Chandler said:- "The NWMPG runs frequent operations to target illegal behaviour and that includes drivers who fail to wear their seat belts. Drivers and passengers who use the motorway network across the North West can expect to be stopped and prosecuted for failing to wear or maintain their seatbelt. Drivers and passengers who fail to wear seatbelt in the front and back of vehicles are breaking the law and face on-the-spot fines of £60. If prosecuted, the maximum fine is £500. Our key message though is that in a crash you're you're twice as likely to die if you don't wear a seatbelt. In 2009, of the 1,059 car occupants killed in crashes, 21% were not wearing a seatbelt. You should always wear a seatbelt no matter how short your journey is."

All of the materials used in Safer Lancashire's campaign, including the YouTube video interview with Rick Pilkington, can be viewed at:- saferlancashire.co.uk.

Bus Passenger Satisfaction Survey
BUS passengers across Merseyside are happier with their services than the national average after the independent watchdog Passenger Focus revealed the results of their latest survey.

86% of those surveyed were happy with their service and significantly, passengers using Merseytravel's Quality Bus Partnership routes are happier still, with 90% satisfaction levels.

Merseytravel introduced Quality Partnership's on certain routes from Liverpool to Croxteth, St Helens, Speke and Crosby. They were introduced in partnership with the bus operators and district authorities and provide passengers with integrated timetabling and shared ticketing.

Further routes are set to be added in the next few months on two Wirral corridors, specifically improving services along the A41 and Woodchurch Road to Heswall corridors.

Chair of Merseytravel, Councillor Mark Dowd, who was recently recognised as the most influential regional politician in public transport, commented:- "To score higher than the national average in terms of satisfaction is pleasing, but we are always striving to improve the experience for passengers. We co-ordinate the entire transport needs of millions of people making hundreds of millions of journeys, so it is vital that we continue to work closely with our operator partners, and build on our successes including introducing integrated ticketing and delivering brilliant hubs."

Merseytravel's population involves 1.4m people taking 182.1m journeys a year on 678.6m passenger miles of public transport which includes bus, rail and river.

Jim Barclay, interim Chief Executive of Merseytravel said:- "We welcome the recognition of our quality bus partnership project, and will continue to work towards delivering similar schemes on the routes we have identified with our partners as being suitable."
TramForward looks to rapid progress on Wirral Tramway
TRAMFORWARD welcomes the Wirral Tramway proposals made by Merseytravel. The mix of a modern tramway and a tourist operation as proposed for Wirral has already been pioneered to great success in San Francisco and there are now over 50 similar schemes across the US. The Wirral Waters developer, Peel Holdings, has demonstrated its support; funding part of the development work, offering half the cost of the current financial consultants' review and making very generous offers of land and other assistance to facilitate tramway works. The up to date section of the tramway will speed development of Wirral Waters, bringing jobs, customers and increasing local rates income as well as having a huge range of environmental benefits. When the government held its "Tram Summit" in November of 2011 the challenge was to find schemes that gave large benefits and could be implemented at an affordable cost in a time of austerity. The Wirral Tramway is just such a scheme. Success on Merseyside can demonstrate to other councils innovative ways to pull their areas out of recession. Merseytravel, Peel and their advisors are to be praised for the imagination shown by this scheme. TramForward hopes that all the parties to this scheme can now move ahead towards a rapid implementation of the project.
Witness appeal to a serious RTC in Old Roan
MERSEYSIDE Police are appealing for witnesses after 2 elderly pedestrians were involved in a serious RTC in Old Road, Aintree, on Wednesday, 29 February 2012. Officers are investigating after a man in his 80s and a woman in her 70s collided with a car at around 3.25pm as they crossed at the junction of Molyneux Way and Altway. The man suffered a broken ankle and facial injuries and was taken to hospital in a serious, but stable condition. The woman suffered cuts and bruises and was taken to hospital for treatment before later being released. The driver of the car, a Freelander Landrover, stopped at the scene and is helping police with their enquiries. Anyone who witnessed the incident, or has any information, is asked to call Merseyside Police on:- 0151 777 5444, or Crimestoppers, anonymously, on:- 0800 555 111.