FedEx have issued a warning to customers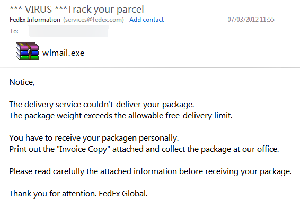 THE parcel delivery firm FedEx have issued a warning to all its customers and non-customers about a fraudulent email that has a virus attached to it. FedEx in the UK said that:- "We have been advised of a fraudulent email using the FedEx brand. We advise customers not to open the email or its attachment. For information you can our website to see samples of the fake emails being sent out. If you think you have a fake email from FedEx, please report it via emailing it to:- abuse@fedex.com.".
The email we have beem made aware of carries the subject:- "Track your parcel" and has a file attached containing a Trojan that will self-replicate called:- "Win32:Krptik [Trj]"
The email claims to be from FedEx Information and has the following file attached:- "wlmail.exe", but this might change from email to email. Other file attachments reported include a ZIP file that has the name:- "FedEx-Shipment-Notification_GX3553U8-Jan2012.zip" and contains a file "FedEx-Shipment-Notification.exe". If installed, Win32/Kryptik has the ability to reinstall its files after deletion; which makes it extremely difficult to remove manually. Once the attachment has been installed, it spreads over a computer network extremely quickly!
The advice being given out at this point is to scan all FedEx emails with one of the latest, up to date, antivirus programs.
PCSafeDoctor.com told us that:- "Win32.Kryptik-XE.Trj is a very malicious item that is designed to allow remote access to your computer to largely occupy precious system resource to trace your Internet habits and to record/steal your personal information."
This Trojan can infect computers in various ways. It can be downloaded via corrupted porn and shareware and/or freeware websites, installed through spam email attachments, media downloads and social networks, or executed by other threats on system. In this case the file is being sent on the fake email.
Typical signs of Win32/Kryptik are that your computer slowdowns with far bluer screen messages, and odd system crashes... altered browser home page and search page settings, as well as unwanted mass pop ups even with an active pop up blocker; unclassified processes running in task manager and hindered Internet bandwidth, ie. slow browsing performance. Plus look out for potentially malicious files re-install after manual removal has taken place.
The virus affects Windows NT/2000/XP/Vista/Win 7 at this point and is mainly aimed at local and network platform computers. But if you have other operating systems, be warned, as other variations have been found that affect Mac and other operating systems. But for now this email virus attack seems to be aimed at Windows Systems.
If you're on a windows operating system, it tends to hide and run processes and create multiple malicious files in the system32 folder and also prevents security applications from being quarantined, or removing its files, or updating its definition database.
If any of your computers have had the email, and you think it might have been installed, we recommend you isolate the suspected infected computer and check your entire network for the virus, including the possibly infected computer.

If you have not got an Antivirus program, we recommend you use virus scanners like Kaspersky Anti-Virus, that provides you classic anti-virus protection from all types of malicious programs. Kaspersky programs often include antivirus and antispyware, using award-winning technology. Also McAfee is a well known product and if you use this link and you might be able to save 50% on McAfee Internet Security. That program also offers you comprehensive protection against virus and online threats. Plus check out VNU Spyware Doctor AV as well. Their are many other very good anti virus programs on the market, so shop around and see what program is best for you and your system.

Please note that these links and offers above might no longer be valid after the edition is moved into are archive. PCBT Photography / PBT Media Relations Ltd. can not be held responsible for any problems with the software installed via these links / companies.

A message from Neighbourhood Inspector Keith Kellett
"I am the Neighbourhood Inspector for the Southport Area which covers Kew Ward and specifically, Lonsdale Road and Birch Street. I fully understand and appreciate the concerns of local residents at this time when there has been a serious incident in the area and I would like to take this opportunity to thank the local residents for their patience and co- operation, and to assure you all that Merseyside Police are doing everything that is possible to ensure the safety of the people of Southport.

We continue to work tirelessly to ensure the safety of Southport residents and there is a continuing reduction in crime within the area. You will have noticed an increased Police presence conducting High Visibility Patrols, along with officers in a more covert role, dedicated to dealing with crime in the area. Whilst tragic events such as those which have occurred recently will undoubtedly unnerve people, Southport remains a safe place to live and work and we will ensure this continues.

► I would like to assure you all that we put every effort into ensuring the ongoing safety of the residents of Southport. If you are aware of any crime issues or concerns, please do not hesitate to contact the Police in any of the following ways:-

► To report any non-emergency , simply dial the new national non-emergency number:- 101.

► To report information anonymously you can dial Crimestoppers on:- 0800 542 993.

► Or you may wish to come and see local officers at one of the monthly Police Surgeries or 'HaveYour Say' meetings in your area. These will be advertised in local shops and businesses and also on the neighbourhood web page.

► In an Emergency, always dial:- 999." Keith Kellett, Southport North East Neighbourhood Inspector.
Liverpool's Cultural Champions Announced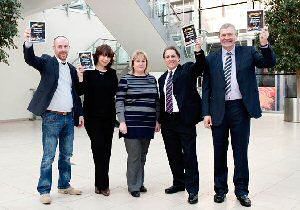 AFTER receiving 90 nominations, Liverpool's 2012 Cultural Champions can now be announced, they are:- John Wishart of Fairfield, Andre Olchowski of Croxteth Country Park, Andrea McGuire-Seery of Stoneycroft and Ray Fosberg of Allerton. Nominations came from all parts of Liverpool and from all backgrounds, highlighting the mass of enthusiasm and passion there is for Liverpool. The panel spent hours deliberating the final group, but decided upon a great team of new champions who will now take the scheme forward for 2012. Liverpool is an inspiring place, which is bursting at the seams with world-class galleries, museums, performance venues and heritage sites. The Cultural Champions scheme celebrates and promotes Liverpool's cultural life by supporting the champions to get involved and experience more of what the city has to offer, whilst creating their own commentary on the city's arts and culture through their own blog, on local radio and newspapers. In 2010, Liverpool City Council launched the Cultural Champions scheme as a legacy to the city's tenure as 2008 European Capital of Cultural. Following the success of the initial scheme, the Cultural Champions programme will be delivered by Liverpool based social enterprise Open Culture on behalf of Culture Liverpool. The 2012 scheme will build on the strengths of 2010's programme, informed by the experiences of the outgoing champions who will become mentors for the new champions.

John Wishart one of the new Cultural Champions said:- "I can't wait to get started in my new role as one of Liverpool's Cultural Champions, there is so much in Liverpool to discover, enjoy and tell everybody about. I'm really looking forward to all the new adventures."

Charlotte Corrie, Open Culture Director said:- "The panel had a tough job choosing the final 2012 Cultural Champions from the huge response we had; every nominee could have been a champion in their own and unique way. But after much discussion the panel have chosen a great group to experience and comment on an exciting year of culture ahead."

Councillor Wendy Simon, Liverpool's cabinet member for culture and tourism said:- "We've been so impressed by the mass of nominations received for this scheme, its great to see so much love and passion for our great city. We are very much looking forward to the new champions starting."