New Tarzan Author Sings in for interview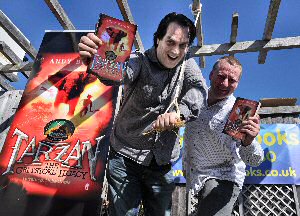 THE author of the all new Tarzan Book was in Formby Books on Monday, 26 March 2012 and we obtained an exclusive video interview with Andy Briggs. 2012 marks the 100th anniversary of publication of "Tarzan of the Apes", by Edgar Rice Burroughs. Tarzan, if you do not know was a mythical king of the jungle and many see him as the first real model of an echo warrior or environmentalist, even thought that was not Edgar's intentions, as far as we know. The new Tarzan book is the first in the new, official Tarzan series, and the first ever be written by anyone other than Edgar Rice Burroughs. The book, "Tarzan - The Jungle Warrior", out later this year, is billed as a young adult's novel. It, Andy Briggs hopes, stays true to the original characters, but it is not a copy. The new Tarzan has been updated, as Andy has explained in the interview. We have had the honour of reading part of the new book and have to say from what we have read so far, it is a tremendous book that should keep the mythical king's legacy alive for many more generations. The first adaptation Andy Briggs, put down on paper was "Tarzan – The Greystoke Legacy" and that has already been a fantastic success. We wish him the best for the new book's release and watch this space for some very exciting news about it, as we are helping to run the launch of it! To play our interview you have 2 options available for you. If you want HD quality, we have it online in Silverlight format, so please use this link if you want to see it via Silverlight and for Flash format, please use the player below.
Did you know that for every copy of "Tarzan - The Greystoke Legacy", the publisher Faber will be donating 10p towards the Year of the Ape campaign run by the European Association of Zoos and Aquaria (EAZA). Andy Briggs will also be donating a percentage of his royalties to the charity.
| | |
| --- | --- |
| | Camelot Readers 2 for 1 Offer... Click on here to find out more!!! |
...HAPPY BIRTHDAY...
Andrew Quinn Happy Birthday from the gang...
I

f you have someone you want to say happy birthday to, for free,

then

use the email address below to send us the names

you want us say

happy birthday to, and/or a photograph.

Email us today!
Manx Direct

08447 402 038

2 Years Parts & Labour Worranty
| | | |
| --- | --- | --- |
| | Click on to read on! | Click on to read on! |