The latest on calls for Defibrillators in all public buildings, as Fabrice Muamba leaves Hospital
JAKE Morrison, Councillor for Wavertree, has set up a Government E-Petition calling on the Government to take action on Sudden Arrhythmic Death Syndrome.

This petition says the following:- "We call on the Government to take action on Sudden Adult Death Syndrome (SADS). SADS can go on undetected, and is something which can affect people aged between 12 & 35 years old. It can be detected by simply having an ECG test. The Oliver King Foundation was set up following the death of Oliver King, a 12 year old boy who died in Wavertree of SADS. We call on the Government to introduce defibrillators to all public buildings by 2017, and provide staff with the appropriate training. We also call on the Government to offer all people aged between 12 & 35 a simple ECG test, which could reduce the current death rate of 12 young people a week."

Oliver King was a 12 year old boy, who sadly died at a swimming lesson in March 2011. Oliver died of a condition called Sudden Arrhythmic Death Syndrome (SADS) which takes the lives of 12 young people each week. Oliver attended King David High School in Wavertree, Liverpool.

In a Liverpool Football Club statement LFC's first-team doctor Dr Zafar Iqbal said:- "Liverpool Football Club supports the Oliver King Foundation e-petition that calls for the locating of defibrillators in all public buildings. Many lives could be saved by this simple action and by raising awareness of Sudden Arrythmic Death Syndrome. They are very easy to use and the earlier that they are used the greater the chance of saving a life."

Fulham Football Club also issued a statement saying:- "Fulham Football Club is pleased to support the Oliver King Foundation e-petition in raising awareness of Sudden Arrhythmic Death Syndrome (SADS) and calls for the introduction of defibrillators to all public buildings. The work being carried out by the Foundation is invaluable by creating a greater awareness and by having the correct equipment and trained staff, lives could be saved."

Jake Morrison, a Patron of The Oliver King Foundation told the media that:- "We must keep putting pressure on the Government to take action on this silent killer. By getting to 100,000 signatures we will trigger a debate in the House of Commons, so that MP's can decide the best way forward. We need to show the Government that we want something done about this, we need people's signatures to help. 12 young people die each week due to Sudden Arrhythmic Death Syndrome, the Government must take action by having defibrillators accessible within communities, and by early screening to try and detect this hidden killer. I've been working with the family over the past few months, and they are doing invaluable work to raise awareness of this silent killer. What the foundation is calling for is simple, we want all 12 to 35 year olds to have an ECG at some stage, with the aim to reduce the death rate of 12 young people a week. I want to see all public buildings, specifically Schools & Sports Centres, equipped with an adequate amount of defibrillators on site, by 2017. It is clear by the amount of signatures we have received already, that this is a cause close to peoples hearts. The Government need to take action on this silent killer as soon as possible, it is not an unreasonable request."

Mark King, Oliver Kings Dad, added:- "We want to bring awareness out about SADS. We need to get these defibrillators in Schools and Screening introduced to save young peoples lives. If the work of the Foundation can save the life of one young person, it will be a huge success. If this e-petition can raise awareness nationally, that can only be good."

Make your metals matter with Sefton Council and Palm Recycling!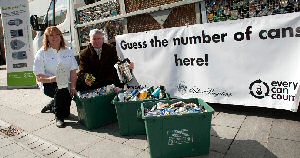 SO we open a tin of beans, rinse it out then throw it into the green recycling box, but who's wondered what happens to it after that? Well it might surprise you that little empty tin is actually quite valuable and it is far more economical, and better for the environment, to recycle it rather than make a new one out of raw materials. The really cool thing about metal is that it is 100% recyclable, so every drinks can, aerosol, tin, foil tray and bit of foil packaging you use and recycle can become something new, like an iPod, part of a wristwatch, a computer, camera... and, of course, it could become a new food tin, all over again. To encourage us to recycle more recycling expert, Palm Recycling working in partnership with Sefton Council, has launched a new campaign, which aims to encourage more of us to recycle our metal packaging.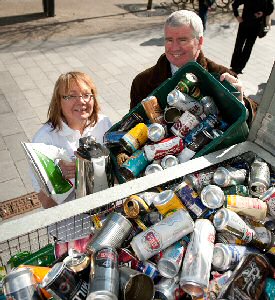 Turning old tins, aerosols, foil trays and wrapping foil back into new products is only one of the benefits of recycling metal packaging. The recycling process saves energy and cuts carbon emissions too. Did you know, for example that recycling just two cans saves enough energy to run a computer for 12 hours? So it doesn't take a lot of extra effort to make a big difference, and the benefits quickly stack up. Recycling metal packaging could not be easier; simply rinse food tins and foil trays out at the end of the washing up, you don't even have to worry about removing the label. And don't forget that metal lids can be recycled too. Palm Recycling's weekly kerbside recycling service will collect your tins, empty aerosols, foil trays and foil, as well as your paper, glass, and textiles. If you live in a flat or it is easier for you, there are plenty of local recycling centres available where you can drop off your metal packaging, as well as paper and glass bottles and jars. Gail Ormston, Sefton promotions officer, Palm Recycling, said:- "Look out for the leaflets being delivered through your letterboxes after Easter.. Please come along and find out how you can recycle more of your metal packaging and make your metals matter." More information about the programme is available at:- metalmatters.org.uk.