TS Pelican returned to Liverpool on Sunday
Photographs taken by Amy Panayi and report by Becky Simmons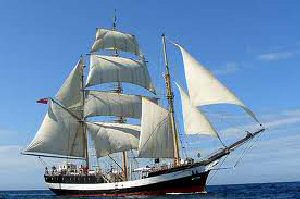 THE river Mersey's Langton Docks, in Bootle, on 15 April 2012, were treated to a magnificent sight on Sunday morning when the Tall Ship Pelican returned to Liverpool.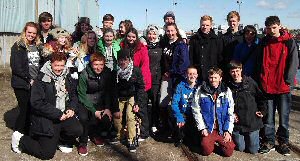 Despite the very early start, a large crowd gathered to welcome the ship, which contained 26 trainee crew members from around Liverpool.
The young people on-board were from King David's High, Mossland and Wallesey Schools, as well as cadets from MAST (the Merseyside Adventure Sailing Trust, chaired by Jim Graves). When I asked Amy Panayi, 17, from King David's High, about her trip, she jumped at the chance to talk about the TS Pelican.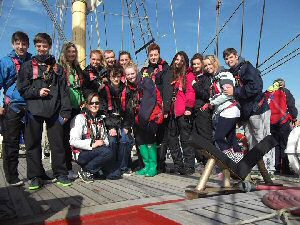 Amy told us that:- "I really didn't want to get off Pelican. I loved it so much; the whole experience of the sail was just breath-taking. I would happily clean heads (toilets) 24/7 just to go back on! Pelican - where can I start? Firstly, she isn't just a ship; she is an experience that will stay in my heart forever. The memories on her will last a lifetime. At the start of the voyage I had the idea it would just be 'a sail in the park' well was I wrong. It's not about relaxing up on deck, socialising and chilling out. It's more than that, it's a challenge that you will never forget. The whole atmosphere on the ship was unforgettable. From the 4-8 am watches, to cleaning the ship's heads; I'd do it all again just to be back on Pelican. The sights you see on her are just wonderful. No sunrise is better than those I saw out there, no moon any brighter, no stars any more fascinating. The people I met, I couldn't wish for better. I just wish I could have stayed longer, as a week was not enough for me - I would stay on that ship for a whole year if they let me. I would advise anybody who is interested at all to get themselves on The Pelican, you won't regret it. She will be with you forever and memories on her last a lifetime."
This testimony of her voyage shows that given the opportunities, kids can be separated from their Xbox and other mod cons!
If you think a trip on the Pelican would be something you'd be interested in, or if you know anyone who might benefit from a voyage with us, please contact us on:- 01305 839476, or see the website. We also have some places left on our day sails in Liverpool on Wednesday, 18 April and Saturday, 12 May 2012.

KEEP up-2-date

with our free daily news emails. Are you subscribed? Si

g

n

u

p

today

to

our daily email news service via... Formb

y

-

Re

p

orter

.com

.

If you subscribed you can keep in up-to-date with what's going on in and around Merseyside. It is free and we do not send out massive amounts of emails. Also your email is kept under the UK's Data Protection Act, so you can be sure that you will not have problems.
Manx Direct

08447 402 038

2 Years Parts & Labour Worranty