DANCING ON ICE TOUR 2012
DANCING on Ice fans will have a second chance to see the newly crowned Dancing on Ice winner Matthew Wolfenden, is confirmed to perform at all shows on the UK tour starting on 13 April 2012. Following his impressive score of 58.5 out of 60 in the final, watched by more than 8 million people, Matthew will now headline the Dancing on Ice Live Tour where he will take to the stage in arenas across the UK. 7 celebrities from this year's ITV1 show will be performing on the tour. Joining Matthew are runners-up Jorgie Porter and Chico, Olympic skier Chemmy Alcott, actress Jennifer Ellison, Coronation Street actor Andy Whyment, Sugababe Heidi Range and 2011 Dancing on Ice champion Sam Attwater. The judging panel features Robin Cousins, Christopher Biggins, Karen Barber and Dancing on Ice champion from 2007, Kyran Bracken. All of the celebrities are trained and choreographed by Torvill & Dean, who will also perform routines choreographed exclusively for the live tour. Torvill & Dean's 6th live UK tour of Dancing on Ice began in Newcastle on Friday, 13 April 2012. The 3 and 1/2 week UK tour will also travel to arenas in Newcastle, London, Manchester, Nottingham, Sheffield, Birmingham, Liverpool and Glasgow. At each performance the audience can vote for their favourite celebrity skater. Using the same format as the hit ITV1 show, spectators can use their mobile phones to text vote for their favourite celebrity. Audience votes will then be added to scores from the judges to decide the overall celebrity winner. The winning couple then take to the ice for a magical finale performance. As with previous tours, all profits from text voting will go to charity. An impressive:- £106,475 has been raised to date and has been donated to the Royal London Society For The Blind and Demelza Hospice Care for Children.
Show dates still to run...
18 April to 19 April 2012 - Manchester: Manchester Arena - 0844 847 8000 - (Wednesday, 18 April at 7.30pm, Thursday, 19 April at 7.30pm)

20-22 April - Nottingham: Capital FM Arena - 0844 412 4624 - (Friday, 20 April at 7.30pm, Saturday, 21 April at 2.30pm & 7.30pm, Sunday, 22 April at 1.30pm)

24 April to 26 April - Sheffield: Motorpoint Arena 0114 256 5656 - (Tuesday, 24 April at 7.30pm, Wednesday ,25 April at 7.30pm, Thursday, 26 April at 7.30pm)

27 April to 29 April - Birmingham:- NIA - 0844 338 8000 - (Friday, 27 April at 7.30pm, Saturday, 28 April at 2.30pm & 7.30pm, Sunday, 29 April at 1.30pm & 6.30pm)

1 May to 2 May - Liverpool:- Echo Arena - 0844 800 0400 - (Tuesday, 1 May at 7.30pm, Wednesday, 2 May at 2.30pm and 7.30pm)

4 May to 7 May - Glasgow:- SECC - 0844 395 4000 - (Friday, 4 May at 7.30pm, Saturday, 5 May at 2.30pm & 7.30pm, Sunday, 6 May at 1.30pm & 6.30pm, Monday, 7 May at 2.30pm)

To book tickets please contact the venue or call:- 08444 99 99 55. For online bookings please:- visit ticketzone.co.uk or for more information please visit:- dancingonicetour.co.uk.
Ticket Prices
Ice Side:- £67.50 (Saturday evening) / £57.50 (all other performances). All Other Tickets: £42.50 and £32.50. Pensioner Ticket Offer – Subject To Availability. Half price on £42.50 (£21.25) and £32.50 tickets (£16.25) for matinee performances.
Group Bookings - Subject To Availability. 1 in 10 tickets free (in £42.50 and £32.50 price bracket only). Available for all shows EXCEPT Saturday performances.

Mobility & Independent Living Service in Liverpool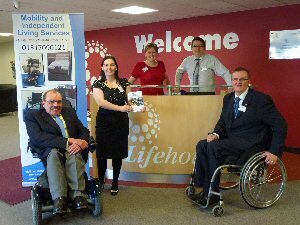 THE Mobility and Independent Living Service, based at the Lifehouse, in Summers Road, Brunswick Dock, Liverpool was officially opened on Monday, 16 April 2012, by Sir Bert Massie CBE, the former chairman of the Disability Rights Commission.

The new showroom-style service is being operated by Warrington Disability Partnership working in partnership with Liverpool City Council and Liverpool Community Health NHS Trust.

The Mobility & Independent Living Service offers a range of high quality mobility and independent living products at competitive prices, backed up by an extensive range of information, advice and support services for disabled people, carers and staff from health and social care services.

Set out in four large showrooms featuring daily living products, bathing, beds, chairs, kitchen, toilet, office and mobility, the range of equipment includes three and four wheeled scooters, manual and powered wheelchairs, rise and recliner, and high back chairs, adjustable beds, bath seats, handrails, walking sticks, ramps, three/four wheeled walkers, batteries and tyres, backed up by a mobility workshop and service centre located at WDP's headquarters in Warrington.

Gavin Thompson, from Warrington Disability Partnership, said:- "The large showrooms are full of innovative equipment on display for people to come along and try out and then buy if they want to. There are kitchens, bathrooms, and stair-lifts set out so people can try them first. We also offer contact details for over a dozen local companies."

Dave Thompson MBE DL MBA; founder and chairman of WDP said:- "We are delighted to have the opportunity to work with the City Council, NHS and local disability organisations in Liverpool. This service builds on the recognition we received from the Department of Health after they reviewed our Centre for Independent Living in Warrington. They have since promoted WDP as an example of 'best practice' in terms of the development of innovative user led services. One of the main changes we have introduced is an open door policy, where people can call in during opening hours, without the need of an appointment."

The showroom will be open from Monday to Friday between 9.30am and 4.30pm. For more details about this project and other WDP services please visit:- disabilitypartnership.org.uk.