Southport New Pleasureland's Piranha River Ride launches with a Splash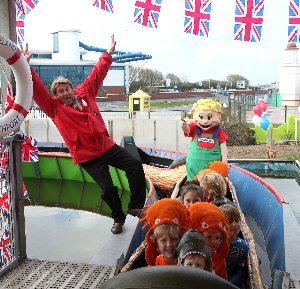 SOUTHPORT New Pleasureland boss Norman Wallis made a big splash at the launch of the park's new Piranha River Ride. Whilst taking direction from photographers he overbalanced and had to be hauled out of the flume's waters.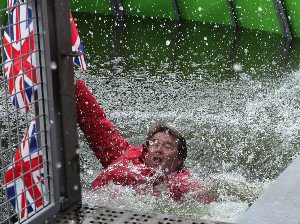 He said:- "I knew exactly what they were hoping for when photographers asked if our maintenance crew could remove a section of the safety barrier for the shot; well it was Friday 13th. And they weren't shy in coming forward about asking me to back up a bit further for the picture! I finished up taking an early bath but it was all in good sport, and the photographers got some good shots as well as some good laughs. After they hauled me out we replaced the safety barrier and the ride resumed. There is no chance of anyone else falling in, we have stringent safety standards that are adhered to 100% when members of the public are using the ride – they just decided that stitching me up would make better pictures."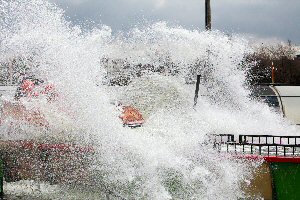 Competition winners – to find Merseyside's most fearless family to 'face the fish' on Friday, 13 April 2012!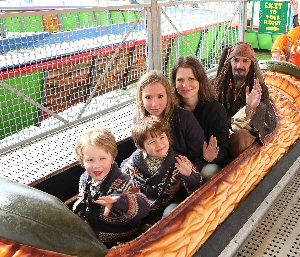 Formby Indoor Market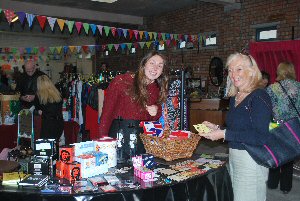 THE shutters went up for the first time at the brand new Artisan Indoor Market at The old PCS building on Stephenson Way Formby this Saturday. And despite the Derby and Grand National over 1200 people came to see what was available.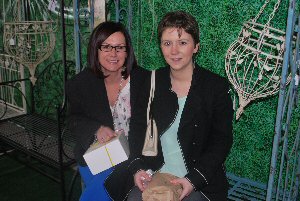 Shoppers Liz and Katie pictured from Crosby said:- "it is a great event to come to every Saturday, there was everything fom Specialist bread, jewellery and handbags to Antiques. But our favourite purchase is some fabulous baked cheesecake".
The organisers Gill Fell and James Williamson (mother and son both live in Formby) were delighted with the attendance and positive feedback from customers and traders. James (22) said afterwards that the main points of the market are:-
A. To create a hub for local entrepreneurs to try out their products and
B. Secondly for customers to enjoy buying something different that's affordable.
Mum Gill added:- "We really want to have a great community spirit with customers really enjoying their marketplace experience."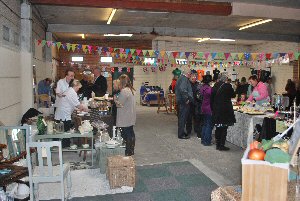 The traders are all really nice people who have the "make it happen" attitude. Gill and James are keen to help others get started in business and are going to set up a business network group offering help with marketing and product development. Anyone can use either the Auctions or the market to make an income.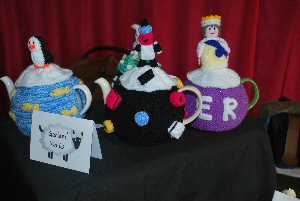 Auctions are on a Wednesday night and Market is a Saturday any questions ring:- 07848 696619 and have a chat. James and Gill will try and assist you or put you In touch with other entrepreneurs who are based in the PCS building.