Are YOU going to be following in the 'footst-apps' of Giants in Liverpool this weekend?
THE Sea Odyssey is one of the most complex events ever staged by the City Council, and the team has planned the route so that as many people as possible can experience the event. The giants will be performing for around 28 hours in total, and a 15 metre high and 5 metre wide corridor needs to be created for them to walk through. More than 20 cranes will be used to manoeuvre the giants and more than 4km of crowd control barriers erected.

Due to the size the City Council and Apple have made a FREE interactive app to enable people to follow the Sea Odyssey Giant Spectacular, and keep track of it's location!

Sea Odyssey will see 3 Giants visit Liverpool to commemorate the 100th anniversary of the sinking of the Titanic. Moving across North Liverpool and the city centre, the Giants will be wowing hundreds of thousands of people who are expected to descend on the city over 3 days, from 20 April to 22 April 2012. This once in a lifetime event will see a 30ft high Little Girl Giant roaming the city with her dog Xolo, on a quest to receive news about her father, a stowaway who died on the ill-fated Titanic.

Also in the city will be her 50ft uncle who has in his possession a letter written by the father to the Little Girl Giant. Between them, the trio will cover 23 miles, roaming Liverpool in search of each other.

The user friendly app Giant Spectacular app allows you to:-

► Take fantastic photographs of the event using a selection of themed filters and share them with your friends and family via Facebook, Twitter and Email.

► Follow each route of the Giants over the 3 days using the interactive map, as well as locating food and drink facilities, tourist information hot spots and merchandise stalls.

► Read the heartfelt story behind Sea Odyssey written by Jean-Luc Courcoult, Author, Artistic Director and Founder, Royal de Luxe.

► Find the Giants and plan your own route using the written schedule of estimated times, intended routes and intervals.

Cabinet member for Culture and Tourism, Councillor Wendy Simon, said:- "This app is a great way to get involved in Sea Odyssey and actually walk the route along with any one of the giants. Sea Odyssey promises to be a huge and unique event and it's fantastic that Apple have joined forces with us to produce this fun, free app."

The app can be downloaded now by clicking HERE or is available from Apple stores.

More than a quarter of a million people are expected in Liverpool, it is more than just a free 'Spectacular' as it is about the past and future, with focus on communities and business as well.

Councillor Wendy Simon, Liverpool City Council's cabinet member for Tourism and Culture said:- "Sea Odyssey is an unmissable opportunity for the city to really shine. It's the perfect example of the Liverpool plan in action; businesses, local communities and individuals stepping up to the plate to put on an incredible and highly complex event that will show the world the very best Liverpool has to offer while boosting local pride and providing real economic benefits. There was never any doubt that we could deliver an event of this size because we knew the city would meet the challenge with determination, expertise and vision. I don't think there are many cities around the world that could pull together in this way with such incredible results."

The Peel Group, developers of the newly-approved £5 billion Liverpool Waters project is one of those supporters. Ian Pollitt from Peel said:- "Peel is delighted to support the Sea Odyssey event. Peel is committed to the regeneration of the Liverpool region and events such as Sea Odyssey are great for the city and its tourism and culture initiatives. After supporting the hugely successful La Machine event in 2008 we were keen to be involved in helping with Sea Odyssey where we could. With the event being organised by the excellent events team at Liverpool City Council, I am sure Sea Odyssey will be a great success."

As the event will focus on both the north of the city and the city centre. It is of particular importance to those communities who, although facing very real socio-economic challenges, are eager to see their areas regenerate and develop for future generations.

Ruth Little, Manager of Anfield Breckside Community Council added:- "Everyone's starting to get a bit of giant fever now. Given that we're top of the indices of deprivation, it gives us the opportunity to show that people here are very close knit and very willing and very supportive of each other. For local people as well, it's nice to have something joyful to look forward to that involves the Anfield area."

With hundreds of volunteers from all over Merseyside beening recruited to do a number of key jobs to make the event happen from:-

Giant operators who will be physically involved with moving the giant marionettes (operators are also known as 'Lilliputians')

The Benevol team, who will becoming part of the cordon to help move the Giants through the crowds

Volunteer support team, helping with the technical and operational staff including special effects assistants, sound engineers, drivers and production assistants.

Not forgetting general volunteers who will be based in the city centre and North Liverpool they will welcome visitors and provide information about the event.

A number of these volunteers will be from the 'City Stars' programme, a partnership between the City Council and Liverpool ONE which has enabled over 100 former Capital of Culture 08 volunteers, who all continue to support major events in the city.

Also supporting the event will be volunteers from Liverpool FC's Youth Ambassador scheme and the Everton Foundation.

Councillor Wendy Simon, Cabinet member for Culture, said:- "We're delighted that so many people have volunteered to help out with this event as we simply could not stage it without them. Not only are they making it happen, but they will also be an integral part of something that is really special. Liverpool has a great reputation as a friendly and welcoming city and we want to make sure we have people on hand to provide information and advice during the Sea Odyssey. This magical story really will be a spectacle and one which people won't have witnessed on our streets since 2008 and will be an unforgettable experience that will live long in their memories."

Residents and visitors are being warned that there may be some disruption as a result of road closures across the 3 days.

About 50,000 letters have been sent to residents about how the event will affect them and meetings have been held with key stakeholders, businesses and organisations.

People who work for firms based in the city centre or around Islington, County Road and Walton Lane have been advised to leave work early on Friday, 20 April 2012, or make alternative arrangements because of the inevitable disruption during the rush-hour period.

Andy Barr, the City Council's Highways Manager, said:- "As this is the biggest event the city has ever staged, and this means that people may have to make changes to the way in which they go about their business over the 3 days. We have done a huge amount of work over the last few months to get out and visit people living in the affected areas to let them know how it will impact on them. We have done our very best to minimise the impact that it has, but when you have three giants roaming the city it is inevitable that there will be a certain amount of disruption. It also presents an opportunity for businesses such as bars and cafes, and we have had discussions with them about how they can take advantage of the large crowds that will gather. Full details of the route are available on the city council and Giant Spectacular websites and travel bulletins on local radio stations will also keep people up to date. Also online via the events website and on sites like Mersey Reporter. We strongly advise people coming into the city centre to use Merseyrail rather than their car."

A full list of the closures is attached, but it should be noted that the times of the closures are approximate and may be subject to change during the event. It cannot be guaranteed that the roads will re-open exactly at the times specified, however the City Council will endeavour to re-open as many roads as possible when it is safe to do so. Where possible, rolling road blocks will also be used to minimise disruption.

Public Transport advice:-

► Call Traveline Merseyside on:- 0871 200 22 33 to find out how to get near the Sea Odyssey route by public transport (open 0800 to 2000, 7 days a week).

► Download a special Sea Odyssey public transport leaflet at merseytravel.gov.uk

► Pick up a leaflet early April at any Merseytravel Centre or timetable outlet.

► Request the leaflet be sent directly to you by calling the 24 hour Brochure Hotline on 0151 330 1066.

► Speak to Merseytravel staff who will be out and about during the event to help with last minute checks and queries.

Please click on here to:-
Download changes to public transport.
Download a guide to Road Closures.

For more information on the event visit:- giantspectacular.com

Call for volunteers as Brazil fever hits Liverpool
BRAZILICA, the vibrant festival of Brazilian culture which brought Latin fever to Liverpool last summer, attracting over 60,000 visitors to the city centre, is back for 2012, taking over the city in a massive 3 day event from Friday, 13 July 2012 to Sunday, 15 July 2012. Organisers Liverpool Carnival Company and Orb Events are giving members of the public a chance to be part of the sizzling hot action!

Volunteers will not only experience an insider's perspective of one of the country's busiest and most vibrant public festivals, but also gain invaluable work experience and make new friends to boot!

Responsibilities are wide ranging, so whether you are looking to indulge a hobby, boost your CV or are simply after an excuse to dress up, there is guaranteed to be something to suit every personality. Roles will include the building and decorating and dismantling of parade floats (organisers are particularly seeking individuals with art or metalwork skills but anyone with enthusiasm is welcome), lorry drivers/spotters and general festival stewards. Also required are people to walk in the 500-strong parade (will be required to wear and possibly make their own costume), stage production assistants, runners, sporty volunteers to help with the Soccer Zone and much more!

Those wishing to volunteer for Brazilica 2012 can get further information and sign up by attending the Brazilica Volunteer Socials on the last Wednesday of every month at 6.30pm, at Cafe Porto (14 Rodney Street, Liverpool L1 2TE). These meetings will provide people with the opportunity to ask questions, get to know more about Brazilica and its organisers, and meet fellow volunteers. The initial volunteers meeting will take place on 25 April 2012, with follow up meetings on 30 May and 27 June 2012. These are drop in meetings and there is no need to pre-register. However, for more information, those interested in volunteering can email.

All volunteers will be given a free t-shirt as a memento of an amazing weekend. Brazilica has become one of the flagship events of the year in Liverpool's festival calendar; a colourful celebration of Brazilian music, dance, culture, food and football.

Maeve Morris, Artistic Director of Liverpool Carnival Company, said:- "We were delighted at the success of last year's Brazilica - seeing it grow into Britain's biggest Brazilian carnival was a proud moment. We're excited to make it even bigger for 2012 and hope that the many thousands of visitors who enjoyed the 2011 festival will return this year along with lots of new faces. It's an unrivalled chance to experience Brazilian culture, music, food and sport in the UK."

Councillor Wendy Simon, Liverpool City Council cabinet member for Culture and Tourism, said:- "Brazilica brings colour, music and excitement to our streets. Its parade was one of the highlights of the summer for many thousands of people last year and we are very pleased that it is returning this summer. It is going from strength to strength and shows the diversity and vibrancy of our city."

BRAZILICA promises to be Liverpool's most exciting, exotic and vibrant spectacle: a Rio-style Brazilian samba carnival exploding with life, music, sport and dazzling costumes through the streets of the city centre, so get BRAZILICA 2012 (13 July to 15 July 2012) in your diaries and get ready to party with Liverpool Carnival Company.

More information can be found at:- brazilicafestival.com You can also keep up-to-date with Liverpool Carnival Company's events on Twitter at:- twitter.com/brazilica2012.
Museum of Liverpool hosts event in memory of Titanic Orchestra
OVER Saturday 21 April to Sunday 22 April 2012, the Museum of Liverpool is going to be hosting a poignant tribute to the brave Titanic Orchestra, who courageously played as the Titanic sank on 15 April 1912. Local string quartets are invited to take part in the Titanic Playathon, which is aimed at sustaining constant live music throughout opening hours at the Museum.

From 10am to 5pm on Saturday, and during longer opening hours on Sunday from 9am to 5pm to tie in with the city's Sea Odyssey Giant Spectacular, performers will be able to take the baton and play music of the time in the Museum of Liverpool's spectacular Atrium.

Julia Bryan, Senior Education Manager at the Museum of Liverpool said:- "The musicians who played on the Titanic were engaged by the agents Black Brothers of Liverpool, and we wanted to do something to mark the anniversary of the sinking that would serve as a reminder of the unselfish deeds of these men on that night. We want to encourage local people to get involved with this event and particularly welcome young performers and string quartets to come along and help us keep the music of the Titanic orchestra alive, in memory of the eight members of the orchestra, all of whom died that night."

If you would like to come along and play, contact:- julia.bryan@liverpoolmuseums.org.uk for more information and to book a slot.

The Museum of Liverpool's regular weekend events programme will all be Titanic-themed and Sunday morning will begin with deck games for all the family. The Merseyside Maritime Museum will also open early at 9am on Sunday, 22 April 2012, where the new Titanic and Liverpool - the untold story exhibition marks the 100th anniversary of the sinking.
Shock on Coronation Street as Audrey suffers a heart attack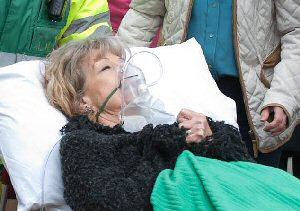 THE ITV TV progarm Coronation Street favourite Audrey Roberts, played by Sue Nicholls, will become the latest Coronation Street star to suffer a heart attack on the famous cobbled streets next week. The British Heart Foundation (BHF) is urging women in the North West to take the storyline to heart and take an online test to see if their own lifestyle could be putting them at risk.

More than 5,280 women in the North West die from heart disease each year. It kills 3 times as many women as breast cancer and is the single biggest killer of women across the UK. Yet many women simply aren't aware that they should regularly check their heart health in the same way they examine their breasts or have a smear test. Worrying survey statistics from the charity show that less than a third of women (31%) are aware that heart disease is the UK's biggest killer and less than half (47%) would dial 999 if they showed the symptoms of a heart attack.

Over the past few months viewers have seen Audrey attempt to lead a healthier lifestyle following a trip to her GP, by increasing the amount of exercise she does and cutting down on alcohol. Next Monday's double feature programme will see Audrey have a heart attack after a family argument at the salon.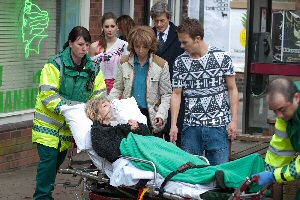 Other Coronation Street women who have suffered a heart attack include May Hardman, Martha Longhurst, Judy Mallett, Jay Fishwick, Angela Hawthorne and Vera Duckworth.

Sue Nicholls, who plays Audrey Roberts said:- "Audrey is a much loved character and many women will identify with her lifestyle; she works long hours, has little time to exercise and enjoys a tipple down the Rovers. After her heart attack, Audrey starts to think more about her heart health and lifestyle. I hope the women watching Coronation Street will think about theirs too. The truth is it could happen to anyone of us; it's not just middle-aged men who are affected."

Doireann Maddock, Senior Cardiac Nurse at the BHF said:- "The sad truth is that almost 40,000 women die from heart disease each year and too many lives are lost to a killer which is largely preventable. Audrey is a seemingly fit and healthy woman so this is a real wake-up call to all of us to 'think heart' and look after our health more. We're urging all women in the North West to take our online lifestyle check, it takes less than 10 minutes but could help make a big difference to your heart health in the future."

The BHF is gearing up to take calls from the public worried about their heart health the night of the show (23 April 2012) via their heart helpline on:- 0300 333 2 333 and is encouraging women to take its online lifestyle check at:- bhf.org.uk/audrey.

Fans of the show can also take the Corrie Heartbreak Quiz online for the chance to win a visit to the famous cobbles as part
of a tour of the set as well as a signed script from the show.