JLA's new premium lounge to be amongst best in the UK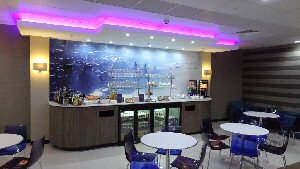 LIVERPOOL John Lennon Airport has opened its latest passenger facility as leading aviation services provider Servisair opens the doors for the first time to their new £250,000 'Aspire by Servisair' Airport Lounge, believed to be amongst the best in the UK. As the biggest airport lounge operator in the UK, Servisair are currently rolling out the new Aspire Lounge concept to a number of airports in Europe, each individually designed to meet the needs of different passengers and reflect the identity and culture of their location.
The new 'Aspire' lounge at JLA is the first of Servisair's distinctive, modern, high quality lounges to be developed outside of London.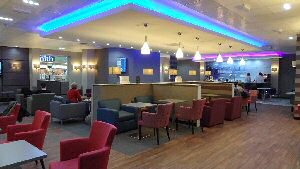 The Liverpool lounge has been specially designed to meet the needs of both business and leisure travellers with the addition of carefully designed side tables within the seating areas, which will facilitate laptop, iPad or gaming console charging facilities.
The choice of colours, textures and fabrics have also been carefully selected to create a stylish, comfortable lounge that is both visually impactful and chic.

The lounge is a total of 249sq. metres and can comfortably seat up to 97 passengers; with twice as many as the Airport's previous executive lounge.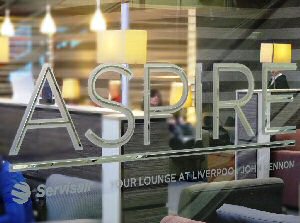 Incorporating a relaxed environment with the very best in customer service, the Aspire lounge offers a freshly prepared complementary menu, including hot food, snacks, treats, drinks and free Wi-Fi, giving Liverpool passengers the opportunity to relax in the heart of the departure lounge, before flying off to one of the airport's 60 plus scheduled destinations. Everything is self-service so guests can help themselves to as much or as little as they like.
The Servisair management team have looked at every minute detail from the ground up ensuring that guests will receive only the best an airport lounge has to offer at an affordable price.

All passengers can access the lounge, irrespective of airline, with bookings either made in advance via the dedicated website or by simply turning up and paying at reception. Entry to the lounge and access to all its facilities costs just £17.49 for adults and £9.99 for children under 12 when booked in advance.

Lucy O'Shaughnessy, Retail Director for Peel Airports commented:- "In addition to Servisair's investment in this facility, the Airport has spent a further £300,000 to reconfigure this part of the terminal building to create this space, in order to give passengers more of what they want. Working in partnership with Servisair we are delighted with this latest facility that is now available for all our passengers to take advantage of."

Shaun Weston, Travel Services Director, Servisair added that:- "Our aim with the new Aspire lounge here at Liverpool is simple; to operate an airport lounge that delivers the best possible customer experience through a smooth booking procedure, a comfortable & modern environment, a fantastic range of food & drink with superb facilities and all at a reasonable cost with great customer service."

Planning Application Submitted For 3rd Phase at Norris Green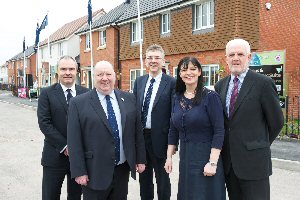 REGENERATION Liverpool, a partnership between Liverpool City Council and regeneration specialist Sigma Inpartnership Limited, has submitted a planning application for the 3rd phase of development at its £100 million scheme in Norris Green.

The Phase will see 63 new homes built by Countryside as a part of the on-going redevelopment of the estate. 115 new homes have already been completed on site and construction of this phase should commence in the summer.

Subject to planning approval, the new phase situated off Heathwaite Crescent, will comprise a mix of 2, 3 and 4 bedroom houses, 20 of which will be affordable homes and 43 will be sold to private occupiers. All of the properties will be built over 2 stories and a number of the 3 and 4 bedroom homes will have additional garages.

Graeme Hogg, director of regeneration specialist, Sigma Inpartnership, said:- "This is another exciting step in the transformation of the estate, with the emphasis on quality homes and environment being maintained. We are delighted that despite the extremely difficult commercial environment, we are managing to push ahead with mixed tenure product, due to the strength of interest being shown in the scheme."

Ian Simpson, land director at Countryside, said:- "Countryside Properties is excited to be involved with the future phases of Norris Green Village on what is proving to be a popular development and one that gives the local home buyers a great opportunity for affordable home ownership."

Councillor Joe Anderson, Leader of Liverpool City Council, said that:- "The work of our groundbreaking Regeneration Liverpool continues to gain momentum, and this is the latest example of how it is enabling us to bring massive improvements to our housing stock. We're determined to deliver high quality, affordable homes in every part of the city, and it's vital we work effectively with partners to do this. It's fantastic to see this housing scheme; an important piece in the jigsaw in the overall regeneration of Norris Green, making such good progress."

Councillor Ann O Byrne, the city council's Cabinet Member for Housing and Community Safety, said:- "In challenging economic times, Regeneration Liverpool is giving us a significant advantage in driving forward regeneration and providing good quality, affordable housing for the people who need it most. I'm delighted that our plans to deliver this next phase of new housing in Norris Green are moving ahead. These homes will help breathe new life into the area, strengthen community confidence and drive up the quality of local people's lives."

This news follows the recent announcement that Regeneration Liverpool will be regenerating five more sites across the city in Stonebridge Cross, the Gateacre former comprehensive school site, Lime Street/Renshaw Street/Knowledge Quarter, Edge Hill
District Centre and Lodge Lane baths site.

It is Regeneration Liverpool's aim to work as a partnership between the community, public and private sectors to ensure sustainable and effective regeneration across the city of Liverpool.
Merseyside Transport Trust Open Day Alert
THE Merseyside Transport Trust's collection of former Liverpool Corporation Buses, ranging from one of the first post war AECs right though to the last bus delivered to the Corporation in 1969, and is now probably the country's most representative preserved collection from a municipal bus fleet. The Trust is holding an Open Day on Bank Holiday, Monday, 4 June 2012, their new premises at Osprey Place, off Tollgate Road on the Burscough Industrial Estate, (L40 8TG). This will be a chance to see our new premises on the Burscough Industrial Estate, and view our entire collection! The old hangars and the track leading to them had become unsafe for public access, so our "non-runners" had been hidden from public view for many years. The collection includes a growing number of buses from the Merseyside Passenger Transport Executive (MPTE) fleet which operated most of the bus services on Merseyside between December 1969 and October 1986 and the MPTE's successors Merseybus, MTL and Arriva. In addition to these, we also have a couple of former Crosville Motor Services buses, Crosville being at one time a large operator on Merseyside. This will be a great new opportunity to see the buses, purchase your memorabilia and maybe even have a ride or two. For more information why not visit the Trusts website.