'Mayday' appeal for blood donors to spring into action
A seasonal appeal for people in Merseyside to spring into action and help others by giving blood has been issued. With spring officially sprung and warmer weather on the way, NHS Blood and Transplant (NHSBT) is hoping that May will see more locals make a date to donate. Nationally, over 7,000 units of blood are needed every day by hospitals to treat people suffering from a wide range of ailments and injuries. Blood is needed for patients undergoing treatments for cancer, people who have been involved in accidents and by women who experience complications during childbirth, to name just a few.

NHSBT spokesperson Barbara Blanche said:- "Now the worst of the wintry weather is hopefully out of the way and temperatures are on the rise, we are calling for people here in Merseyside to spare just a little of their time to donate blood. We would love to see both new and existing donors coming down to one of our local sessions in May. We can promise them a warm welcome and the satisfaction of knowing that their life-saving donation will be used to help ill or injured people in our region."

People can look for a convenient session near their home or workplace quickly and easily by going to:- blood.co.uk and using the website's 'postcode finder' facility.

Anyone wanting to donate for the first time should be aged between 17 to 65, weighing at least 50 kg (7 stone 12lbs) and in general good health. Those who have donated before can start again up to their 70th birthday and there is no upper age limit for donors who have donated in the last 2 years. Anyone wishing to find out more or book an appointment can either call the Donor Line on:- 0300 123 23 23.
BLOOD DONOR SESSIONS TO BE
HELD DURING MAY 2012

Liverpool Donor Centre
Unit 6, 2 Moorfields
(Entrance on Dale Street)
Liverpool

Monday/Thursday/Friday/Alternate Saturdays 8.20am until 3.30pm
Tuesday/Wednesday 12.20pm until 7.30pm

Thursday 3.5.12
Heswall Hall
111 Telegraph Road
HESWALL
2.00pm-4.00pm & 5.30pm-7.30pm
Friday 4.5.12
Ecumenical Centre
Northway
SKELMERSDALE
2.00pm-4.00pm & 5.30pm-7.30pm
Saturday 5.5.12
Holy Trinity Parish Hall
Rosemary Lane
FORMBY
10.00am-12.00pm & 2.00pm-4.15pm
Tuesday 8.5.12
Woolton Conservative Club
Belle Vale Road
GATEACRE
1.30pm-3.30pm & 5.00pm-7.00pm
Wednesday 9.5.12
Victory Hall
Salacre Lane
UPTON
1.30pm-3.30pm & 5.00pm-7.00pm
Thursday 10.5.12
The Park Hotel
Dunningsbridge Road
NETHERTON
2.00pm-4.00pm & 5.30pm-7.30pm

Friday 11.5.12
Harrison Hall
Harrison Drive
WALLASEY VILLAGE
2.00pm-4.00pm & 5.30pm-7.30pm
Saturday 12.5.12
Holy Trinity Parochial Centre
Hoghton Street
SOUTHPORT
10.00am-12.00pm & 2.00pm-4.15pm
Monday 14.5.12
Wesley Methodist Church Hall
Corporation Street
ST HELENS
2.00pm-4.00pm & 5.30pm-7.30pm
Tuesday 15.5.12
Leasowe Castle Hotel
Leasowe Road
MORETON
2.00pm-4.00pm & 5.30pm-7.30pm
Thursday 17.5.12
St Mary's Millennium Centre
Meadow Lane
WEST DERBY
10.00am-12.00pm & 2.00pm-4.15pm
Friday 18.5.12
Civic Centre
Civic Way
BEBINGTON
2.00pm-4.00pm & 5.30pm-7.30pm
Monday 21.5.12
Methodist Church Hall
Liverpool Road
BIRKDALE
2.00pm-4.00pm & 5.30pm-7.30pm
Tuesday 22.5.12
Huyton Suite
Poplar Bank
HUYTON
2.00pm-4.00pm & 5.30pm-7.30pm
Thursday 24.5.12
Sports & Social Club
Charnock Road
CULCHETH
2.00pm-4.00pm & 5.30pm-7.30pm

Friday 25.5.12
All Hallow's Church Hall
1 Greenhill Road
ALLERTON
2.00pm-4.00pm & 5.30pm-7.30pm
Monday 28.5.12
Recreation Hall
406 Pensby Road
PENSBY
2.00pm-4.00pm & 5.30pm-7.30pm
Wednesday 30.5.12
Lauries Community Centre
142 Claughton Road
BIRKENHEAD
2.00pm-4.00pm & 5.30pm-7.30pm
Thursday 31.5.12
Thistle Hotel
Penny Lane
HAYDOCK
2.00pm-4.00pm & 5.30pm-7.30pm

Unlicensed landlord fined
THE managing agents of 2 Liverpool properties, which were not licensed and in breach of safety regulations, have been fined a total of £3250. Liverpool magistrates heard today that there were poor management standards; including defective fire safety precautions, a faulty fire alarm and an unsafe boundary wall; at the houses in Grant Avenue and Langton Road Wavertree.

The court heard that the student homes had not been licensed with the city council as legislation requires.

Wavertree Property Link (NW) Limited of Smithdown Road admitted two offences of failing to licence the properties and 11 further breaches of the Management of Houses in Multiple Occupation (England) Regulations. The company was fined £250 for each offence and were also ordered to pay £3870 costs.

Councillor Ann O'Byrne, cabinet member for housing and community safety, said:- "This was a successful prosecution by the council's Houses in Multiple Occupation team and it shows we will pursue those landlords who do not apply for licenses. The legislation was introduced following recent Government research that showed people living in these types of property are16 times more likely to die or be injured in a fire than people living in a single occupancy house. In some areas in Liverpool this risk increases to 30 times and the idea behind the law is to raise standards. And as well as prosecuting, the city council may also apply to the Residential Property Tribunal (RPT) where housing benefit has been paid for recovery of this money for up to 12 months before the offence. In cases where housing benefit is not paid the tenants themselves may also recover rent by applying to the RPT."

Under the Housing Act 2004, houses of 3 storeys or more and occupied by 5 or more unrelated people have to be licensed through the city council.
Co-operative cash hits the right note for Marshside brass band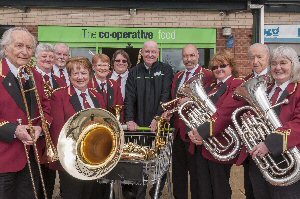 THE Marshside Brass Band has received a cash boost to the tune of £500 thanks to The Co-operative Food store on Fylde Road. The band will use the money to buy new sheet music for fetes and festivals they will be performing at during the summer.

Robbie Johnson, Store Manager of the Fylde Road Co-operative food store said:- "The Co-operative is proud to play an important role in the life of this local community. We were thrilled when so many Marshside residents joined us for the official re-opening of our new-look store earlier this month, and we are delighted we can now give something back to the local area. The Marshside Brass Band is popular with both our customers and members of staff and we are pleased to be able to help keep the tradition of the village brass band alive."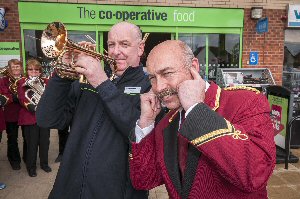 David Rimmer, chairman of the Marshside Brass Band said:- "Thanks to this generous grant from The Co-operative we will be able to extend our concert repertoire for the summer, meaning we can entertain people with some new tunes, as well as the old favourites. We would like to thank Robbie and his team for thinking of us, the donation was most unexpected and it is refreshing to see a large retailer, such as The Co-operative, eager to participate in community life."

Other community groups seeking funding can apply to The Co-operative's Community Fund. The fund is created by members of The Co-operative Group who elect to donate all, or part of their twice-yearly dividend payments directly to the scheme. The funds are then shared with local community projects and groups across the country.

Around £200,000 is available each year to the North West region and applications from local groups and projects for £100 to £2,000 are welcome. Community Fund application forms are available online or by phoning them on:- 0161 827 5879.
Viaduct goes from strength to strength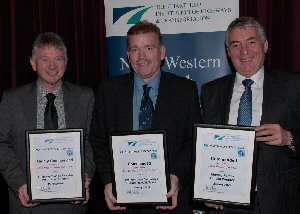 MERSEYTRAVEL projects has been recognised by the Chartered Institution of Highways and Transportation, the society concerned specifically with the planning, design, construction, maintenance and operation of land-based transport systems and infrastructure. Bidston Moss Viaduct Strengthening project has won the prestigious accolade of Transportation Project of the Year at the recent Chartered Institution of Highways and Transportation North West Regional Awards ceremony.
The Highways Agency commissioned the works on the viaduct and worked in partnership with Merseytravel and Wirral Council. The scheme has seen the strengthening of the viaduct's structure which means that the weight restriction on vehicles using the outside lanes was lifted in September 2011.
This reinstated free flowing traffic across the structure which carries around 63,000 vehicles a day, including approximately 5,000 HGVs.
Jim Barclay Interim Chief Executive of Merseytravel said:- "We are pleased that the work on Bidston Moss Viaduct has been recognised in this way as it shows great partnership working between the Department for Transport, The Highways Agency and local authorities. The Tunnels are vital to the region's economy and this investment will allow us to offer a better service to the thousands who use them every day."
At the North West Regional Awards ceremony held at the Park Royal Hotel, Warrington, last Friday Merseytravel was also highly commended for the Kingsway Tunnel Fire Main, in the Best Practice Project of the year, and received a commendation for the Sherlock Lane Footbridge Replacement in the same category. The Mersey Ferries Access Gangways were similarly commended in the Safety Project of the Year Award.