Book Signing by Anne Watts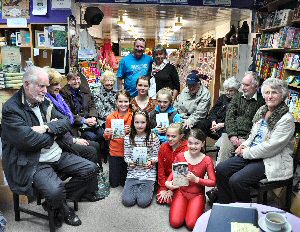 LOCAL author Anne Watts gave a fantastic talk about her autobiography "A Nurse Abroad" at Formby Books on Monday, 16 April 2012. Anne Watts captivated the audience that grew throughout her talk about the second volume of her autobiography. If you do not know who she is, well get the book! As a nurse, she served as a civilian nurse in the Vietnam war, Cambodia, Saudi Arabia, and also lived with the Inuit communities, in Canada, for a time. Also she worked on Merseyside and that side of her personality, the Liverpool side, makes the book very entertaining... just as her talk was enlightening on the night. Please click here to see more photographs taken at that event.
Part 1 of the autobiography is:- "Always the Children; A Nurse's Story of Home and War"

ISBN:- 9781847397898 Price:- £6.99

You can Order from Formby Books today!
Riverside Steam Rally 2012 Link Error...
LAST week we had some problems with the Riverside steam Rally link to the photograpic coverage. It was fixed a few times, but some of you spotted it had developed an error. This was fixed again, but just in case you did not see them, please click on here the archived story....
...HAPPY BIRTHDAY...
I

f you have someone you want to say happy birthday to, for free,

then

use the email address below to send us the names

you want us say

happy birthday to, and/or a photograph.

Email us today!
Manx Direct

08447 402 038

2 Years Parts & Labour Worranty
This Weeks Edition - Audio Copy
Click here to hear this weeks edition in audio format. Please let us know what you think about it. via emailing us. Also if you have a child who can draw a face, send one in and we will look at using it for our news reader for an edition. Adults can try as well! You will get a copy of the animation sent to you and credit on the animation as well!.
| | | |
| --- | --- | --- |
| | Click on to read on! | Click on to read on! |