Cammell Laird preferred bidder for Western Ferries contract
IT might be good news again for local shipbuilding on Merseyside after a historic shipyard was named preferred bidder for the construction of 2 ferries. The Birkenhead yard was founded by William Laird in 1824, but the strong tradition of shipbuilding looked as if it was lost for ever. It's closer in 1993 followed the completion of the last full vessel to be built at the yard. That vessel was the Royal Navy submarine HMS Unicorn and She was launched in to the river Mersey that same year. After its closure as a builders, the yard was then taken over by a firm called Coastline Group who used the yard as a ship refit and repair facility. That was also threatened after a contract to refit Italian cruise ship Costa Classica was cancelled in 1993, plunging Coastline Group into receivership. Northwestern Shiprepairers & Shipbuilders took over the yard in 2005. Since they took over Cammell Laird picked up several contracts to refit and overhaul ships on the back of the yards historic name and reputation. It looked like the yard would remain a ship refit and repair facility doing this type of work, but this is very good news for the new owners and the area. But the offer to build these new vessels was as Western Ferries' Managing Director, Gordon Ross said to the press:- "the most commercially competitive." The bid also offered the ferry firm the "earliest delivery date of mid 2013." The yard is currently working on building the flight deck of the HMS Queen Elizabeth aircraft carrier, but work on the vessels could begin in June 2012. Western Ferries will be using these 2 new boats, once completed, for their Gourock to Dunoon route and will be given yard hull numbers 1387 and 1388.
Halton Tourism Award for Catering Manager, Lynn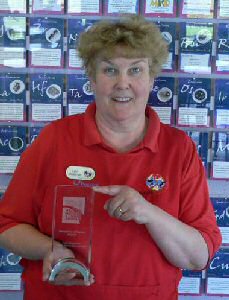 THE Catering Manager and Conference Coordinator Lynn Steadman, from Catalyst is celebrating after winning the Tourism Support Award at the annual Halton Business and Tourism Awards. In his nomination Stephen Youd-Thomas, Director of Catalyst said:- "For 20 years, Lynn has been a familiar, friendly face to visitors, overseeing all the catering from the cafe to conferences. Her flexible service is tailored to customer needs, resulting in increased booking and even home delivery requests from local residents!" The judge commented that in all his years of judging he had never encountered such a tight contest, with 3 truly excellent candidates. He felt that Lynn put a tremendous amount of her personality into her role and was an inspiring example to everyone. You can find out more about Catalyst by visiting the website:- catalyst.org.uk.

Hospital chief executive hosts 'have your say' meetings
PATIENTS and the public in Skelmersdale and Southport have the chance to find out more about plans for Southport and Ormskirk Hospital NHS Trust to become a foundation trust.

Foundation trusts were created to give local people more say over local health care. The Southport and Ormskirk trust wants to become a foundation trust by April next year (2013).

The public meetings are part of a series hosted by Jonathan Parry, the Trust's chief executive, having previously been held in Formby, Ormskirk and Tarleton.

Mr Parry said:- "Foundation trusts have been around since 2004 and now the Government says all NHS trusts must become one. It is important we have local people's support for our plans and this is one of a number of public meetings I am hosting where people can learn more and have their say."

The meetings will be held on:-

► Tuesday, 15 May 2012, at West Lancashire College, Skelmersdale Campus, College Way, Skelmersdale, WN8 6DX , starting at 1pm


► Thursday, 17 May 2012, at the Family Life Centre, Ash Street, Southport, PR8 6JH, starting at 2.30pm


► Please call:- 01704 704714 if you have any special requirements the Trust can help with in advance of the meeting.
► Refreshments will be provided.

People can also make their views known by visiting the Trust website:- southportandormskirk.nhs.uk.

Alternatively you can request a copy of the consultation document from The Foundation Trust Team at Southport and Ormskirk Hospital NHS Trust, Southport and Formby District General Hospital, Town Lane, Southport, Merseyside, PR8 6PN

Consultation responses can be completed online, but the Trust will pay the postage for people returning the responses by post.

Foundation trusts are run as membership organisations and foundation trust members perform several important functions including:-

► Influencing how health services the Trust is responsible for are run through greater involvement and ownership

► Contributing to developing new services or improving existing ones

► Becoming a Trust governor and working closely with the Board of Directors to deliver the very best in health care for local people.