DAVID GEST ANNOUNCES DAZZLING SHOW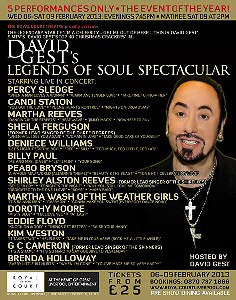 GEST will make history, by bringing an all-star line-up of Soul and Motown artists to The Royal Court Theatre, Liverpool for 5 dazzling performances of David Gest's Legends of Soul Spectacular, before announcing more UK dates.
Hot on the heels of sold-out shows and rave reviews for David Gest... My Life - his record-breaking 24 city concert tour of the UK - Gest has announced that he will assemble one of the largest gatherings of the biggest- selling and most-revered rhythm and blues artists of all- time, who have collectively sold more than 100 million records worldwide.
The legendary star of I'm a Celebrity… Get Me Out Of Here! and the first American to have 3 primetime TV series in the UK, will not only be brining it, but also hosting this musical extravaganza, which runs from Wednesday, 6 February 2013, until Saturday, 9 February 2013.

Gest said:- "I am thoroughly excited about performing once again in Liverpool. Our last two shows at The Liverpool Philharmonic Hall were record-breaking and we plan to break even that record at The Royal Court Theatre. The renovations at The Royal Court have made this theatre the ʻin place' for all music artists to perform. And we have a lot of surprises planned for our Liverpool audience. Scousers know how to party and since I consider myself an honorary Scouser, we're going to start the New Year off with the biggest soulful party they've ever seen!"

Tickets range from £25 to £95 and and are now on sale. To book tickets, call The Royal Court Liverpool on:- 0870 787 1866. Pre-Show Dining is also available.

Liverpool Solicitors Walk for Justice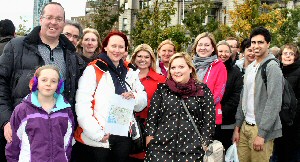 ON Thursday, 4 October 2012, Canter Levin & Berg put their best foot forwards participating in the 1st Liverpool Legal Walk which took place around the City Centre. With 19 teams and over 100 walkers, the Liverpool legal community came together to raise funds and awareness for The North West Legal Support Trust, a charity that raises money to distribute to legal advice agencies across the whole of the North West. Organised by Chris Walker of Scott Rees & Co Solicitors and law graduate Rachael Robinson on behalf of the North West Legal Support Trust, the 5K charity walk is expected to have raised approximately £2,000.

Rita Krumins, a partner with the firm, stressed why it is vital that legal aid is made available to those that need it:- "Just when the demands on charitable organisations such as the Citizens Advice Bureau & Law Centres is increasing rapidly with people facing mounting debt problems often fuelled by high interest loans and the biggest shake up in the welfare benefits system, legal aid is to be withdrawn from these areas leaving the charities not only stretched to the absolute limits but without the resources to continue to function at all. It is not just solicitors losing revenue but legal aid has been a significant part of funding for charitable organisations which are now facing a real threat of closure. The need for advice is ever greater, but the danger is that the infrastructure that has provided it may not survive the loss of legal aid."

Dinah Crystal, Chair of the North West Legal Trust (NWLST) said the funds from the walk would help support the most disadvantaged members of society.
"I would like to thank everyone who took part in the 1st Liverpool Legal Walk; it was a great effort by all and we can now build on this success for the future. The charities supported by the NWLST help facilitate access to justice for the poorest and most disadvantaged members of society providing free legal help to people facing problems such as homelessness, debt, employment, family issues, discrimination and injustice." added Dinah Crystal.
It is still not too late to lend you support via this link.