British Musical Firework Championships 2012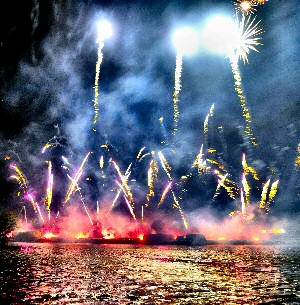 BLACKPOOL might have had problems with its Fireworks, which clashed with Southport's, but Southport's still blasted into the heavens in what was to prove to be 3 nights of pyrotechnic wizardry, over 28 September to 30 September 2012. Sadly, we have been told, many thought that Southport's show had been cancelled rather than Blackpool's: their firework display had to be stopped due to bad weather. Consequently numbers were dramatically down. Despite the very varied conditions all the teams provided extremely varied and exceptionally well synchronised displays. The championship is now regarded as one of the most prestigious industry title in the UK. The dramatic setting helps, giving amazing reflections on the Marine Lake as the shells explode in the sky, and the resulting sparks dance to the music, so you could see why that is... Sadly only one team could be crowned the BMFC 2012 Winner and that was Komodo Fireworks. The team was established back in 2004 with the aim of providing fresh and dynamic displays and that determination to deliver high quality shows was very apparent in their display. Britannia Fireworks came a very close second place and third place was given to Celebration Displays. The other teams firing and lighting up both the sky and King's Gardens at the event were:- G Force Fireworks, Saltire Fireworks, Highlight Pyrotechnics and Phenomenal Fireworks. Congratulations to them as well for battling the elements and also providing a dazzling weekend. We cannot wait to next year and that view is also echoed on the UK's industry forum, to name just one of the sites. Tell us what you thought of the displays and did you agree with the judges pick? Did you have a blast? Email us now to our newsroom via:- news24@southportreporter.com, with your views and memories of those 3 nights. To see this week's photographic coverage of the displays, please click on here now and remember more will be added to next week's issue! Plus, in next week's issue we will have some interesting information on how to become a qualified pyrotechnic! Also check out this forum for more pyrotechnic news.
Tributes paid to well known military fan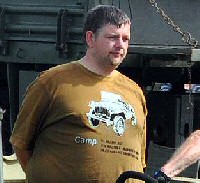 LAST week we received the sad news about the death of 39 year old Mark Lancaster, from Southport. He was a very well known and liked member of the Military Vehicle Trust, whose enthusiasm rubbed off on all who had met him. His sudden death was as a result of hypertension, which caused him to collapse at a meeting of the local branch of the Trust, in Burscough, earlier in September. On Tuesday, a convoy headed the US Navy Jeep, he had co-owned with fellow Trust member, Paul Connolly, to Southport's Crematorium from his family home in Southport. The local RAF Cadets from RAF Woodvale also attended. They played the last post at the noon service for him.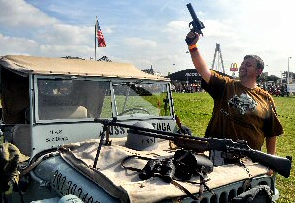 The Woodvale Rally Military Section said:- "He will be missed. He was well known at the event, especially for organising a convoy in the evenings from the base, when the show was at RAF Woodvale. He was always highly supportive to us and well liked by all who met him." These words were also echoed by the Trust who added:- "We are unbelievably shocked by his sudden death. Mark was very passionate about the vehicles and had organised around 20 road runs for our group. He had also been the secretary for the West Lancashire Area of the trust as well as organising two big events this year. Both of those events were hailed a huge success. We wanted to do something to recognise his involvement with the organisation and that is why we had the convoy." Our Editor, Patrick Trollope, would also like to express his sympathies to his family and fellow Trust Members for their loss. "Mark was a fantastic chap who was always buzzing with ideas, buoyant and highly enthusiastic. We had hoped to help him with an idea over October, that he wanted to do. We can only echo what the Trust and Woodvale Rally have said. He will be greatly missed by everyone who had the privilege to have met him."

KEEP up-2-date
with our free daily news emails. Are you subscribed? Si

g

n

u

p

today

to

our daily email news service via... Formb

y

-

Re

p

orter

.com

.

If you subscribed you can keep in up-to-date with what's going on in and around Merseyside. It is free and we do not send out massive amounts of emails. Also your email is kept under the UK's Data Protection Act, so you can be sure that you will not have problems.
...HAPPY BIRTHDAY...

It is your Happy Birthday on 9 October 2012, so this is a message to Christopher Pollard... You are truly the star of my life, with lot of love, your Helen. xXx

If you have someone you want to say happy birthday to, for free, then use the email address below to send us the names you want us say happy birthday to, and/or a photograph. Email us today!
Manx Direct

08447 402 038

2 Years Parts & Labour Worranty
This Weeks Edition - Audio Copy
Click here to hear this weeks edition in audio format. Please let us know what you think about it. via emailing us. Also if you have a child who can draw a face, send one in and we will look at using it for our news reader for an edition. Adults can try as well! You will get a copy of the animation sent to you and credit on the animation as well!.