Scare Fest 3 - Beyond The Book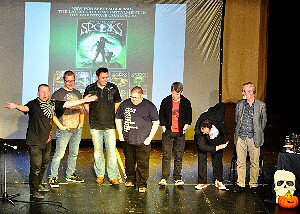 THIS was an interesting event, which sadly did not get the backing it should have had. With 3 events being held on Saturday, 6 October 2012, from a children's production of a yet to be released Broadway play to 8 amazing authors performing live on stage, it was a huge shame the seriously ghoulish fun activities did not get seen by a bigger audience. The day started with an author's workshop, followed by the Scream Street Game show and Bella Donna show, run by the authors of the books themselves! Then there came a premiere of the Spook's Apprentice Play, by Joseph and Stephen Delaney. This massive undertaking was performed by a few school children from Formby High School. With just 3 weeks to learn the lines, they did fantastically well, even with some very basic props. A stunning job, considering the oldest was 13 years of age! Plus make up on the kids was done by Lixi, who is a professional makeup artist, to give the children added encouragement. Little did they know that they would have to later stand in for Curtis Jobling, who sadly could not make the evening show due to food poisoning. After the play came David Gatward and his presentation of his book Doom Rider. The evening had a bigger turnout and the kids took to the stage to perform again for a few scenes from the play. Then we had the full Extra Gore Vanza! The seven remaining authors from the evening's line up took to the stage. This was the professional part of the evening's performance and ran like clockwork. The authors veering styles of presentation, with some in costumes, others with PowerPoint demonstrations, not forgetting Jon Mayhew with his amazing music, who posted on his Facebook Page on Sunday, 7 October 2012:- "Recovering from Scarefest 3 last night and planning taking over the world with my shruti box..." so you all have been warned... The other fantastic authors where Tommy Donbavand, Barry Hutchison, Philip Caveney, Joseph Delaney and the unforgettable David Gatward. Also on the night the audience had the opportunity to pick up a limited edition copy of some short stories, written for the event by the authors themselves. We would like to thank the authors for not only putting on a fantastic and highly enjoyable performance, but also helping to inspire future writers. A massive well done must go to Tony Higginson from Formby Books, who put everything on the line to deliver this event for the people of Sefton. We cannot how ever forget the children who preformed, delivering a theatrical display of future talent. Plus the fantastic help of the The Civic and their staff. Sadly if you wanted a copy of the stories, well you should have been at the event!
To see more photographs taken at the event, please click on here now!
...HAPPY BIRTHDAY...
Cäcilia Brenner

Haben einen schönen Geburtstag

From all @ Southport St John Ambulance Div.
If you have someone you want to say happy birthday to, for free, then use the email address below to send us the names you want us say happy birthday to, and/or a photograph. Email us today!

KEEP up-2-date
with our free daily news emails. Are you subscribed? Si

g

n

u

p

today

to

our daily email news service via... Formb

y

-

Re

p

orter

.com

.

If you subscribed you can keep in up-to-date with what's going on in and around Merseyside. It is free and we do not send out massive amounts of emails. Also your email is kept under the UK's Data Protection Act, so you can be sure that you will not have problems.
Manx Direct

08447 402 038

2 Years Parts & Labour Worranty