Train Company signals green cash for new projects
FOR the 6th consecutive year, a local train company is teaming up with the Forestry Commission to donate nearly £30,000 to tree and woodland conservation projects in Scotland and across the North of England, including Yorkshire.

First Transpennine Express (FTPE) has been helping to improve the environment and encourage the growth of wildlife in the North of England and into Scotland since 2007.

Open to community groups, charities, schools and individuals who allow open access to their land, applicants can apply for up to £2000 in green grants for environmental projects.

Applications are judged by a select team of FTPE and Forestry Commission representatives and measured on their involvement with and impact on the local community, as well as overall positive environmental impact and closeness to FTPE stations.

Liverpool YMCA successfully applied for funding to plant vegetables on an urban farm on the outskirts of Liverpool. The land is used to grow a wide range of crops, including carrots, beetroot, potatoes, onions, courgettes and tomatoes. Food is not only used to feed Liverpool's homeless population through various charities, they are also sold to local stores, raising much needed funds for the YMCA.

Since work began in May a total of 107 YMCA staff and homeless members have spent time working at the site, previously a dis-used plot of land, planting crops and fending to animals, in addition to restoring 350sq meters of poly tunnel donated by Liverpool Council.

Peter Boyle, Project Development Officer at YMCA lead the development of the urban farms. He says:- "Without the funding from Green Grants, we would have been unable to progress with the polytunnel restoration and the purchase of some of our crops. We've been able to purchase 79 fruit trees and ten work benches, which we've now turned into planting boxes for French salad crops. Not only does the urban farm provide food, it also provide work experience for homeless people in Liverpool. Since it began, we've already had one member gaining full time employment, with other gaining qualifications."

One of the members, who has been working on the farm since it opened said:- "The farm has helped me to turn my life around. If it wasn't for working with the members there, I would have continued taking drugs which could have ended my life by now."

Simon Barber, Environmental Manager for FTPE, said:- "The Green Grants Scheme has helped many worthwhile schemes and it is great to have the opportunity to do this again and be provide such valuable funds to the YMCA. We are also looking forward to working with the Forestry Commission again and I hope that it will inspire people to make a positive improvement to their local environment."

James Anderson-Bickley from the Forestry Commission added:- "We are delighted to be working with FTPE, helping to make a real difference to local communities and the environment. Since this grant scheme began we have been able to support a wide range of grassroots projects across the North of England."

The donation form part of FTPE's 6 year £125,000 commitment to providing and protecting green areas on and around FTPE routes. For more information and to find out how if you're eligible to apply visit:- tpexpress.co.uk.

NWAS – FIRST AMBULANCE TRUST TO SCOOP GOLD!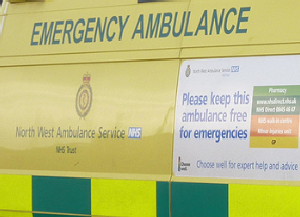 AFTER a summer of Gold, Silver and Bronze medals for Great Britain, North West Ambulance Service NHS Trust has scooped its own Gold and become the country's 1st ambulance service to achieve the prestigious Investors in People Gold award. Investors in People (IiP) is a nationally recognised standard which both private and public sector organisations can obtain when they can demonstrate high standards in business and people management. The award is categorised as Standard, Bronze, Silver and Gold, with Gold being the highest accolade. Only 2% of IiP holders have achieved this. Trust Director of Human Resources and Organisational Development, Margo Kane comments:- "We're absolutely delighted to achieve this award which clearly demonstrates the high standard of training, support and education provision within the Trust. We were last assessed 3 years ago, when we received the Bronze standard so to have now being awarded the Gold is a significant achievement." The Trust has comprehensive and varied education and training opportunities for clinical, support and managerial staff and was 1 of the 1st NHS trusts to be accredited as a training provider by the Chartered Management Institute, offering diplomas in management and team leadership. In the last financial year alone, over 900 members of the Service's workforce has benefited from a range of in-house workshops and training, and over 100 participated in external activities such as Public Health, Healthcare Practice and Personnel and Development degree and Masters courses. This significant investment in training and development has been credited as a major factor in the Trust's improved performance and achieving the accolade of currently being the top performer out of all of the 11 ambulance services in England. The Trust achieved the Gold Standard following a intense assessment process by Investors in People, which included visiting various Trust sites, shadowing training events and interviewing more than 160 employees, union representatives, Non Executive Directors and Community First Responders. IiP Assessor, John Spitz said:- "I carried out the last assessment in 2009 so was in a good position to judge how the Trust has matured and improved during the last 3 years. Whilst there are many significant challenges ahead for NWAS, the strength of its business processes and people management policies will ensure it is in a strong position to meet those challenges. I would like to congratulate the Trust on a magnificent achievement." Margo added:- "All organisations, whether in the private or public sector are only as good as its people. We firmly believe in developing all of our employees to meet their full potential which is 1 of the reasons why we have such a low staff turnover. Most of our senior managers started their careers on the frontline and have taken advantage of education opportunities to progress and we want this to continue in the future. Well trained, professional and engaged staff make for a 1st class service and ultimately that is what benefits our patients."