UK Government neglecting disabled bus passengers' rights, says local Euro MP
AS part of World Sight Day's mission to raise awareness of blindness and visual impairment, North West Labour MEP and Chair of the European Parliament's Transport Committee Brian Simpson has joined the Shadow Secretary of State for Transport Maria Eagle and the RNIB to condemn the UK Government's position on disabled bus passenger rights.

Under a Department for Transport consultation, the Coalition is pushing for a 5 year wait, before adopting new EU laws that would make disability-awareness training for bus drivers compulsory.

In a letter to the Under-Secretary of State for Transport Norman Baker MP, Brian Simpson MEP and Maria Eagle MP argue that the EU legislation should be adopted immediately, to improve access to transport for disabled passengers.

Mr Simpson said:- "By pushing to delay this legislation, the Government has once again demonstrated its disregard for the most vulnerable in our society, instead plumping for half-hearted measures in the name of austerity. We know that there are disabled people who cannot currently access public transport, leaving them less able to work, go shopping or take part in leisure activities. This is completely unacceptable and it is clear that existing training practices for bus drivers aren't working."

The RNIB has found training varies considerably between companies and points out that because disability-awareness training is not currently compulsory, many drivers have no training at all in this area.

Mr Simpson continued:- "World Sight Day aims to raise awareness of blindness and visual impairment but it appears that the Government has little interest in removing barriers to transport faced by blind and other disabled passengers. This EU legislation is essential if we are to ensure that all bus drivers have the necessary understanding of disabled passengers' needs. For example, drivers would be trained to look out for blind or visually impaired passengers at bus stops, who might be unable to tell when their bus is approaching."

The RNIB has launched an online campaign against the Government's intention to delay the new disability rights and is urging people to get involved by visiting their website.
Mr Simpson added:- "The fact that the RNIB oppose the Government's stance shows just how out of touch the Tory-Lib Dem coalition is with the needs of disabled passengers. Delaying this disability rights legislation is only the more worrying given the Government's current drive to reduce the numbers of people claiming disability allowance. How is the Coalition planning to get more disabled people into work, if it is not even taking the most basic steps to remove the barriers to transport currently faced by many disabled and reduced mobility passengers? I would urge the Minister to take the strongest possible action to ensure equal access to transport for all, by adopting the EU's disabled bus passenger rights legislation wholly and without compromise."

Local VIPs Experience Dinner in the Dark for Guide Dogs Week 2012
Photographs by Patrick Trollope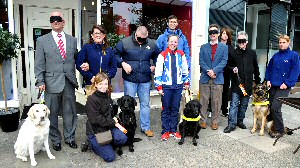 MERSEYSIDE VIP's have been given the opportunity to step into the world of people who are blind or partially sighted at an event that was hosted by Guide Dogs on the 10 October 2012, in Southport. The event was part of Guide Dogs Week 2012, which is Guide Dogs' annual awareness and fundraising week, that ends on 14 October 2012.

At the event, in Southport, important guests including Paralympians, Lora Turnham and Neil Fachie, John Pugh MP, Dukes Ward Councillor Dawson, Masterchef Winner Jay Tinker and the MD of Arriva North West where taken by blindfold trip on an Arriva bus, enjoying a meal at Tinkers Restaurant, on Lord Street, and then will experience a walk with a long cane and with a guide dog.

Guide Dogs Liverpool Mobility Team Manager said:- "At Guide Dogs we are committed to ensuring that all that blind and partially sighted people can enjoy the same freedom of movement as everybody else. But the reality is that they have to overcome extraordinary challenges everyday to do the things that the rest of us take for granted. By coming along to our dinner in the dark event, our guests will be able to step into the world of blind and partially sighted, we're sure it will open their eyes."

There are hundreds of other ways that people can take part in Guide Dogs Week 2012 and help raise money for Guide Dogs. Challenges don't have to be complicated. People could get a group of friends together and have a coffee morning, organise a karaoke party and sing in blindfold, or organise a pub quiz with sensory rounds that people do in blindfold.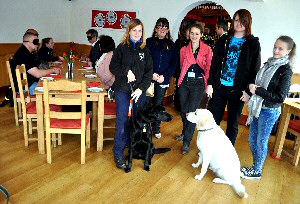 Page 1 of 4
If you like the photos, please order them and do not copy them. Keep this site online.... Click on here to find out how you can get you copy of these photos.