Merseytravel Customer Forums
MERSEYTRAVEL'S Autumn Customer Forums will be held across the region from 15 October to 20 October 2012, giving people from across Merseyside the opportunity to air their views on public transport. Each of the forums, held in Liverpool, Knowsley, Sefton, St Helens and Wirral, offer people the chance to meet local Councillors, representatives from Merseytravel, The British Transport Police and transport operators including Arriva, Stagecoach, Northern Rail and Merseyrail. There will also be 'Travel Surgeries' at each event, offering 1 to 1 advice and information. Merseytravel Chair, Councillor Liam Robinson, said:- "We had a great response when we launched the Customer Forums earlier this year and we expect interest to build over the coming months. We've already been able to act upon a number of requests we got from the first round of Customer Forums and this month's forums will give us the opportunity to feed back directly to those concerned."

An example of what's been achieved since the first Customer Forums is the involvement of a number of customers in testing our new website (due to go live in this month) meaning any comments made have been used to ensure the website is fit for purpose prior to going live.
Iain M Banks will be in Liverpool Town Hall on Friday!
ON Friday, 12 October 2012, at Liverpool Town Hall, the UK's Number 1 Sci-Fi Author, Iain M Banks will be signing books and more... This is his 25 years of 'The Culture', and a once in a life time chance for you to get a personally signed copy of his latest book called:- 'The Hydrogen Sonata'. The Lord Mayor of Liverpool will be in attendance and this promises to be a huge treat for all Sci-Fi fans... Literally awesome! Tickets are Only £5 from formbybooks.co.uk or via calling 01704 830 130. The event starts at 7pm.
Mersey Ferries vessel to be laid up
1 of the 3 Mersey Ferries vessels is to be taken out of service from next January. The Royal Daffodil has been named as the vessel to be laid up, as Ferries operators Merseytravel tailor the world-famous service to meet current demand and operating conditions. Cllr Liam Robinson, Chair of Merseytravel, said, after the Tunnels, Ferries and Visitor Economy Committee made its recommendation:- "The decision to take one vessel out of service will not materially affect the Mersey Ferries service to the public; and it certainly doesn't signify any threat to this operation. We recognise the place the Ferries hold in Merseyside lore and culture, and that they are an essential part of our heritage. We are committed to keeping them in operation. But we also have to recognise that times have changed. Passenger numbers have fallen, to around 650,000 annually, and an operating deficit of £1million per annum cannot be sustained. Also, vessels are more reliable now and we know we can operate an almost unchanged service with 2 vessels." Ferries staff have been consulted about the proposal, and detailed talks are taking place around crewing and hours, to achieve the most suitable work patterns. Any decisions that affect the workforce will be made in agreement with the unions, and redundancies are not anticipated. Talks are also taking place about an agreement for the surplus vessel to be loaned to a local museum or trust, with the option for it to be called back into service if necessary. Cllr Robinson added:- "We are actively looking at other ways of reducing Ferries costs overall, as well as disposing of one vessel, to cut the operating deficit. Reducing the number of vessels is just one part of the process. The Ferries offer an excellent service for the people of the City region; and are a great draw for tourists from all over the world. Greater use of this service by tourists and local people alike will ensure a secure future for an attraction which is synonymous with Merseyside. We are totally committed to keeping the Ferries on the river."

Liverpool Fashion Week 2012, are you going?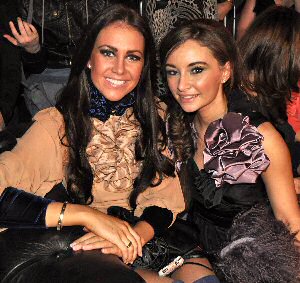 THE Liverpool Fashion Week runs from 15 October to 20 October 2012 at a variety of locations throughout the City Centre. The event is in its 4th year the event is all about real glamour and style and as Amanda Moss, who set up the showcase told the press earlier in 2012 "extreme glamour" that has been made famous by the TV shows like the Desperate Scousewives "would not be welcome on this year's catwalk." This year's event has many high street names and fashion chains mixing with local fashion designers to deliver what really is "Scouse Style." So what we would like to know before the event starts is what do you are readers think is in or out this year. Send us a photograph of your selves in your best outfit and a description of that it is you have on, and then we will add them to Facebook and let our Facebook followers choose a winner! Also if you have not got your ticket for any of this year's fashion shows, go to:- liverpoolfashionweek.co.uk for more information! To get your photo on our Facebook Page email us to news24@southportreporter.com, please note that you must have the copyright to it and by sending it to us you agree for us to use it and that you have the copyright to the image. also you must be 18 or over. No nudes, swimwear or unaware photos! Cut off for this is 17 October 2012. We will put the best up on Facebook for the following week. Good luck and show us your "Scouse Style."
Young Women take note... FREE course!
THE WACA Recreation Centre, on Meadow Lane, Woodvale (PR8 3RS), are offering a FREE course, called:- "Staying Safe - Self Defence for Young Women" that will be based on awareness, avoidance and appropriate action. In addition to self-defence techniques there will be discussions around things like:- how to manage difficult situations, drugs and alcohol awareness, developing assertive techniques, staying safe, and confidence building. Working in partnership with our Martial Arts Club, youth worker and a local retired police officer we aim to empower young women with the knowledge that they can and should look after themselves at all times. Our Instructors are qualified & have Enhanced CRB's Participants, who attend all sessions, will be required to complete compulsory evidence in order to gain the ASDAN short course Activities Award Accreditation. Certificates of attendance will also be given. The course is open to young women who are aged 13 to 19, who are Sefton residents. No special outfit is required, just wear loose clothing (eg. tracksuit bottoms and a T-shirt). Changing facilities and showers are available in the Recreation Centre. Places are limited. For further information, to register your interest and book your place, please contact WACA staff ASAP at Woodvale Community Centre. (Contact details as above) The 6 week course starts on 30 October 2012, at the WACA Recreation Centre and runs every Tuesday evening from 6.00pm to 7.45pm. (Please note:- This is the last FREE course).