Liverpool Waters plans submitted to Government
THE £5.5 BILLION scheme to regenerate 60 hectares of dock land in Liverpool has reached an important milestone. The City Council has officially submitted the ambitious Liverpool Waters plans to the Government.

Communities Secretary Eric Pickles MP will now consider the plans and decide if a Public Inquiry will be held. The City Council and Peel are hopeful of a positive early response from Mr Pickles.

Liverpool's planning committee initially granted planning permission for the scheme in March, with a number of conditions; including those relating to timescales, the heights of buildings and phasing of works.

The City Council and Peel Holdings have worked together to address these conditions and officers presented an updated report to the planning committee last month, which was approved – paving the way for submission to the Government.

Mayor of Liverpool Joe Anderson, said:- "It's taken several months of negotiation and discussion with Peel to secure the conditions agreed at the planning committee earlier this year. This is the biggest planning application that the City Council has ever considered, running to thousands of pages. It has been extremely important to get the detail of the conditions right before submitting the application to Government. I'm delighted we are now delivering these plans which I am confident will fully convey to the Secretary of State our ability to deliver this vitally important regeneration scheme, while protecting our architectural heritage. Liverpool Waters has the potential to transform a part of the City that has been in desperate need of investment for decades. The scheme will create thousands of jobs and opportunities for the local population, as well as providing new housing and attracting new businesses and visitors."

Liverpool Waters involves a comprehensive redevelopment of up to 60 hectares of dock land over a 30 year period. It will create more than 20,000 jobs, 9,000 homes and 3 million square feet of commercial development, and will include hundreds of offices, a cruise liner terminal, hotels, shops, restaurants and leisure facilities.

In March 2011, the Government established four areas in the country as "Enterprise Zones", including "Mersey Waters" which consists of Peel's Liverpool Waters and Wirral Waters schemes. The additional support and benefits these zones will receive include a business rates discount for 5 years, a simplified and improved planning regime and superfast broadband.

Lindsey Ashworth, Development Director at Peel Holdings, said:- "This has been an extremely complicated project to get to this stage. There have been no precedents that we can draw from for guidance as it is a totally unique scheme, quite befitting for a unique City. We have diligently worked through every word and every sentence with the officers of Liverpool City Council to get the conditions to a stage where all the control mechanisms are in place, but not so over-restrictive that it frightens off potentially interested investors or tenants. We are delighted with the final set of documentation which shows that true partnership between the public and private sector exists to the benefit of the people of Liverpool. We are confident that our Government will share the same view so we can all move on to create a new addition to this fantastic waterfront and perhaps more importantly create thousands of jobs for local people over many decades."

Ian Pollitt, Project Manager at Peel Holdings, said:- "The issuing of the papers to the Secretary of State is a key milestone for Peel in what has so far been a six year journey to make Liverpool Waters a reality. We believe in the project and most importantly we believe in Liverpool and its people. We have received overwhelming endorsement from the community and local stakeholders as well as unanimous approval from the Council's planning committee to date. We firmly believe that Liverpool Waters will drive economic growth in the City region, help strengthen communities and provide job opportunities for generations to come. We are confident that the Secretary of State will see the overwhelming community support for this project."

More information about Liverpool Waters is available online at:- liverpoolwaters.co.uk.

Liverpool Marathon Sunday 14 October
ON Sunday 14 October the 'Run Liverpool' Marathon will take place, causing diversions to some public transport services across Liverpool and Wirral.

In Liverpool bus diversions will be in place all day until 17.30hrs. Passengers using Service 82 will have to walk across Upper Parliament St & use a shuttle bus to and from the City Centre, Service 82A will terminate at Brunswick Station, where passengers can join the Merseyrail service to and from Moorfields Station (bus tickets accepted) and Service 60 will not serve the Aigburth Road area.

Local bus services in the Dingle area will be affected including the 202 service for Alder Hey, hospital visitors are advised to check their route before travelling.

Merseyrail are providing 6 car trains on the Northern Line, Southport to Hunts Cross service throughout the day and in the morning on the Wirral Line, New Brighton to Liverpool service.

On Wirral bus diversions will be in place all day until 14.30hrs. Buses will not travel to New Brighton and Seacombe terminals, some services will not call at Woodside and Cross River services through Kingsway Tunnel are expected to meet with delays.

For further travel information please call Traveline:- 0871 200 22 33 open daily 8am to 8pm or visit:- merseytravel.gov.uk.
Cruise terminal grant repaid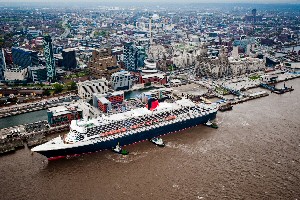 LIVERPOOL City Council has paid back the £8.8 million requested by the Government so that cruises can start and end at the Pier Head. The City Council agreed in May to abide by an independent ruling over how much of the £9.2 million Government grant received for the construction of the cruise liner facility should be returned. This is because the grant was given on the basis that the terminal was used for 'day call' rather than 'turnaround'.

In September, Whitehall officials gave details of the repayment mechanism, and the bill was settled in full.

Mayor of Liverpool Joe Anderson said:- "We agreed to abide by the ruling of the independent arbiter and pay the money back, and that is exactly what we have done. As soon as the Government gave us details of how they would like the payment to be made, we arranged for it to be settled promptly. The cruise liner terminal is proving to be a huge success and we have had extremely positive feedback from operators and passengers. It provides a big boost to our tourism industry; creating and sustaining many jobs. Liverpool has an unrivalled maritime history and we are now on the way to restoring our reputation as a leading cruise destination. For far too long, holiday makers in the north have had to travel to and from other places to start their journeys, and this is helping to return Liverpool to its rightful place as a major cruise port."

A temporary customs and baggage building, parking and drop off facilities is operating opposite the facility on Princes Parade. It is being leased during the cruise season from 2012 to 2015. Plans for a permanent facility including a hotel will be drawn up in the longer term.

The City Council forecasts the turnaround facility will have around a 5% share of an expanding UK cruise market - comparable with the percentage of the market enjoyed by the Peel owned Langton Dock facility at its peak. Southampton currently has a market share of over 65%.

The Cruise Liner terminal is hosting around 30 vessels this year, a mixture of turnaround, day call and other ships, attracting tens of thousands of passengers and generating millions of pounds for the local economy.