Run the Liverpool Santa Dash for the Meningitis Trust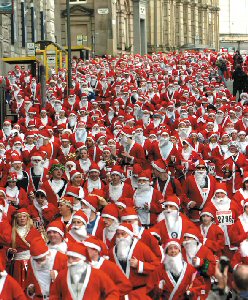 BE 1 of 8,000 Santas expected to hit the streets of Liverpool on Sunday, 2 December 2012, when the annual Santa Dash around the city takes place. At the same time, raise vital funds for national charity the Meningitis Trust and awareness of the signs and symptoms of the disease.

Trust supporter Nikki Curzon, from Walton in Liverpool, is 1 person who's already signed up for the dash, in memory of her daughter Lily. Nikki says:- "Lily, our gorgeous baby girl, passed away from pneumococcal meningitis in June after a week long battle, aged just 15 months. It is our aim now to help the Meningitis Trust raise awareness and funds to help fight this disease and the devastation it causes, and hopefully prevent the heartache that we went through happening to another family. We miss her more than words can say. She was adored by everyone who was fortunate to meet her and if anyone was having a bad day she sure would know how to brighten their day up! She will be forever in our hearts and thoughts."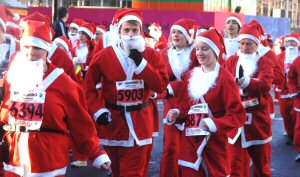 Nikki, and Lily's father Nick, will be joined by friends and family members for the dash. To contribute to Lily's Tribute Fund visit:- meningitis-trust.tributefunds.com

The Liverpool Santa Dash is like no other fun run. It starts at the Pier Head on Canada Boulevard in front of the Liver Buildings and finishes in front of the Town Hall at Castle Street, having followed a 'gentle' 5 kilometres course suitable for all the family. Santas are welcomed over the finishing line with rapturous applause, snow flurries, Christmas trees, a reindeer and a snowman!

Becky Dodd, Community Fundraiser for the Meningitis Trust in the North West, said:- "What better way to do something charitable at Christmas, than by having a great time with your friends and family at the Santa Dash. We would love people from near and far to enjoy a day out and take part in this family friendly run. Dressing up as Santa definitely adds to the fun! We're really grateful to Nikki and the other Trust runners for all their efforts on our behalf. The Trust relies entirely on the generosity of individuals to continue our vital work; supporting anyone affected by meningitis with free professional services, as well as raising lifesaving awareness of the disease and its symptoms. For the many people who have been, and continue to be, affected by meningitis, and for those who will sadly be affected in the future, the Trust is a lifeline. Support like this ensures that this lifeline can continue."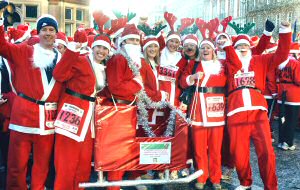 The event starts at 9.30am and is open to everyone. Those taking part have to pay a £20 entry fee, which includes a Santa outfit. Entry forms can be downloaded from the website or entries made online. There is also a 'mini-dash' for under 12s.

The following day, Monday, 3 December 2012, will sees the Trust's hold their Annual Christmas Concert within Liverpool's Anglican Cathedral, offering well-known Christmas carols and musical entertainment. Tickets for that event will go on sale on 1 November 2012 and can be ordered by calling:- 0845 120 4530 or via email.

Microsoft Headline To Sponsor the National Diversity Awards 2013
MICROSOFT has announced an extension of its headline sponsorship of the UK's Largest Diversity Awards ceremony for a period of at least 2 years. The National Diversity Awards is proud to announce Microsoft as the Headline sponsor of its 2013 ceremony, a 2nd year in the running for the world's leading technology provider after the glittering success of the 2012 awards in Manchester. The prestigious black tie event honours positive role models, community organisations and companies that have contributed outstanding work in the fields of equality and diversity. The awards are designed to celebrate excellent achievements of grass-root communities that tackle issues in today's society giving individuals and charities from underrepresented backgrounds recognition for their hard work and dedication.

Theresa McHenry, HR Director at Microsoft UK, said:- "The National Diversity Awards are a wonderful way to recognise the extraordinary contribution of real people to our communities. It's a delight to be able to support this fantastic celebration of local heroes. And what a great night, we all had the very best time and the feedback has been tremendous. We are very excited about next year and working with The Diversity Group on other projects."

Paul Sesay, Chief Executive of the National Diversity Awards, said:- "As a headline sponsor, Microsoft is granting more than just a tick in the box for their corporate social responsibility; they are opening doors for people at a time when some might say it would be easier to close them."

The National Diversity Awards 2013, which will be held on 20 September 2013, at The Queens Hotel in Leeds, is sure to go from strength to strength with the sensational execution of this year's ceremony, which received an incredible 8000 nominations from the general public. The event has attracted endorsements from the likes of Stephen Fry, Brian Dowling, Ade Adepitan and the stars from 'My Transsexual Summer' along with several paralympian's such as Jody Cundy and Sarah Storey.

The National Diversity Awards is a unique occasion honouring the rich tapestry of our nation. If ever there was a time to celebrate and elevate the truly staggering diversity of talent in The UK, it is now; opportunities are thin and deprived communities need motivation and inspiration. The National Diversity Awards will continue to empower individuals and communities where inclusion is at the forefront of their values.

Nominations open 1 January 2013. For more information please visit:- nationaldiversityawards.co.uk.
Green Party:- 'poor harvest is climate change in action'
THE Green Party has criticised the coalition's lack of action to tackle climate change, after the wettest summer in a century sends harvests plummeting.

The statement comes after NFU released the results of a survey showing that high rainfall across the UK led to dramatic reductions in crop yields, including a 14.1% drop in wheat harvests.

The 14.25 inches of rain that fell in June, July and August made this summer the wettest since 1912.

Caroline Allen, Green Party spokesperson said:- "The poor crop yields will have a knock on effect on food prices, which had been rising by record amounts even before this news. With people already struggling from flat-lining incomes and benefit levels that are insufficient for a basic decent life, we will see more and more people struggling to feed themselves. We certainly can't rely on the global food market to feed us; droughts in the US and a heatwave in Russia have had a devastating effect on their crops, and across the world unusual weather events are severely affecting food production. This is climate change in action, with researchers suggesting the increasingly wet summers in this country are due to a warmer Atlantic, so we need to expect this trend of wet summers to continue."

The NFU's survey comes the day after Owen Paterson, the Environment Secretary, announced his intention to slash subsidies to wind power. He also referred to shale gas as an 'extraordinary windfall'.

Meanwhile, Chancellor George Osborne was announcing a:- "generous new tax regime" for corporations exploiting the gas reserves, effectively rubbishing the Conservative's pre-election promise to be the 'greenest government ever'."

Ms. Allen said:- "We must act urgently to reduce our carbon emissions to limit further devastating impacts on our ability to feed ourselves, and yet climate change seemed to hardly get a mention at both the Conservative and Labour Party conferences. It is unbelievable that these politicians are ignoring what is likely to be the biggest threat to food security, health and economic stability in this country."

The Green Party rejects the false choice of poverty or environmental degradation that is being offered by the coalition. We support sustained investment in renewable energy, and an end to tax breaks for the exploiters of fossil fuels.

George Osborne's discredited economic and ideological agenda is committing us to a period of economic and environmental insecurity unparalleled in the UK since the 1970s, except this time, the consequences for future generations may be far greater.

What do you are readers think about this view the Green Party holds? Email us your ideas to:- news24@southportreporter.com.