Hollyoaks stars take the Big Drop Challenge at the Royal Liverpool University Hospital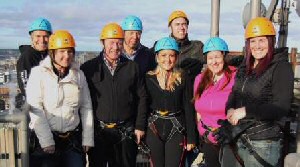 HOLLYOAKS actors, Nick Pickard and Tamaryn Payne, were joined by 135 volunteers from local businesses in abseiling down the Royal for the 9th annual Big Drop Challenge on 6 October and 7 October 2012.

The Royal is 1 of the tallest buildings in Liverpool and since the event began, hundreds of thrill seeking supporters have taken part raising thousands of pounds to support worthy causes. The event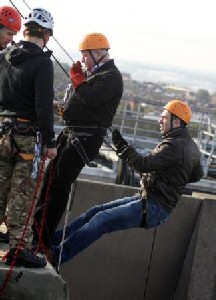 is organised by the Royal Artillery and supported by the Fundraising team at the Royal.

Diane Wake, interim chief executive said:- "Sponsorship is still coming in, but we are hoping to raise over £15,000 for services at the Royal. I'd like to thank all who took part this year and each of the local businesses who have raised money, along with the Royal Artillery and our fundraising team for organising this event."

This year local firms lent their support for the event sending teams of their staff to take the Big Drop. The companies taking part this year were; ATB Electrical, Bibby Line Group, Brown Turner Ross, ITS Technologies, Lake Technologies, Merseyrail.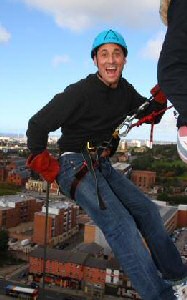 Brown Turner Ross director David Bushell said:- "The Big Drop is the first of a number of fundraising initiatives that we are undertaking, as part of our commitment as a Corporate Partner with the Royal Liverpool and Broadgreen University Hospitals NHS Trust. We will be supporting them in a variety of ways in raising funds for the much needed new Hospital building in Liverpool, so far the Brown Turner Ross Big Drop has raised £3,000. We would like to thank our clients for the generosity of their donations, which are still coming in. It has proved to be a fun way for the team to work together and contribute to such a worthwhile cause."

ITS Chief Operating Officer, Roy Shelton said:- "Everyone at ITS are thrilled and honoured to be involved with the Royal and such a great event. I personally owe a huge debt of gratitude to all the talented staff at the Royal, and one I can never repay. I hope our current and future fundraising makes a difference and we look forward to a long and cherished relationship with the Royal."
Talktalk Phone and Broadband problems
IF you are like our newsroom and having phone issued and are with Takltalk, take note... They have told us and other customers:- "Weather emergency The recent bad weather has caused a big increase in faults reported to all phone and Broadband providers. At TalkTalk we are working with the engineering teams at Openreach to get things back up and running as fast as possible. If you are currently experiencing a fault which requires an engineer visit, you may experience a delay in your fault being resolved, so thank you for bearing with us." But one of the customers has not been able to access their email, so quite how the weather affected that one, when they have phone and internet is a mystery, but Talktalk broadband said that:- "investigating it."
Are you having issues with your provider? Please let us know by emailing us to:- news24@southportreporter.com today!

CANCER TREATMENT SPECIALISTS WELCOME NHS COMMITMENT TO MORE RADIOTHERAPY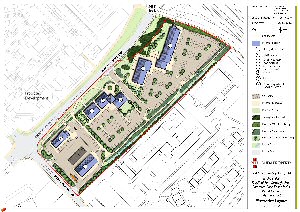 THE professional organisation for the people who deliver life-saving radiotherapy to patients who have cancer are pleased with the news that a key treatment is being supported with more funding. The £15million Cancer Radiotherapy Innovation Fund, which is intended to make Intensity Modulated Radiotherapy (IMRT) more widely available in England, is welcomed by the Society and College of Radiographers.

Professor Audrey Paterson, the Society's Director of Professional Policy, said:- "This is an important initiative for patients and will support commissioning radiotherapy services to a national standard across England, so eliminating current 'postcode gaps'. Patients will be able to access the most appropriate treatment for the type of cancer that they have regardless of where they live. The government have indicated that they want all the professions to be involved with the roll-out of the new fund, and we welcome this. Our involvement is essential because it is multi-disciplinary teams which includes therapeutic radiographers that deliver radiotherapy. Equipment and staff challenges mean that patients in some regions of England are not getting the world-class treatment that they should be. We hope that some of the new money will be used to invest in additional staff development targeted at implementing IMRT effectively, as well as in the relevant equipment and software. This will ensure that IMRT technology can be used to maximum benefit rapidly. There are not enough qualified and trained people to plan and deliver radiotherapy services in all geographical areas of the country."
The Cancer Radiotherapy Innovation Fund is intended to speed-up the use of Intensity Modulated Radiotherapy (IMRT) across the NHS in England so that an estimated 8000 more cancer patients can benefit from the technique from April 2013. IMRT targets more precise doses of radiation at a tumour, whilst minimising the impact on surrounding healthy tissue. It is particularly beneficial for patients with head and neck cancers; which are on the increase; reducing the likelihood of side effects such as damage to the salivary glands. A significant number of the 50 radiotherapy treatment centres across England are not using IMRT for all the patients for whom it is clinically appropriate and who would benefit. For more information contact Dominic Deeson on:- 0122 746 9 060.
Showcasing the finest emerging talent on the Indian Classical Dance scene
FEATURING 6 dancers from 3 classical styles, Bharatanatyam, Kathak, and Odissi, Timeless takes place at The Capstone Theatre, Liverpool, on Thursday, 18 October 2012. Performing a selection of pieces from a classical repertoire are Bharatanatyam dancers Apoorva Jayaraman, Arianna Ballabio, Shruti Raut and Vaidehi Raut, Kathak dancer, Rohini Madan, and Odissi dancer Natalie Rani Raut. Timeless is an annual performance project which aims to give a platform to the finest emerging talent coming out of the UK and Europe. The dancers are all young artists showing great potential as they embark on their individual performance careers. Supporting the work and professional development of South Asian music & dance artistes, particularly emerging artists is an integral and central part of Milapfest's mission & work. To achieve this, Milapfest has created a number of unique opportunities in performance, touring, training & professional development for emerging & established artists, including Timeless. Milapfest's Autumn 2012 season of events, Undiscovered India, is a national showcase of concerts featuring rarely seen or heard Indian music and dance artists from around the world, offering a great opportunity to see something unusual and inspiring. Whilst the season focuses on the 'Generation Next' of Indian Arts, there are also special performances by leading artists, presenting their craft in exciting new ways.