Dickensian Day Formby 2012
Report and photographs by L Trollope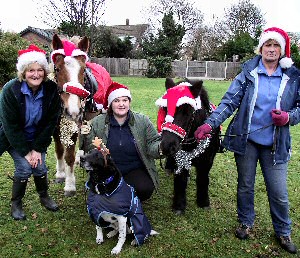 CONGRATULATIONS to Gill and Frank Donnelly of Cross House Hotel in Formby for their big effort in carrying on the Formby Dickensian Day tradition which looked like sinking into oblivion, and in proving that folk still are interested in attending such an event. The event took place on Saturday, 8 December 2012, although much reduced in size it was nonetheless a valiant effort and had a range of charity, and art and craft stalls. Bowler's Riding School brought 2 ponies for children's rides, accompanied by a very tolerant dog. Good music was supplied by groups and carol choirs. Appetising food and drinks were also on hand. And, of course, Father Christmas to enchant the kids. Local businesses also donated prizes for an ongoing raffle ending 15 December 2012. Here are some shots of the day. Hopefully some funding may yet be found to enable Dickensian Day to go forward! To see more of our photographic coverage click on here now.
Sir Patrick Alfred Caldwell Moore has died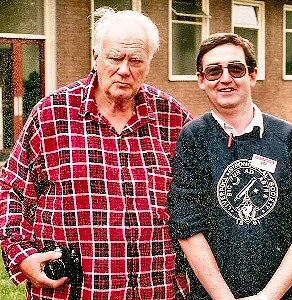 SIR Patrick Alfred Caldwell-Moore, CBE, FRS, FRAS is an English amateur astronomer, who hosted the BBC's The Sky at Night since it began in 1957 has passed away "peacefully, at 12.25pm on 9 December 2012." The BBC said in a statement:- "The broadcaster died, after failing to fight an infection, at his home in Selsey, West Sussex, after a short spell in hospital last week. It was determined that no further treatment would benefit him, and it was his wish to spend his last days in his own home, Farthings, where he passed on, surrounded by close friends and carers and his cat Ptolemy."
Sir Patrick who had celebrated the 50th Anniversary of his programme, The Sky At Night, in April 2012, had battled ill health in recent years. Surprisingly, he had only missed one episode since it began in 1957, when he was struck down by food poisoning. He had suffered for 11 years after an old spinal injury from the 2nd World War began causing him problems. Sadly, this had left him wheelchair bound and unable to look through a telescope. That was according to his friends and colleagues:- "A major disappointment and frustrating situation for this avid stargazer" He was also a well known and respected writer, researcher, radio commentator as well as being a television presenter. On his 50th 'Sky at Night', Liverpool Astronomical Society was featured on it. Mr Gerard Gilligan, Hon Secretary, Liverpool Astronomical Society, pictured above with Sir Moore told us:- "It was a very Sad day for British Astronomy. I will treasure the 5 times I had the honor of meeting him in person." On behalf of the Liverpool Astronomical Society he added:- "British Astronomy has lost a giant in inspiring so many people to become interest in the great science, via his many books and his long running BBC TV series. He will leave a great void that can never be filled, and our thoughts are with his family and many astronomy friends at this very sad time for many of us who loved to look up at the stars."
His last Sky at Night was re-broadcast on the BBC on 8 December 2012. On the TV show he reviewed British television Apollo 11 coverage, along with showing a clip of the then live TV broadcast of the 1st images of the Dark Side of the moon which had been taken live by the Russians. Sir Patrick had also been awarded the Klumpke-Roberts Award. His books had been nominated for the:- Locus Award for Best Art Book, Lambda Literary Award for Gay Men's Debut Fiction. In 2012, he was honoured with a knighthood for "services to the popularization of science and to broadcasting." Speaking on his 88th birthday in 2011, the legendary broadcaster said:- "I shan't have a funeral. They can take my bits and use them for experiments and chuck the rest away. In my will I've left a sum of money to have a party when I've gone." Queen guitarist Brian May paid tribute to a:- "dear friend and a kind of father figure to me." saying:- "Patrick will be mourned by the many to whom he was a caring uncle, and by all who loved the delightful wit and clarity of his writings, or enjoyed his fearlessly eccentric persona in public life. Patrick is irreplaceable. There will never be another Patrick Moore. But we were lucky enough to get one." He remained unmarried and never had children.
Sir Patrick Alfred Caldwell-Moore - 4 March 1923
to 9 December 2012.

KEEP up-2-date
with our free daily news emails.

Are you subscribed? Si

g

n

u

p

today

to

our daily email news service via... Formb

y

-

Re

p

orter

.com

.

If you subscribed you can keep in up-to-date with what's going on in and around Merseyside. It is free and we do not send out massive amounts of emails. Also your email is kept under the UK's Data Protection Act, so you can be sure that you will not have problems.
Manx Direct

08447 402 038

2 Years Parts & Labour Worranty