Is heavy snow set to bring risk of disruption to the UK?
Photographs by Patrick Trollope - UK Press Photography.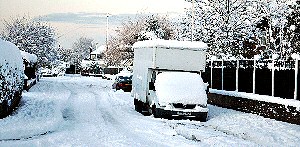 THE Met Office issued a warning on 16 January 2012, of the high risk of disruption due to heavy snow being forecast across many parts of the UK on Friday, 18 January 2012. A band of rain will push into the West into Friday morning, turning increasingly to sleet and snow. Parts of North West England, Wales and the West midlands are particularly at risk of seeing significant falls of snow and the risk of blizzard conditions in the strong winds. Met Office Severe Weather Warnings have been issued for the heavy snow. An amber warning is in place for parts of Wales and Western England where accumulations of 10 to 15 cm are expected and 20 cm or more over the hills. Met Office weather warnings help you plan, prepare and protect yourself and others from the impacts of severe weather. An amber warning means you need to be prepared for the weather and take steps to change your plans and protect you, your family and your community from the impacts of the severe weather. Whilst snow will fall over most areas, the far West, including Northern Ireland, Cornwall and extreme Western parts of Wales are expected to see rain.

Eddy Carroll, Met Office Chief Forecaster, said:- "The snow is expected to be heaviest through Friday morning, slowly weakening and clearing east during the second half of the day. Clearly there is the potential for significant disruption to peoples plans. We should all keep up to date with the latest weather forecasts, advice from local agencies and be prepared to change our travel plans if necessary."

Sergeant Paul Mountford of Merseyside Police's Road Policing Department is advising people to drive with extreme care and caution over the next few days. He said:- "I would urge motorists to use their common sense as they make their way out in the morning. Motorists should reduce their speed to ensure they drive safely in these conditions. It can take 10 times longer to stop on an icy road than on a dry road, so people need to keep this in mind. Drivers should leave plenty of room between them and the car in front, drive slower than usual and use their gears to slow down where possible rather than their brakes, pay attention to the road traffic signs on the motorways and listen to local radio stations for regular traffic updates. I would also like to remind pedestrians that many footpaths will be very icy and so great care should be taken when out and about. While this cold weather continues we would also urge people to check on the welfare of family, friends and neighbours, particularly those that are vulnerable or elderly."

Darron Burness, head of the AA's severe weather team, said:- "With the outlook remaining cold, drivers need to be prepared for possible disruption. Before heading out, check the Met Office weather alerts and traffic reports and allow a bit more time for your journey, as you don't want to rush on potentially icy roads. Do the basic checks on your car and, in case of any problems, carry plenty of warm clothing, blankets, de-icer and scraper, some food, hot flask and a fully-charged mobile."

Steve Crosthwaite, head of the Highways Agency's National Traffic Operations Centre said:- "We advise drivers to check road conditions and the Met Office weather forecast before they set off and during severe weather to consider whether their journey is essential. They may want to delay their travel until conditions improve and to allow our winter fleet the chance to treat the roads. Our traffic officers are working round the clock to monitor the network, deal with any incidents and keep traffic moving."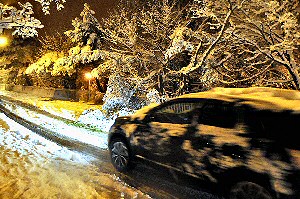 Over the weekend we will see less severe conditions but further outbreaks of rain, sleet and snow are expected to push in from the West at times. The snow that has fallen will be slow to melt and ice will continue to be a risk, especially at night.

By thinking ahead we can all be better prepared for severe weather. Throughout the winter, the Met Office works with agencies across the UK to help keep the country safe, well and on the move.
TIPS TO KEEP YOU SAFE ON THE ROADS DURING ADVERSE WEATHER CONDITIONS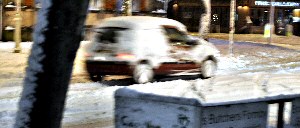 1. Before starting your journey fully defrost and clear the car windscreen and windows; do not leave the car unattended whilst you do this and do not leave the keys in the ignition if your are physically scraping the windows of ice.

2. Ensure the screen wash is topped up, isn't frozen and the windscreen wipers and tyres are in good condition.

3. Leave more time for your journey. Drive slowly and carefully to take account of the icy conditions, leaving a good distance between your car and any vehicles in front of you.

4. To brake on ice or snow without locking your wheels, get into a low gear earlier than normal, allow your speed to fall and use the brake pedal gently.

5. Be prepared; dress in warm clothing, put a shovel in the boot of the car, and if you are going on a long journey a Thermos flask with a hot drink in and some food will help if you find yourself stuck in traffic for any length of time.

6. Drivers who break down should always call their breakdown service provider in the first instance, unless they believe they or other drivers may be at risk of harm.

7. Away from the roads, people are also asked to check on the welfare of friends, family and neighbours who may be more vulnerable during the cold weather, especially the elderly.

8. Pedestrians must take extra care too, especially those taking their children out, walking their dogs, listening to music players or talking on their mobile telephones. You should make sure you are highly visible to other road users and take extra care when crossing busy roads. Cross at zebra crossings or traffic lights, do not cross between parked cars. Wear bright or light-coloured clothing or reflective strips, when walking in dusk or darkness.