Jessops becomes the 1st High Street casualty of 2013!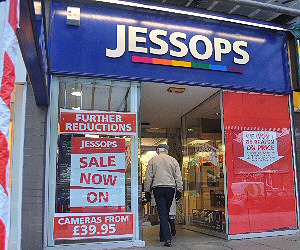 IT might be an unlucky year,13, and not a very lucky year for many on the High Street, for already 2013 has had its first major chain to fall into administration. On Wednesday, 9 January 2013, the well known UK High Street camera retailer, Jessop's, broke the news that it had gone into administration, with PricewaterhouseCoopers (PwC) appointed as the administrator. The store chain has faced competition from online retailers in recent years, and has found it hard to change to the new digital market, but it was not just the online competition that was hitting it. The market has changed; amateur photographers are now moving more and more to smart phones and, because of the move from film to digital prints, less processing is taking place. With the professional photographers' end of the market, many may have found that the Jessop range had become too small and not only have they often moved to the many online suppliers, but also to many smaller niche specialists, who were cheaper and often had more extensive ranges. The chain was founded in Leicester during 1935, but recently, after increasing its shops, it found that its market was being reduced further still as the supermarkets moved in on the sector. The result of all this has been a market collapse in this sector. Jessop's, which has 192 stores in the UK, and employs about 2,000 staff, is now bracing for the worst, as administrators said that it was "inevitable that some of the stores will have to close." In recent years, the chain had already suffered problems, for in 2009, Jessop's managed to avoid administration by agreeing a debt for equity swap with its lender, the Hong Kong and Shanghai Banking Corporation, better known as HSBC. The joint administrator and partner at PwC, Rob Hunt, told the press that:- "Our most pressing task is to review the company's financial position and hold discussions with its principal stakeholders to see if the business can be preserved. Trading in the stores is hoped to continue today, but is critically dependent on these ongoing discussions. However, in the current economic climate, it is inevitable that there will be store closures." Online, this week the jessops.com website has started saying:- "Please note that the Jessop's website will not currently process orders, however you are able to read product descriptions, customer reviews and watch videos. Our Photo service website continues to trade as normal. You will be pleased to know that you can process your photographic work by clicking onto the Photo Printing link on our main menu." Also, we have been told that Jessop's stores will not be honouring customer vouchers nor be accepting any returned goods. But supermarket Tesco has said that they will give a full refund to any customer who has recently exchanged Club card vouchers for tokens to spend with Jessop's. If you are one of the staff, or are affected in any way by this announcement, please do let us know by emailing us via:- news24@southportreporter.com.

KEEP up-2-date
with our free daily news emails.

Are you subscribed? Si

g

n

u

p

today

to

our daily email news service via... Formb

y

-

Re

p

orter

.com

.

If you subscribed you can keep in up-to-date with what's going on in and around Merseyside. It is free and we do not send out massive amounts of emails. Also your email is kept under the UK's Data Protection Act, so you can be sure that you will not have problems.