2 times patient 'amazed' at changes in surgery
PATIENTS who once stayed in hospital for 2 weeks or more following cancer surgery are now going home after as little as 2 days. Consultant surgeon Tarek Hany is achieving the remarkable results using evidenced-based enhanced recovery techniques for patients at Southport and Ormskirk Hospital NHS Trust who need bowel cancer surgery.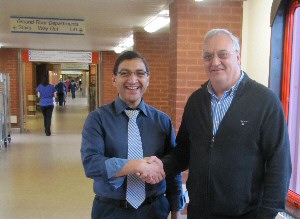 Mr Hany said:- "For many years surgeons and other health professionals have used unproven methods for treating patients who need bowel surgery," said "This has included starving patients before and after surgery, using pain control methods that actually delay recovery, and prescribing routine bowel preparation that caused unnecessary discomfort to patients."

The enhanced recovery model encourages patients to eat and drink up to a few hours before surgery and immediately afterward which helps bowel function return much earlier.

Mr Hany added:- "We also use 'keyhole' surgery as standard on the majority of patients which ensures a smaller incision and quicker recovery."
More than 50 patients have benefitted from the new surgery technique since it was introduced a year ago. The oldest patient was 92 years old and went home just 6 days after surgery.

Mr Hany allso commented that:- "After 1 year, the scheme is as successful as anywhere in the country. The welfare and needs of patients are at the heart of this new standard of care. They are closely followed up after surgery and told whom and where to call if they need help 24/7."
Below is a case study that might interest our readers:-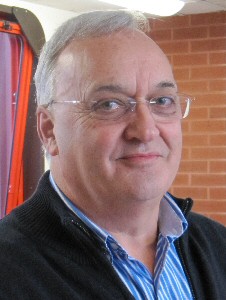 "I was out of bed and walking around within hours"
Ian Whyte is well placed to comment on the enhanced recovery model in bowel surgery. 59 year old Ian underwent surgery to remove a tumour in 2005, leaving Southport hospital after 10 days and with an 11 inch scar across his abdomen. In May 2012, a further tumour was discovered in his colon during a routine check-up and he underwent a 2nd operation using the new techniques. Ian, from Aughton, near Ormskirk said that:- "I had no complaints about the 1st operation, but this time I was out of bed and walking around in a matter of hours; and this time with only a 3 inch scar thanks to the 'keyhole' surgery. I am amazed how the surgery and post-operative recovery process has changed for the better. I was admitted on Wednesday, the operation took place on Thursday and I was back at home, fully mobile eating normally by Sunday lunchtime. Being able to eat normally, so quickly, coupled with no real loss of mobility was a very welcome surprise. Overall it was less invasive and less painful." Ian, who is a former director of refrigeration and air conditioning engineering companies, has been married to Linda for 40 years and they have a grown-up son...

Faith and City leaders hold cuts summit
FAITH and Council leaders from England's biggest cities are meeting in Liverpool on Friday, 18 January 2013, to discuss how to tackle Government cuts in the fairest possible way. The event; titled:- "Come Together"; will be led by Mayor of Liverpool Joe Anderson and the Bishop of Liverpool, the Right Reverend James Jones. It is being held at the BT Convention Centre and attended by representatives of other major UK cities including Bristol, Birmingham, Manchester, Newcastle and Sheffield. Mayor Anderson said:- "These are the toughest times ever for local government with unprecedented reductions in funding which will change forever the way in which we deliver services. Nobody will be left untouched by the scale of cuts. Big cities have been hit the hardest, and in Liverpool we have lost more than half of our controllable government grant spending. By 2017 we estimate we will have lost £289 million a year since 2010. Those who say we should just not implement the cuts fail to realise that we have no choice, as the Government will come in and do it for us; without applying the compassion or the fairness that we can. However, we have a duty to our residents to protest to the Government in the strongest possible terms about the impact their cuts are having here and across the rest of the country and get them to sit up and take notice. We are demanding the Government listens, not just to the politicians, but to our faith representatives who witness the damage being done in our communities every day as a result of the cuts, and that they take notice of the dire situation we are in. We will be highlighting how their policies are jeopardising the core services we provide to the most vulnerable in society."

The representatives attending from other cities will be:-

► Birmingham – Council Leader Sir Albert Bore and Bishop David Urquhart
► Bristol – Mayor George Ferguson and Dean of Bristol, the Very Reverend David Hoyle
► Manchester – Council Leader Richard Leese
► Newcastle - Council Leader Nick Forbes and Dean of Newcastle Chris Dalliston
► Sheffield – Council Leader Julie Dore and Archdeacon of Sheffield and Rotherham Martyn Snow

The conference will hear from civic leaders from each City, giving a response to the messages and conveying a strong collective argument as to how the cuts are being felt across communities.
The Bishop of Liverpool, the Right Reverend James Jones, highlighted the issue in the House of Lords before Christmas, when he described the cuts as "draconian". During the debate, which took place in the Houses of Parliament on 29 November 2012, Bishop James said:- "I do not deny the need to be financially prudent or the need to live within our means. I also understand how difficult it is for the Government to be pressed persistently to fund all the demands on the public purse. The question I want to press is not whether there should be cuts to the budget but, rather, how assured the Government are that the financial settlement across the nation is fair. The City of Liverpool is expected to reduce its [government grant] spending by 52% over the next 4 years. For people to be able to accept such drastic measures there has to be a sense of fairness across the country. There is genuine fear in the City over the impact of 25% cuts in adult social care over the next four years and 25% cuts in children's services. It is demoralising to analyse the statistics across the country and discover that, far from there being a level playing field, there are staggeringly steep differences in funding across the nation, which makes the pain of applying these cuts even more severe." There will also be the launch of a parliamentary e-petition calling for a debate in the House of Commons urging the Government to urgently rethink its policy, and to apply the cuts more fairly across the country, protecting those most in need. It can be found online. Arising from the conference, the Bishop of Liverpool intends to lead a high-profile delegation of faith leaders to the Government to put forward the arguments for fairness.