Ahoy there writers!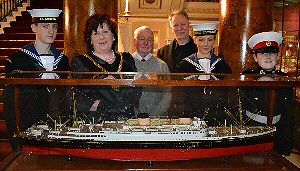 A SPECIAL poetry competition has been launched to encourage people in Liverpool to discover more about the City's nautical history.

Liverpool's Lord Mayor, Councillor Sharon Sullivan, is backing the competition. She said:- "Liverpool has a fantastic and legendary maritime history and there are many families in the City with connections to the sea. Many young people are unaware of our proud heritage as a seafaring port and I hope this poetry competition gives them the opportunity to find out more. I want to encourage as many people as possible to enter the competition using the wealth of information the City has to offer, we are looking for something special that captures the spirit of the sea and the imagination of everyone."

Anyone can enter; there are 2 categories, 12 to 18 year olds, and over 18. Entries are limited to 1 poem per person (schools can submit 2 entries per class) and all poems must be submitted by email or post.

10 lucky finalists will be chosen from all entries and invited to the Town Hall for a special celebratory evening where they will all be asked to read their poems before a judging panel who will then decide which is the winning entry.

It is hoped that a selection of poems submitted will be published to raise money for one the Liverpool Sea Cadets who are one of the Lord Mayor's charities, therefore all entrants must agree to their poem being published.

Submissions via email:- Poetry.Competition@liverpool.gov.uk and postal submissions should be sent to:- Lord Mayor's Secretary, Liverpool Town Hall, Liverpool, L2 3SW.

Further information and rules can be found by visiting:- mezzanineofmaritime.com.
UK roads are no place for 'mega trucks'
NORTH West Labour Euro MP and Chair of the European Parliament's Transport Committee Brian Simpson has raised concerns over the possibility that:- 'mega trucks' may soon be used to transport goods in Britain.

Mr Simpson said:- "I'm yet to see a convincing argument for the use of what can only be described as 'travelling warehouses', which hurtle along highways increasing carbon emissions, contributing to congestion and raising serious questions about road safety."

Weighing up to 60 tonnes and reaching 25 metres in length, 'mega trucks' can currently be used in some European countries under very specific conditions, but they are not allowed to cross national borders. Mr Simpson is fighting to keep mega trucks off British roads, by arguing that our roads and associated infrastructure could not cope with such large lorries. Mr Simpson added:-"I am extremely concerned about the implications for the environment and road safety posed by these monstrous trucks, to more vulnerable road users such as cyclists as well as motorists in general. Investigation into the dangers of mega trucks is ongoing, but it is not difficult to imagine who'll come out worse off in a collision between a bicycle and a 60 tonne lorry. Road users in Britain deserve a system that is not only safe but also environmentally sound, which means getting freight off the roads and onto rail. Gas-guzzling mega trucks are completely incompatible with greener, more sustainable transport infrastructure."

In a debate in the European Parliament, Mr Simpson reiterated his opposition to any increase in the use of mega trucks, arguing that the current rules should be upheld so that the UK is able to maintain its present weight and length limits for lorries.
What do you are readers think about this?
Email your views to us via:- news24@southportreporter.com.

The Chester Cathedral adventure begins…!
HOW many times have you looked up at the Cathedral tower and wondered what the view over the countryside must be like? Or have you ever wanted to explore some of the spiral staircases, hidden passages and secret spaces that lie behind locked doors? Well, thanks to generous funding from Cheshire West and Chester Council, the tower will be opened up to the general public as part of the Chester's One City Plan; at the same time, the Cathedral's admission charge will be removed, thus making it the most significant 'free to enter' heritage attraction in the city centre and a real draw for visitors.

The 'Cathedral at Heights' tour will be a unique adventure; visitors will be able to walk through the upper galleries, explore the old ringing chamber and even see what the vaulted stone ceilings look like from the 'other' side. Visitors will be able to enjoy the incomparable view from the top of the tower and descend via the high level gallery over the High Altar to experience a spectacular view of the interior of the building.

Tours will accommodate up to 20 people at a time and during the summer, there will be 5 or 6 tours a day. Plans are also being developed to provide themed tours, such as Christmas, evening and special events; it might even be possible to celebrate a special anniversary with champagne on top of the tower!

A great deal of work has to be carried out to ensure public safety and protection and the anticipated opening date will be after the Mystery Plays, sometime in late July or August; at the same time, the admission charge will be removed thus allowing the Cathedral to become the signature attraction in the heart of Chester.

The Dean of Chester, the Very Revd Professor Gordon McPhate said:- "The Cathedral is proud to be supporting the One City Plan with delivery of this early win for the city. We thank the Council for their support and look forward to an interesting 2013 at the Cathedral with free to enter, Cathedral at Heights and the Chester Mystery Play!"

Councillor Herbert Manley, Executive Member for Prosperity said:- "We believe that opening the Cathedral tower will bring economic benefit to the city centre because of the expected increase in visitor numbers. The new tour at this world renowned Cathedral will, I am sure, be enjoyed by local people and also tourists because not only will they be able to enjoy views of the city, but also gain a different insight of inside the Cathedral."
ASSAULT - LORD STREET, SOUTHPORT!
MERSEYSIDE Police, on 15 January 2013, issued an appeal for information following an assault on Saturday, 22 December 2012, on Lord Street, Southport, Merseyside.

At around 11pm, is thought that a 43 year old woman was assaulted by another woman at Molloney's bar, inside the Scarisbrick Hotel, in what officers believe was an unprovoked attack.

The 43 year old woman then left the bar and near to Ernest Jones, a jewellery shop, was assaulted again by the same woman.
A 44 year old man then tried to intervene in the assault and was struck on the head. The man was taken to hospital where he was treated for facial injuries.

Officers are keen to speak with anyone who witnessed the incident inside of the bar or the assault on the man outside of the jewellery shop.

The female offender is described 22 years old, 5'7" tall and having long dark hair.

Officers have examined CCTV and spoke with witnesses from the area at the time, but would urge anyone who with inside of the bar or saw the incident on the street, to contact Detective Constable, Gavin Mulcahy, at Sefton CID on:- 0151 777 3803 or Crimestoppers anonymously on:- 0800 555 111.