Liverpool welcomes in year 4711
Photographs and report by Patrick Trollope.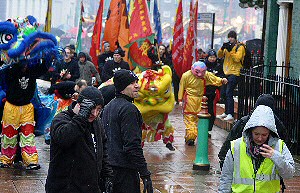 IN Britain, it was a cold and very damp start to 4711, the year of the Water Snake or Black Snake, which commenced on the, to us, Sunday, 10 February 2013. In China, the New Year celebrations will last 15 days, making it the longest and most significant holiday of the year. In Liverpool, England, the oldest Chinese community in Europe also started its celebrations with its traditional festivities, which honour deities and ancestors. As 2012 was the year of the Black Dragon or Water Dragon, one of the Chinese community taking part in the festivities on Merseyside said to our editor, jokingly, that as the rain was lashing down throughout the festivities, it must be the snake putting out the remaining fire from the Dragon's breath. Whatever you think of the Chinese Zodiac, just like with the Western Zodiac, this year is going to be an exciting year for many, and will have many highs and lows to come. So for some it was good to see the 'Lucky Man' handing out the Lucky Red Envelopes to the children, as we will all need that luck for the months to come. The Liverpool festivities started on Saturday, 9 February, but the main events took place in Chinatown, on Sunday, 10 February 2013. We went to take a look at the celebrations on Sunday and shot some video footage of the festivities and took these photographs. The events included a family friendly, fun fair and the popular Chinese market, which was held on Great George Street. Then all eyes were focused on Chinatown's Gate on Nelson Street. All along the Street, the sounds of drums and fire crackers reverberated, as the dragon, unicorn and lion parades took place, providing once again a spectacular traditional display. Inside The Block-E on the corner of Great George Street and Nelson Street, Tai Chi demonstrations, took place on Nelson Street and a Chinese art exhibition, along with workshops, cafe and more.... If you missed the Black-E events over the New Year weekends festivities, do not worry, the Black-E's resident circus company, Black and Blue, are offering series of workshops, suitable for ages 7+, at the venue. These are provided with the help of NoFit State Circus and Liverpool City Council, and supported by the Arts Council of England. The events are free and start on Thursday, 14 February 2013 running until Friday, 22 February 2013. To see the workshop schedule, see opposite column. The workshops will cover Acro Dance, Aerial, Juggling, Tight Wire, Hula Hoop. If you are considering attending, you must book first.
You can seek further information or simply book by emailing:- Jamie@barry@thebalck-e.co.uk or by calling the Black-E on:-
0151 709 5109.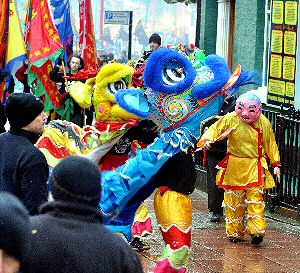 Did you know???

If you are puzzled why the Chinese calendar is not starting at the same time as us, it is because it is based on moon phases and the timing of the lunar year: as our 's reflects the solar year.
The Chinese Arch that is located on Nelson Street, providing the 'Gateway to Liverpool's Chinatown is the largest, multiple-span arch of outside of China. For more information about the project to build it click on here.

You often hear people saying:- "Gung Hay Fat Choy" at this time of year, but it does not mean Happy New Year, it actually
loosely translates as a greeting meaning "Best wishes and Congratulations. Have a prosperous and good year." Chu Shen Tan (新年好) is "Happy New Year". To find out your Chinese Zodiac star sign and who your best match is in the world of romance why not visit our online game and discover today for free. Click on here now to find out..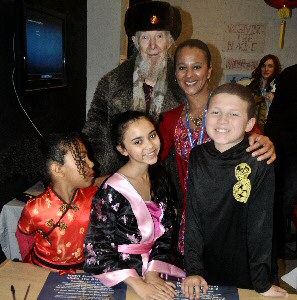 Other links that might be of interest to you and are related to this event in Liverpool's festivities in Chinatown are as follows:- liverpool.gov.uk/chinesenewyear and lcba.net.

PAGE 1 of 7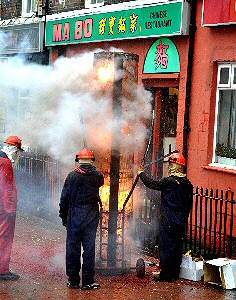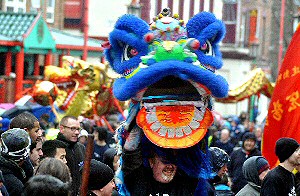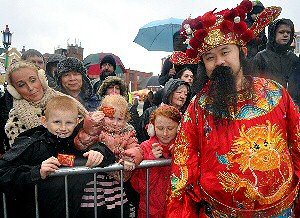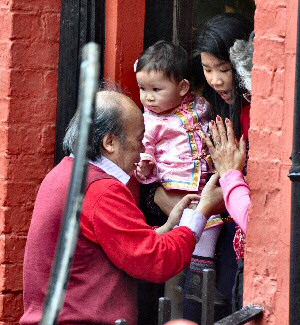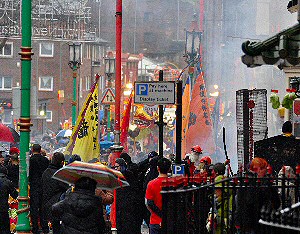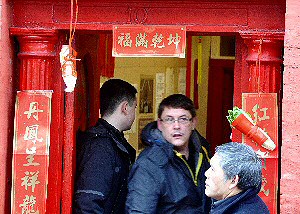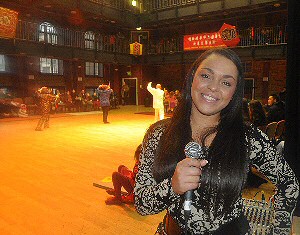 Block-E workshops
Schedule for Workshops on the following days:-
Thursday, 14/02/2013 - 6pm to 8pm.
Friday, 15/02/2013 - 6pm to 8pm.
Saturday, 16/02/2013 - 11am to 3pm and 6pm to 8pm.
Monday, 18/02/2013 - 11am to 3pm and 6pm to 8pm.
Tuesday, 19/02/2013 - 11am to 3pm and 6pm to 8pm.
Wednesday, 20/02/2013 - 11am to 3pm and 6pm to 8pm.
Thursday, 21/02/2013 - 11am to 3pm and 6pm to 8pm.
Friday, 22/02/2013 - 7pm Performance.
See theblack-e.co.uk for more information about the Taster Sessions and Workshops suitable for ages 7+, at the venue. To attend, you must book in advance by calling:- 0151 709 5109.